The air conditioning units consist of several interchangeable parts that work together to reduce your office or home temperature. But, like any other gadget, they require frequent maintenance to function optimally.
Among different commonly damaged AC parts includes the fins mounted on the condenser.
Bent fins typically indicate they require restoration to prevent AC malfunctioning. Fortunately, fixing them with an AC coil fin comb can boost your air conditioner's functionality and life expectancy.
We've curated a list of the best AC fin combs below to save you the hassle of picking an appropriate fin comb for your AC.
What Is a Fin Comb?
Also referred to as a coil fin tool, a fin comb is a specialized gadget used to fix the bent AC fins.
Both window and central air conditioning systems consist of coils surrounded by aluminum fins. This part is responsible for smooth airflow through and out of an AC.
Unfortunately, it is prone to dirt and debris clogging. On top of that, because it is made of fragile gauge metal, it gets damaged easily by strong winds, sticks, or small tree branches – reducing the overall AC performance.
Luckily, fin combs can help you save the day. They are easy to use and quickly repair the AC fins.
Read Also: AC Compressor Hums and Buzzes But Won't Start
Why Do You Need Fin Combs?
Several US cities experience extreme weather conditions. From dust storms to hail and rainstorms, your air conditioning units endure a lot within a year.
If you are like most homeowners, you probably wait for the storm to pass from inside the comfort of your house. The only thing that gets you worried is perhaps the thought of getting your vehicle damaged due to a hail storm.
Unfortunately, that's not the only gadget at risk during harsh weather conditions; your outdoor AC condenser is also susceptible to damage.
The degree of condenser fin damage directly correlates to a faulty air conditioner. Consequently, your system works overtime to put out even a small amount of air.
Leaving damaged fins as an afterthought can exhaust your AC and decrease its lifespan.
Nonetheless, the best AC fin combs come in handy to restore the bent and dirty fins. You do not necessarily need to hire a professional for that purpose – you can DIY instead.
How to Use a Fin Comb?
There's no secret sauce to using fin combs, but a few tips will help you handle the system cautiously and prevent unexpected damage.
To begin with, remove the protective screening of your AC to access the fins.
Then, you need to clean your coils with a shop vacuum to remove the underlying dust and debris. If you do not have one at hand, you can use a soft-bristled brush.
Now, use a fin comb to straighten the out-of-shape fins. Hold the comb firmly and move it down through the bent fins. Make sure you start at the top and work your way downward.
If your condenser fins are severely bent, you may need to repeat the comb movements until they get fixed.
Pro tip: Make sure you wear protective gloves when fixing the fins. The edges of damaged fins are often insanely sharp, and you do not want to injure your hand when restoring them.
5 Best Fin Combs for Your AC Unit
Damaged fins result in increased energy consumption, reduced performance, and an untimely system failure.
All it takes is a fin comb to fix and restore this AC component.
Undoubtedly, picking a suitable comb for your unit can get pretty overwhelming, considering the many available options. Nonetheless, our list will help you choose the right one for your air conditioning system.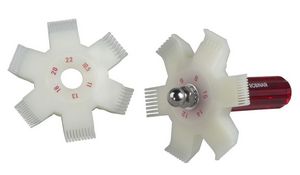 If you're looking for a durable, quality fin comb, Robinair Fin Straightener can be your best bet!
This compact gadget eliminates the need for several separate tools in your toolbox. It takes up less space and provides optimal functionality.
Robinair fin is attached to a small handle and comes in 12 varying spacing options.
Although disk 2 is the standard size for most household units, it can do the job for you regardless of your condenser fin size. You can easily pull away the dirt stuck in the fins by moving the comb down.
Oftentimes, handling the comb gets tricky due to its slippery grip. Fortunately, the plastic handle of this comb is strong and only a few inches long, giving a firm grasp of the tool.
The Robinair fin is excellent for cleaning and straightening several auto finned applications, including evaporators and radiators.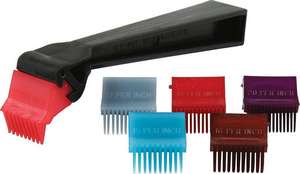 The Allstar Radiator Fin Comb Kit comes in a variety of sizes that helps you restore and straighten the damaged fins of coolers, AC condensers, and radiators.
It comes with six different heads, and you can switch them easily per your preferences. You need to take off the attached head and hook the one you want to the plastic handle.
Luckily, exchanging and clamping the heads is pretty straightforward, and you do not require moving the heads when straightening.
The teeth are pretty flexible and remove the debris as you move it down the fins.
However, note that while this comb offers several size options, flexibility, and ease of use, it does not work great for excessively damaged fins. The comb heads are gentle and might get damaged when applying too much force.
Therefore, you must handle the tool gently and cautiously to avoid unwanted breakage.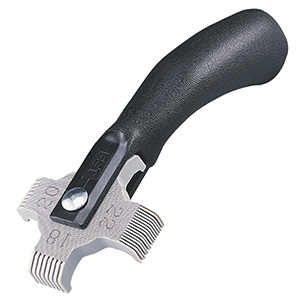 If ease of use and quality is your utmost preference, here's one for you!
The Malco Fin Straightening tool is by far the easiest to handle. Nonetheless, do not confuse its effortless operation with compromised quality. It is one of the most long-lasting combs on our list.
This straightening tool's head is made of thick and durable nylon, making it robust and solid. So, no matter how damaged your AC fins are, you can straighten them without too much force.
You can also switch between fin sizes by rotating the comb head mounted on the handle. The four different sizes include 22, 20, 18, and 16 FPI. So at least one from among the four sizes will work with your unit.
Besides, it works excellent for soft fins made of aluminum. The comb teeth repair the bent fins and clean them off dust and debris. However, note that the comb head will likely get scratches after several uses.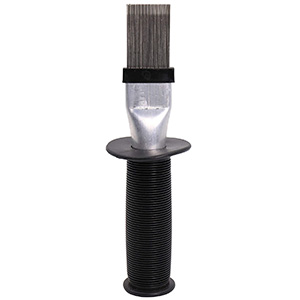 The SimpleAir Fin Comb is the top consumer choice and for the right reasons. Its construction is pretty durable.
It is made of first-rate steel alloy and provides maximum strength. While you might assume steel surfaces are prone to rust, the fin comb's high-grade steel prevents rust formation.
You can successfully clean your evaporator and HVAC condenser coils with the tool. Fortunately, the strong plastic gives a solid grip on the tool and makes the cleaning process easier.
Not only does it clear the accumulated dust, but it also fixes the bent AC unit fins, improving the overall efficacy of your system.
What else is good? It doesn't come with tons of hookups—instead, a single comb head – which adjusts for all fin widths. So if you prefer an all-in-one, durable package, SimpleAir comb is the way to go!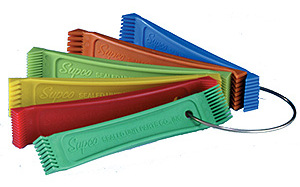 The last of our best AC fin combs is the Supco Fin Comb Ring. It takes versatility to the next level, with six different sizes attached to a keychain.
While you can easily lose a standard fin comb, particularly those with several sizes, Supco saves you the hassle by accommodating all combs together in a keychain.
What's more, they come in varying colors for quick identification of the sizes. On top of that, each contains a set of two fin combs at the ends.
They support conventional residential units and evaporators. So, you won't need to purchase different sizes to restore your fins.
Just grasp the handle firmly and move it down the bent fins to clean and repair them. However, note that it isn't the strongest fin comb out there. But if versatility is your priority, it is the right fit for you.
Conclusion
Regardless of your AC quality, regular maintenance is a must to keep them up and running. Tools like a fin comb come in handy to clean and repair the fragile air conditioning fins, improving your system's performance and life.
Durability should be your utmost preference when choosing one for your home. However, if you prefer versatility and style, you can pick a suitable option from our best AC fin combs list.