When you're browsing for the best 14000 BTU portable air conditioner for your home, it would be a good idea to research and find which type would work for your layout. In this article, we'll go over some of the top portable AC units that will keep you cool and comfortable throughout the summer months.
However, before we get started, let's take a quick overview of the difference between ASHRAE and DOE BTU ratings. Understanding these features can help you decide on your investment.
In a hurry?
If you don't have much time use the links below to quickly find the best 14000 BTU portable air conditioner on Amazon.
– Best Overall – Whynter ARC-14S
– Also Great – Black+Decker
Understanding ASHRAE vs DOE BTU Ratings for a Portable Air Conditioner
First, we can go over the ASHRAE ratings for an air conditioner. This type of rating method was used years ago to test both window units and portable air conditioners. However, because the method was found to have a number of inaccuracies that were specific only to portable air conditioners, new methods had to be implemented.
BTUs or DOE BTUs are new and improved methods that can also be used for rating portable AC units. The term DOE stands for "Department of Energy," and the term BTU is an acronym for "British Thermal Unit."
Although many people think that BTUs are rated depending on how much cooling power or output an air conditioner can churn out, the fact is that the rating measures how much heat the unit can remove. Naturally, a higher number means that the unit will be able to remove more heat in a room compared to a smaller numbered BTU rating.
Advantages of a Portable AC Over a Window AC
Which one should you get: a portable AC or Window Unit? Although a portable AC unit can be a little more expensive than a traditional window AC unit, a portable air conditioner can be much more convenient. If you want the same BTU rating in a portable unit as an AC window unit, the price for the portable may be a little higher.
However, the investment will be well worth it because you will be getting the cooling capacity you want and need. One advantage you can get with the portable air conditioner is that you can take it anywhere in the house. You'll have more control over each room's temperature. Another advantage is that a portable air conditioner may be easier to clean than a window unit.
If you have problems with your window unit, you may experience a water leak as a result of dirty coils, which can damage the wall. On the other hand, if you have any issues with a portable AC unit, you can simply take it outside and call a technician.
Top-Rated 14000 BTU Portable Air Conditioners
1. Whynter ARC-14S 14,000 BTU Dual Hose Portable Air Conditioner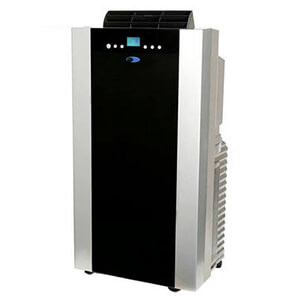 This portable AC unit comes with a wide range of features that will give you more bang for your buck. The unit is considered to be an award-winning model in Good Housekeeping's Best Overall in 2020. With its powerful design, you can cool a room in no time.
Its overall BTU rating comes in at 14,000 and also comes with a dual hose setup. Because of the dual hose design, the unit can cool a room of up to 500 square feet in size. The speed at which it can cool a room may be influenced by surrounding humidity and other factors. However, you can control the speed of the fan with its three speed options.
It will come with three modes: air conditioner, dehumidifier and fan. It takes R-32 refrigerant and comes with an extendable exhaust hose for convenience. The unit also comes with a carbon filter.
2. Black+Decker Portable Air Conditioner With Heat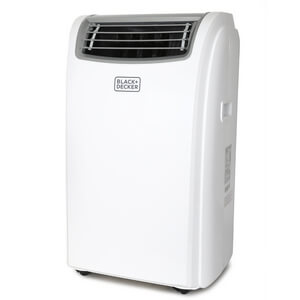 The Black+Decker portable air conditioning unit is a perfect choice if you want an alternative that can cool a room while being energy-efficient. The cooling unit will also come with a heater feature for those cold winter months. It is rated at 14000 BTUs and can cool or heat a room of 350 square feet.
This portable air conditioner is a good choice for dorms, apartments, campers, bedrooms and other types of small layouts. It comes with an adjustable fan speed and is easy to move around your home. The handle and caster wheels make it easier to move compared to other portable AC units.
You can easily roll this Black+Decker without any issues. The hose measures around 4 feet and 11 inches. The unit is easy to operate with its LED display and remote control. Choose from four modes that are energy-efficient, which will include cool, fan, heat and dehumidify.
3. hOmelabs Portable Air Conditioner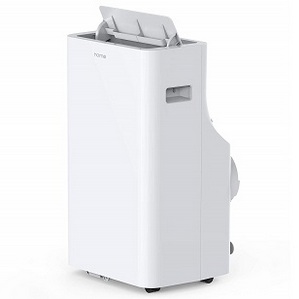 The hOmelabs portable air conditioner is another great choice that can cover larger rooms. With its 14000 BTU cooling capacity, you are sure to notice the difference in how quickly it can cool a room. The air conditioner is quiet and powerful at the same time.
The cooling capacity will range from 450 to 600 square feet. The portable AC unit is easy to install and can be easily moved because it comes equipped with wheels. The unit will come with an attachment hose, window slide adapter and power plug making the installation process last in under eight minutes.
You can wash the air filter at least once a month, depending on how often you use the portable cooling system. You'll have full access to the unit's features with the remote control. You can set up the desired temperature, fan speed, cooling modes, and more.
4. Best Choice Products 14,000 BTU 3-in-1 Portable Air Conditioner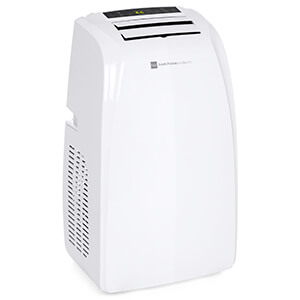 This selection of portable air conditioners is another option that you can consider. It comes with a rating of 14000 BTUs and a 3-in-1 functionality settings. The portable AC has a cooling capacity for rooms of up to 650 square feet in size.
The three functionality settings are cool, dehumidify and fan mode to increase ventilation or air circulation. Its digital interface comes with wireless control for added convenience. You'll be able to program your timer, adjust your temperatures, and much more.
The LED display features a large size so that you can comfortably change your settings from the comfort of your bed. The air conditioning unit is easy to maintain with a removable filter. You can clean your filter with mild detergent and water. Make sure you air dry your air filter before putting it back in place. The portable design boasts built-in wheels and side handles for easy movement.
5. LG LP1419IVSM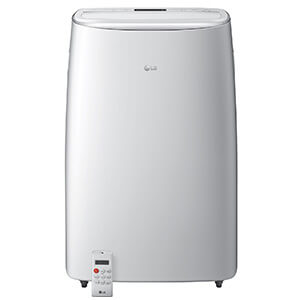 The LG portable AC unit will come with a BTU rating of 14,000. It has a dual inverter design and a Wi-Fi capable feature. The air conditioning unit is perfect to cover larger rooms and can cool rooms that are up to 500 square feet in size.
The air conditioner comes with an LCD remote and an installation kit. It is easy to move anywhere in the house. The cooling system is considered to be more of a convenience than other portable units because it is Wi-Fi capable.
You'll be able to connect it to your Google Assistant or Amazon Alexa. This can come in handy because you can change your temperature settings by just using your voice. The AC unit also operates quietly and can go as low as 44db when it is in sleep mode.
What's the Difference Between Dual Hose and Single Hose Portable AC Units?
The biggest difference you may find between a dual hose and single hose portable AC unit is the price. Another key difference is the output power and overall design for a room. A single hose air conditioning unit is a good choice for a small room.
These types of AC units are also easier to move around your home compared to dual hose portable AC units. On the other hand, dual hose AC units are better to cool larger rooms with its dual hose setup. However, they can be harder to move because of their dual hose design.
Since the dual hose operates with two hoses, it can be much more energy-efficient depending on the layout of your home. In the end, the single hose alternative would be much quieter, affordable and perfect for smaller rooms. A dual hose portable AC unit is more expensive and louder to operate but an excellent option for bigger layouts.
Things to Consider When Buying a 14000 BTU Portable Air Conditioner
Although all of these options are great when it comes to investing in a 14000 BTU portable air conditioning unit, you still have to consider a few things. One of the first things to consider is the price. Some portable air conditioners will come with extra features that you may not need in an AC unit, such as Wi-Fi.
Therefore, if you can get a similar portable unit at 14000 BTUs for the same price, it would be a good idea to opt for an AC unit that doesn't come with the added features. Another thing to consider is the dual hose setup. A portable AC unit that comes with a dual hose design is meant to cool large rooms.
However, if you have a small room that needs cooling, the dual hose alternative may not be your ideal investment. In this case, the single hose air conditioner would be the way to go at a price that is more budget friendly. It is also ideal to consider the mobility features of the portable AC unit.
Remember that dual hose air conditioners can be much harder to move than single hose units. You'll have to make sure that the portable units will come with wheels and handles for easy mobility. Browsing for the right brand is another factor you have take into consideration.
Make sure that you read customer reviews and invest in a brand that has a good track record. By doing this, you can have peace of mind knowing that you purchased a good air conditioning unit.
Finally, make sure that you invest in a portable unit that can offer you both cooling and heating capabilities. This is a convenient feature if you live in an area where you experience cold temperatures. By going over these tips, you are sure to make the right choice.