Let's face it, with climate change taking place; summers will get hotter every year. While we can easily beat the heat using air conditioners in this modern age, the facility comes at a price.
Honestly, not everyone can afford a high-end air conditioning system to make every room of their home comfortable. However, window air conditioners are affordable and efficient options for those who don't want to stretch their budget.
But, which model should you go for? Read through this buying guide for further insight before we get to our list of the best biggest window AC units for large rooms.
What to Look for When Buying the Largest Window Air Conditioner
To pick out the right large room window air conditioner, you should assess various features and specifications before making your purchase. This way, you'll know exactly if the unit fits your needs.
Cooling Capacity
First of all, you should check the cooling capacity of a window air conditioner. The cooling provided by window air conditioners is measured in BTUs. The higher the level, the more cooling capacity the air conditioner has.
Checking the BTU is crucial because if you choose a model with fewer BTUs for a large room, the device will exhaust itself when trying to bring the temperature down. On the other hand, if the window AC has an extremely high BTU capacity compared to the size of your room, it won't remove humidity efficiently.
That's why you should consider the square footage of your room and compare it to the BTU cooling capacity to select the ideal model.
Coverage Area
Next, you should consider the coverage area of the window AC unit you intend to buy. Remember, a small-sized AC will not only fail to cool your room to the optimum level but will use up more electricity as well.
Meaning you'll be left with a high energy bill combined with inefficient cooling. Most brands mostly mention the coverage area of an air conditioning system. Mainly, if you have a medium to large-sized room, you should go for at least a 15,000 BTUs air conditioning system.
Energy Efficiency
Another aspect you should heed while choosing the highest BTU window AC unit is its energy efficiency. You don't want to end up paying hefty cooling bills at the end of the month.
If you want to ensure energy efficiency in your air conditioning system, make sure to check whether it has an Energy Star certification. Units with this label tend to use around 10% less energy than their counterparts. Besides that, you'll get features such as temperature control and digital timers to promote sustainable energy consumption.
Furthermore, each unit's EER rating is another indicator of its energy efficiency. EER rating tells you how many BTUs an air conditioner produces with each watt of power.
Airflow Levels
When considering which AC to go for, checking the airflow levels is crucial. Especially in the case of the largest window air conditioners, adequate airflow helps cool the room quickly without any hassle.
An essential aspect that facilitates adequate airflow is the duct size. Make sure the ductwork matches the airflow claims of the air conditioner to provide optimal cooling and humidity management in your room.
You can check out our post about boosting airflow to the second floor here to find out how to cool stifling upstairs rooms.
List of the Highest BTU Window Air Conditioners Running on 230V
1. FRIGIDAIRE 28,000 BTU Window Air Conditioner for Large Rooms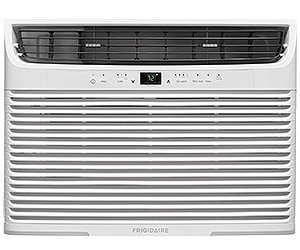 If you're looking for the biggest window air conditioner with the highest BTU – 28,000 BTU – and powered by 230V, then this model from Frigidaire is one of the best options for you. Providing cooling for up to 1,900 sq ft with dehumidification of 9.5 pints per hour, it is the most powerful window air conditioner in this price range.
The best part is that it does its job effortlessly without causing any noise. Furthermore, it has a wide array of accessible features such as visible temperature displays and an easy remote control system. This means you can operate it easily right after installation without any hassle.
On the downside, this heavy-duty window air conditioner does not have an Energy Star certification. However, its ionizer technology removes harmful impurities from the air around you, a huge plus point that you wouldn't find in most large window air conditioners.
2. Biggest KEYSTONE 25,000 BTU Window Wall Air Conditioner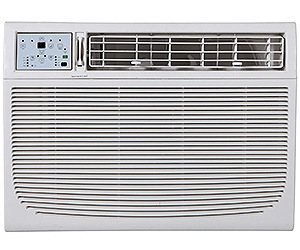 This model by Keystone is another massive window air conditioner for those who require at least 25,000 BTU of cooling output in their rooms. Its easy window-mounted installation system combined with dehumidification function makes this AC unit a go-to choice in the market.
One of the best things about the unit is its responsive temperature control system. Unlike regular remote control systems, this one has a thermostat built into its remote control device. So, the AC directs its cooling towards you while helping you avoid uneven temperatures.
Although a special 230V outlet is required to run this large window AC unit, it has an Energy Star rating for energy efficiency. Similarly, it has an EER of 12.1, so you can be concern-free about paying hefty bills every month.
Furthermore, it is a breeze to install. It comes with a removable chassis and an adjustable window kit. So if you're a frequent home improver, you can do it yourself and save up on installation costs as well.
3. Whirlpool 22,000 BTU 230V Window Air Conditioner
If you're concerned about your electricity bills hiking up, this one of the largest Whirlpool window air conditioners is the ideal option for you. It is Energy Star certified with an EER of 10.4, meaning you'll get efficient and even cooling combined with moderate energy bills.
This air conditioner can be easily installed onto your window and comes with an instruction manual to help you DIY the task. However, like all big window AC units, it does not work with the standard 115V outlet found in most homes.
When plugged into a compliant 230V electrical outlet, it provides 22,000 BTUs of cooling power, which is enough for a large room up to 1,400 sq ft. Besides that, its LCD remote control lets you regulate the cooling levels according to your comfort.
With an airflow capacity of 459 CFM, the air conditioner also works to improve your air quality as well. It dehumidifies more than 5 pints per hour to ensure fresh air flows in your room.
4. Koldfront 18,500 BTU Heat/Cool Window Air Conditioner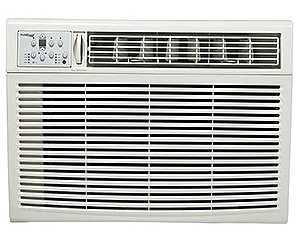 The Koldfront large room window air conditioner rated coverage area is up to 1,000 sq ft. This unit provides up to 18,500 BTU to control the temperature remotely while observing any fluctuations on its clear LED display screen.
It comes with all the necessary hardware required for installation, so you can mount it on your window as soon as you unbox it. This way, you can avoid installation costs and start using your device immediately.
Furthermore, this air conditioning system is highly adjustable. It has four operational modes, including an energy-saving mode to help you optimize the cooling system according to your comfort. Similarly, with an EER of 10.7, the unit keeps your energy bills from hiking up while contributing to the environment as well.
It also has a sleep function that puts it on auto mode for up to six hours. This way, you don't have to worry about shutting the AC off periodically during the night.
5. LG 18,000 BTU Dual Inverter Window Air Conditioner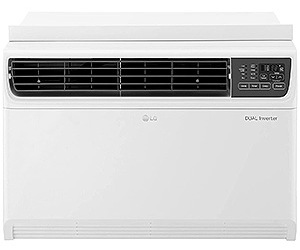 When looking for high BTU window AC units, consider the LG air conditioner with 18,000 BTU cooling output, which is more than enough to evenly cool down a large room up to 1,000 sq ft.
It is integrated with a dual inverter technology that ensures quiet operation even when working at full power. Moreover, when adjusted to sleep mode, the air conditioner regulates temperature automatically and lowers its sound levels to around 44dB. It also helps you save up to 25% more on your energy bills compared to other units for its league.
Besides that, its LG ThinQ technology lets you control the temperature remotely. This includes turning the cooling device on and off or changing the temperature mode. In addition, its four cooling fans let you customize the temperature according to your comfort.
Note that you need a 240V outlet to use this air conditioner, not 230V.
Conclusion
When looking for the best highest BTU window air conditioner, there are multiple features you should assess before your purchase. These include the cooling capacity, energy efficiency, and airflow levels.
However, with the plethora of options available in the market, it isn't easy to make a choice right away. The best way is to list your personal needs before checking each potential option.