Mold problems can crop up in your home out of nowhere. Mold tends to recur in certain areas in your house from time to time, such as bathrooms, kitchens, basements, and even cellars.
Any part of the house with more moisture can easily invite and promote fungal growth. Although some homeowners are naturally skilled in detecting mold and mildew by their smell or color, not all can spot the growth, especially in the initial stages.
Using mold detector kits to test your house is a much safer and more effective alternative. These kits are handy and provide accurate and detailed results about mold growth.
You can then use these results to secure your living space and make it mold-free. Look at the top mold detectors below to choose the best one for your home.
Our Top Picks
Best for Mold on Surfaces: General Tools Digital Moisture Meter
Best for Mold Spores in the Air: My Mold Detective Test Kit
How Does a Moisture Meter Help Detect Mold Growth?
Mold grows in dark and humid places. These include near the toilet seat, behind the kitchen sink, or in parts with water leakage. Areas with constant flooding and rainfall also have the highest rate of mold growth.
Understanding which part of your house has the most moisture is important to stop fungal growth in the early stages. A moisture meter is the best way to detect which place in your house has enough moisture to facilitate mold growth.
There are separate moisture meters for concrete and wood houses. The device is attached to a wall, floor, or ceiling to detect the moisture content in the material. A pin moisture sensor uses an electric current to detect moisture content.
Meanwhile, a pinless moisture meter uses high frequency to sense the moisture content in a material. Both types of moisture meters are essential to understand which part of your house has access to water that can be an ideal atmosphere for mold to grow.
Related: DampRid Moisture Absorbers Review [And How Do They Work]
Can a Mold Test Detect Spores in the Air?
Mold detectors collect samples of air or the surface material of a home to check for mold and mildew. If mold spores are in the air, the kit can easily detect them and show them in the results. Then, the sample is tested in a kit at home or in a lab for three to four weeks.
Air sampling is the best way to detect mold spores. These spores are not only harmful to health. But since they travel through the air, they can contaminate other parts of the house too.
A test kit might not be able to detect spores inside the walls. So, it is important to sample and test the air in the room to check for spores. The results of this test can also help you understand the severity of the mold infestation.
Read Also: Killing Mold on Porous Surfaces
Best Digital Detectors for Mold on Surfaces
If you want to check if there is a mold growth started on a surface in your house, you can try out these trusted mold detectors:
General Tools MMD4E Digital Moisture Meter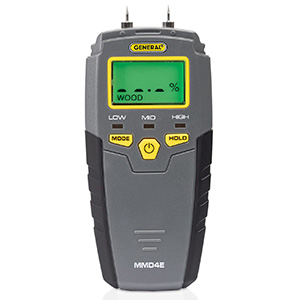 The General Tools MMD4E Digital Moisture Meter is a handy tool to detect the moisture content and mold growth on different surfaces of your house. This detector has strong metal pins that go inside the surface material and check the amount of moisture inside.
Early moisture detection prevents your house and family from the horror of black mold. Its small body and easy-to-use interface make it ideal for everyone to use. With the 9V battery and 0.3″ high digits in a backlit LCD, you can easily track the moisture in different places of your entire house.
Why Do We Recommend It
This moisture meter is ideal for wood, concrete, and drywall. The pin-based device pinpoints the exact area that requires treatments rather than renovating the entire room.
RDINSCOS Pinless Handheld Mold Detector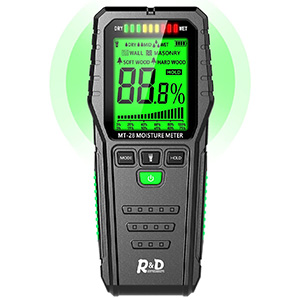 The RDINSCOS Pinless Handheld Mold Detector uses a high frequency to detect moisture content in the walls. It helps detect water retention in wooden surfaces. The automatic shutdown option of this device helps save the battery.
It can detect moisture even from a thick layer of paint. Moreover, moisture detection can become much more efficient with the big LCD screen, 3-color LED bar graph, out-of-range alarm and low battery, HOLD button, and 9V battery.
Why Do We Recommend It
This handheld mold detector can be ideal for you if you have an old house with layers of paint. It is also perfect for rented houses as it does not allow any penetration into the wall. Therefore, you can track the moisture content in different parts of the house without paying a hefty amount for the device.
Tavool Store Digital Moisture Detector
With the Tavool Store Digital Moisture Detector, you can find hidden leaks and extra moisture in surfaces using two high-precision pins. This device is suitable for testing woods to determine their natural moisture content and surplus caused by leakage.
It has eight calibration scales to help you determine the accurate moisture content percentage in each type of wood. Furthermore, its big LED display with backlit makes it easier to understand the readings. Finally, the hold function allows you to further study the readings of a certain point.
Why Do We Recommend It
This device is ideal for wooden houses. It helps you understand the exact moisture content in your walls, floors, ceilings, and furniture items. The user-friendly tester has an ergonomic shape that fits perfectly in your hands while you study the moisture content.
Best Test Kits for Mold Spores in the Air
It is important to use a high-quality and trusted mold test kit to detect spores in the air. These top mold spore kits help you analyze the fungal growth in your house:
My Mold Detective MMD103 Test Kit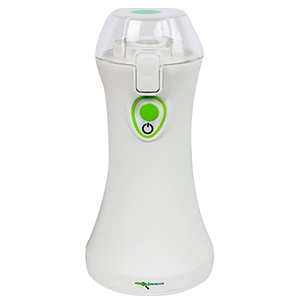 If you want to check for the presence of mold spores in the air, the My Mold Detective MMD103 can be the best option. The air quality mold test kit contains one air sampling pump and four sample cassettes. Three cassettes are for indoor air sampling, and one is for outdoor air sampling.
Even though it comes with extra charges for complete lab analysis of the air sample, it will provide you with the most accurate result. In addition, it will help you understand the severity of the infestation and the type of mold you are dealing with.
Why Do We Recommend It
Taking this test takes nothing more than five minutes. Once your sample reaches the lab, the professional studies the type of mold you have in your house and suggests you the next step to deal with the infestation.
Healthful Home 5-Minute Mold Test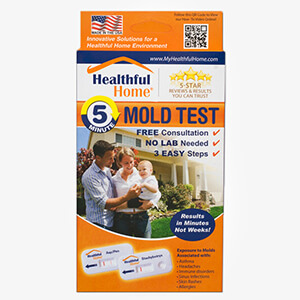 The Healthful Home 5-Minute Mold Test is the quickest way to determine if there is a presence of mold or allergens in your house. This test is not only accurate but also safe to take at home.
The kit contains ASP/Pen test, Stachybotrys test, and all in one swab for sampling and testing. It helps determine even the worst types of mold that can be fatal for your health.
Why Do We Recommend It
This mold testing kit is designed for people who want to run a quick test before buying or renting a house to ensure there is no mold or allergens on the premises. It provides 100% accurate results that are often missed in air sampling.
Mold Armor FG500 Do It Yourself Mold Test Kit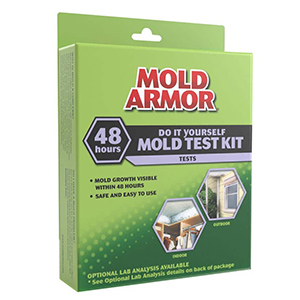 The Mold Armor FG500 Do It Yourself Mold Test Kit offers different indoor and outdoor sampling options for efficiently detecting mold. You can use three testing methods with this kit, including the indoor air quality test method, air conditioning and heating sample method, and surface sampling testing method.
All the methods provide accurate results within just 48 hours. The kit contains a petri dish, a mold growth medium, and a swab to take the sample. You can safely use this kit at home to monitor what mold you are dealing with.
Why Do We Recommend It
This mold test kit provides a quick and safe way to check for mold and other fungal bodies on the different surfaces of your home. You can also use the optional lab analysis feature for an extra $40 to understand the severity and exact type of mold. This will help you better choose elimination methods.
Our Verdict
Mold is very common in homes. If you spot an area in your house that seems to have some mold growth or foul smell, it's time to get your hands on a mold testing kit.
Now that you have looked at a range of mold detectors for your home, making a pick should be an easy task. The time to test your home may vary for each kit, but they are sure to provide accurate results.
Keeping your home mold-free must always be your priority, as mold makes your living space susceptible to various infections and diseases.
We suggest using an air testing kit for places with visible mold infestation to check the severity. If you can't see any signs of fungal growth but are still suspicious, a surface mold detector is the right option to eliminate the guesswork.