After a tiring day at your work, nothing sounds better than coming home to a comfortable space, sipping a cup of coffee, and watching your favorite TV show. But what if your thermostat stops working or you move to a new place?
Instead of suffering in a frigid home in the cold seasons, you can use a reliable thermostat to warm up your home effectively. In this article, we have reviewed six of the best non-programmable thermostats in the following section. Then, check out the buyer's section to help you find the perfect thermostat for your needs.
In a hurry?
If you don't have much time use the links below to quickly find the best non-programmable thermostat on Amazon.
– Best Digital – Honeywell TH5110D1006/U
– Best Manual – White-Rodgers Emerson 1F56N-444
The Benefits of Non-Programmable Thermostats over Their Programmable Counterparts
A non-programmable thermostat, also called a manual thermostat, is one of the most basic options to regulate your home temperature efficiently. Compared to all the different thermostats on the market, non-programmable thermostats are the simplest and easiest to use.
You do not have to deal with confusing instructions, as well as program different settings on the thermostat. Instead, you have to manually adjust the temperature of the analog or digital non-programmable thermostat to keep your home warm.
Here are some of the other benefits of this basic thermostat:
Easy-to-Use Design
While a programmable thermostat may come with multiple features, you do not usually end up using most of the available options. What's more, it is also quite hard to figure out the options and customize the settings to your liking.
Not only that, but people sometimes prefer simple instructions, easy-to-use features, and straightforward installation to save time. This is precisely where non-programmable thermostats have the upper hand over the more complicated models.
You only have to turn on the thermostat and adjust your temperature manually, depending on your needs. Moreover, the easy-to-use thermostat is ideal for anyone who stays at home most of the day or works from home.
Cost-Effective
While the programmable thermostats may sound quite interesting, all the extra features come at a higher cost. As a result, you have to evaluate if you really need all the customization options and if the thermostat is worth splurging over.
Comparatively, a simple and manual thermostat offers the same heat regulation without all the bells and whistles included in a smart thermostat. Therefore, they are incredibly cost-effective and ideal for people living on a budget.
Ease of Change
The non-programmable thermostats allow you to change the temperature of your home quite easily. Based on the thermostat model, you have to rotate the dial and add new temperature settings using a touch screen. You can even just turn it off with a press of the button if you are leaving home in a hurry.
This feature makes the thermostat quite ideal for people without a fixed working schedule or those who work mostly from their homes. Furthermore, you can quickly adjust the temperature depending on the weather and make your home comfortable for yourself.
What to Look for in a Non-Programmable Thermostat
You already know that manual thermostats offer basic features at a budget-friendly price. However, how do you find the best non-programmable thermostat for our home?
If you are wondering the same, here are some factors that you should consider before purchasing a thermostat for your needs:
Installation
There is no doubt that easy installation is a major benefit for any thermostat. However, not all manual thermostats are easy to install and connect to your current heating system.
On the one hand, some models include push wire connectors that even minimize the need for using a screwdriver. On the other hand, other thermostats may give you trouble while connecting to your HVAC heating or even attaching it to your wall.
Display
Instead of fumbling in the dark or squinting to read the display, it is suitable to buy a thermostat with a good display screen. You should look for displays with a backlit feature and sizable screen to easily read the temperature and settings.
Moreover, easy-to-use controls like a touchscreen or soft buttons can make a world of difference when you have to alter the settings while half asleep.
Swing Setting
Most non-programmable thermostats come with an adjustable swing setting, which adds to your comfort and reduces electricity bills. It is the temperature difference between the temperature you set and the temperature your HVAC turns on.
Typically, these thermostats come with a swing setting ranging from 0.1 degrees to a three degrees difference. As a general rule of thumb, a higher swing allows your HVAC to run more efficiently. However, it is less comfortable.
Single-Stage or Multi-Stage
Before purchasing a thermostat, you need to check whether you need a single-stage or multiple-stage thermostat for your home. If you already have an old thermostat installed in your home, you can simply check whether it supports a low heat or auxiliary heat mode.
Generally, you need a single-stage thermostat in places with two HVAC systems, heating and cooling. However, there are many homes with more than just the two standard systems. With solar panels, ACs, gas furnaces, and baseboard heating, you need to opt for a multi-stage thermostat.
Advanced Features
Some models might also feature some additional features in their thermostats. For example, you can look for non-programmable thermostats with keypad locks to keep them safe from children. Similarly, some thermostats allow you to set the upper and lower temperature limits for safety too.
Affordable Non-Programmable Thermostats
Since there are a wide variety of thermostats available on the market, it is challenging to find a reliable and high-quality one for your home. Fortunately, we have researched for you and reviewed six of the best non-programmable thermostats in the following section: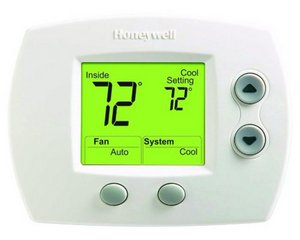 Honeywell is one of the most well-known manufacturers of thermostats, producing only high-quality and efficient regulators for their customers. Their Honeywell TH5110D1006/U non-programmable thermostat comes in a sleek, white, and rectangular-shaped unit that goes well with most interior designs.
Besides this, it has a 1.5-inch digital display with a backlight feature to increase readability for the users. Here, you can check the temperature of the room and the set temperature of your thermostat. With four large and soft buttons on the unit, you can easily turn on the thermostat and adjust the temperature.
Additionally, the thermostat is also dual-powered. You can either use two AA batteries or hardwire it into the electrical system in your home. The Honeywell TH5110D1006/U supports heat pump systems or a single conventional HVAC system, hot or cool.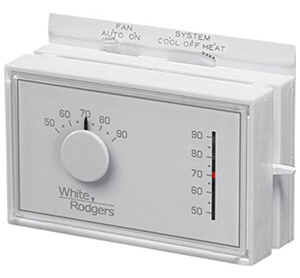 If you are looking for one of the best manual non-programmable thermostats on the market, then White-Rodgers Emerson 1F56N-444 will fit right in your home. It boasts a sleek and compact design, with three mechanical switches and a handy dial.
You can use these buttons to set your desired home temperature, switch between heat and cool systems, and turn your fan on. Here, the thermostat offers a temperature range from 50 to 90-degree F. Overall, the thermostat design is suitable for people looking for a simple unit with straightforward operation.
Besides this, the White-Rodgers Emerson 1F56N-444 works with all gas, electric, and even oil single-stage HVAC systems. Meanwhile, the integrated bimetal thermometer inside the unit reads the internal home temperature and makes changes to the system.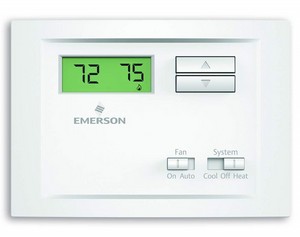 The Emerson NP110 is one of the best non-programmable thermostats on the market at an affordable price that will not dent your savings. Unlike other models, it is slightly larger and offers a much smaller display screen on the unit. However, the temperatures are still readable due to its backlight feature.
Instead of including a touchscreen, this basic thermostat contains four mechanical buttons to change the temperature or switch from heating to cooling system. Besides this, you can adjust the temperature with a precision of up to 1-degree F.
If all this was not enough, the cost-effective thermostat is compatible with single-stage cooling, heating, and heat pump systems. On the downside, it does not work with heat pumps with auxiliary backups or multi-stage HVAC systems.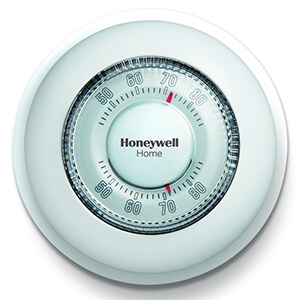 Since Honeywell manufactures some of the highest quality thermostats, it is no wonder that the Honeywell Home CT87K1004 made our list too. It is a highly reliable thermostat with a unique circular unit that blends modern and classic design well. In addition, the user-friendly design makes it easier to adjust the temperature with precision of up to 1-degree F by just rotating the simple dial on the machine.
Moreover, the manual non-programmable thermostat supports heat-only systems, including hot water and steam, gas, oil, electric, and heat pumps without backup. Unfortunately, it is not compatible with an electric baseboard system, multi-stage heating or cooling, or heat pumps with backup.
In addition to this, it is one of the easiest thermostats to install to your existing heating system.
The Honeywell Home CT410B Thermostat is another Honeywell product that offers remarkable features at a very feasible price. It has a compact, rectangular-shaped unit that is easy to mount on the wall and install to your HVAC system. What's more, its white color goes well with your interiors.
Besides this, the manual thermostat has an easy-to-use dial to adjust the temperature of your home. It also uses a bi-metal temperature sensor to keep the heat at your set temperature. Moreover, the thermostat also includes a 2 or 4 wire non-polarized connection, increasing its versatility significantly.
Overall, you can use the thermostat with electric baseboard systems, 120-240 V convectors, and fan-forced heaters.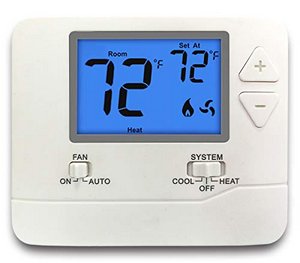 ELECTECK digital non-programmable thermostat is another reliable thermostat that combines user-friendly features, simple white design, and reliable temperature control in one unit. It has a large display screen, measuring about 4.5-inch, with a blue backlight to help you read the temperature even in darkness.
Furthermore, it features large, mechanical buttons to adjust the settings to your liking. The thermostat also offers precise temperature control up to 1-degree F and is relatively easy to install in your heating system. If all this was not enough, it has a dual-power operation and can work with batteries or a 240 V AC power supply.
The ELECTECK thermostat is compatible with single-stage heating and cooling systems and heat pumps without an auxiliary system.
Read Also: The Difference Between Auxiliary Heat And Emergency Heat
Conclusion
While programmable thermostats may come with a long list of customization options and features, they are pretty costly and challenging to use. It is especially true if you will not use all the features or struggle with its complicated operation.
This is where some of the best non-programmable thermostats come in. They have a simple design, easy-to-use features, budget-friendly price, and reliable temperature control.
If you are also interested in purchasing a cost-effective thermostat without all the bells and whistles, read our reviews to find the best one for your needs.