Filterless air purifiers are the need of the hour. Everyone wants to live and work in a clean environment and breathe in purified air. Being a homeowner, it is sometimes tiring to maintain air filters in your purifying system. However, worry no more!
The novel filterless air purifiers are the savior for everyone. It is without a doubt that these purifiers are more efficient, less costly, and less noisy. So why would you miss out on saving your time and energy?
If you are tired of maintaining air filters, consider opting for air purifiers without filters. In this article, we will explore the various options you have along with their best values to help you choose the best filterless air purifier for your home.
---
In a hurry?
If you don't have much time, use the links below to quickly find the best no filter air purifier:
---
Different Types of Filterless Air Purifiers and How They Work
Ionic Air Purifiers (Electrostatic Precipitators and Ionizers)
An ionizer purifier works by releasing negative ions in the air that causes the pollutants in the air to stick to the surfaces in the room, such as the bed, floor, etc. These particles settle down in clumps, forming heavier particles, making it easier for you to remove them.
The electrostatic air purifiers have a positive plate as well. So after the negative ions charge the dust particles in the air, the positive plate attracts these particles to get rid of them.
Ionizers, however, do not remove gaseous particles, VOCs, or odors from the air. Their primary function is to remove particulate matter from the air.
Related: Do Air Purifiers Produce Radiation
Ozone-Based Air Purifiers
Ozone air purifiers take in oxygen from the air and give it a strong electrical charge. A chemical reaction occurs, which causes oxygen molecules to react with each other and form an O3 molecule.
The machine releases this ozone into the air, which reacts with the pollutants and eliminates them. The O3 molecule works on a molecular level. It destroys the cell wall of bacteria, fungus, odors, etc., while converting itself into harmless oxygen.
Read Also: How Does an Ozone Generator Work
Ultraviolet Light (UV) Air Purifiers
UV air purifiers utilize UV lamps to alter the DNA of microorganisms and inactivate or eliminate them. It is a combination of a forced-air system and a HEPA filter that allows indoor air to get in the purifier.
The air is then passed through a chamber with bulbs emitting UV light targeting the incoming impure air in order to turn it into purified air.
Photocatalytic Oxidation (PCO) Air Purifiers
As opposed to HEPA filters, PCO air purifiers have power technology capable of destroying dust particles of up to 0.001 microns.
This kind of purifier targets a variety of contaminants such as chemically active compounds (CACs), volatile organic compounds (VOCs), and other microbes.
The photocatalytic oxidation process involves UVC radiation combined with a catalyst such as Titanium Dioxide (TiO2) that reacts with malignant pollutants and changes it into the water, carbon dioxide, and other particles.
Advantages and Disadvantages of Air Purifiers Without Filters Compared to Filter-Based Air Purifiers
No filter air purifiers are used to remove contaminants such as bacteria and viruses. Filter-based air purifiers are equipped to remove odors, VOCs, allergens, pet dander, and smoke.
Filterless air purifiers cover a larger area as large as 3,500 square feet, while filter-based purifiers cover around 1,000 square feet of space.
In terms of power efficiency, air filterless air purifiers are more energy-efficient, drawing less power in operations by using PCO systems.
The filter system requires constant maintenance and is noisier. Air purifiers without replacement filters need maintenance only once or twice every few years. They are also silent, hence causing less disturbance.
One of the major disadvantages of a filterless air cleaner is the high number of byproducts it releases into the air when it is working.
While they filter plenty of irritants from the air, filterless air purifiers such as ionizers release ozone, which is detrimental to people suffering from asthma.
Moreover, the negative ion technology only works to clump the particulate matter in the air, not remove them from the air altogether.
On the other hand, filter-based air purifiers produce byproducts that the purifier traps in it. It prevents them from being released into the air.
What to Look for When Buying a Filterless Air Purifier
If you have decided to buy a filterless air purifier for your room, house, or office space, first contemplate the things you need to consider before buying the product.
Need for the Product
First of all, recognize your need for the air purifier to decide which kind of product you need. Specific models have specific purposes. They target different pollutants and are responsible for removing dust particles.
For example, if you need purifiers that specialize in removing allergens from your surroundings, you should go for an air purifier that has HEPA filters to eliminate indoor allergens.
If you suffer from asthma or other allergies, you should opt for an asthma air purifier or odor and chemical air purifier.
Similarly, smoke air purifiers remove smoke, fumes, and soot. Some purifiers target pet dander, some chemicals, and so on.
Size
Consider the square footage of the room or space where you need to filter the air. Every purifier has a different range that it covers depending upon its own size.
Evaluate the air change per hour (ACH) rate of the purifier to figure out how fast it purifies given the square footage of space.
For example, a purifier that provides clean air at least four times per hour is best for people suffering from allergies and asthma.
Specifications
Energy-Star Rated purifiers approved by the EPA are efficient in terms of energy consumption and money.
Some air purifiers can be controlled by Wi-Fi. Other specifications can include fan speeds, mobility, filters, regular updates, and so on.
Portability
Opt for an air purifier with better mobility if you travel a lot or have a large place where a standalone purifier can't perform well.
Air purifiers with casters are more feasible as they are light, compact, and easy to move.
Maintenance
The major maintenance required by air purifiers is the filters they need to function. Since an air purifier without a filter does not need one to work, it usually does not need replacements.
However, UV light air purifiers might need bulb changes, and some might need sterilization once in a while.
7 Best Filterless Air Purifier Reviews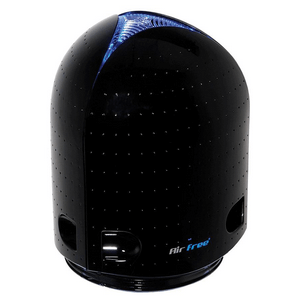 The Airfree Onix 3000 is powered by the high-end technology of Patented Thermodynamic TSS Technology. TSS ensures that your surroundings are not only cleaned of regular dust particles but also from chemical and organic allergens. These pollutants include fungus, mold spores, bacteria, viruses, dust particles, pollen, and even ozone.
Moreover, the Airfree Onix 3000 is safe for use as it does not radiate or emit harmful UV radiations, ozone particles, and other contaminants into the air. Unlike most of the noisy air purifiers that cause a disturbance in the house, this model will let you sleep through the night even when it is operational.
This filterless air purifier is an ideal fit for your office space or home decor as it is compact, portable, and blends well with any surroundings. Lastly, the device would save you a lot of money that you would otherwise spend on tons of supplies such as air filters, sterilizers, sanitizers, and other cleaning products.
Learn more about the Airfree Onix 3000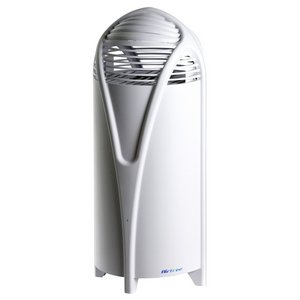 The Airfree T800 is distinct even among its own kind. With four legs to let the indoor air enter the no filter air purifier more efficiently, this device is phenomenal in its design. Moreover, with a build such as this one, you would expect a higher price. Guess what? Airfree T800 is as feasible in its price as it is in its built, so money won't be an issue.
It uses the Thermodynamic TSS Technology to ward off even negligible contaminants such as molds, pollen, bacteria, viruses, organic and chemical allergens. This technology ensures an ozone-free environment. The best thing about it is that it functions to mitigate asthmatic irritants like spores, animal furs, dander, and so on. It prevents allergies.
The air purification unit is safe for the surroundings, using Airfree's latest heat technology without making the space hot. It doesn't use a fan either. Since the device emits no UV light or other harmful byproducts, it is suitable for kids and pets.
Learn more about the Airfree T800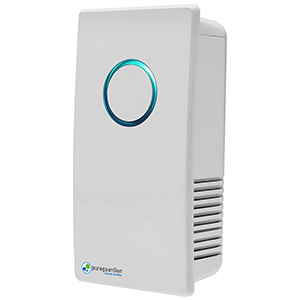 We really appreciate the compact design of the GermGuardian GG1100W. It is just 7 inches in size, making it perfect for small spaces such as bathrooms, laundry rooms, and even kitchens. Despite its small size, it packs a powerful punch in terms of its ability to reduce unwanted odors from pets, cooking fumes, and more. It certainly made a difference in the air quality of our office when we tested it.
One of the standout features of this filterless air purifier is its ability to kill germs using UV-C light technology. This feature is especially important in today's climate where airborne viruses such as influenza and rhinovirus are a real concern. With the GermGuardian GG1100W, you'll feel more at ease knowing that the air in your home is being cleaned and purified.
We also like that this air purifier requires no setup or assembly. Plus, with no filter replacement required, the only thing you'll need to do is replace the GermGuardian UV-C light bulb. Overall, we highly recommend the GermGuardian GG1100W pluggable air purifier. It's a great investment for anyone looking to improve the air quality in their home, especially in smaller spaces where traditional air purifiers might not fit.
Learn more about the GermGuardian GG1100W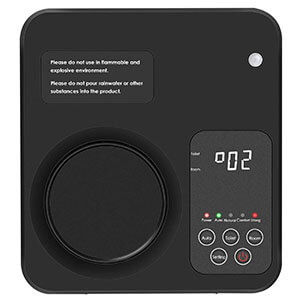 With tremendous innovative technology, the TREKOO air purifier is one of the best filter-free air purifiers on the market. It is excellent in removing tough odors from the surroundings by generating ozone (O3), which breaks down odors such as cigarette smoke, cooking smells, pet odors, chemical fumes, and so on.
The TREKOO air purifier uses a negative ion generator to create and release up to 1 million negative ions per second. These negative ions purify and refresh the room up to around 166 square footage, making it suitable for your rooms, offices, kitchens, and cars.
Moreover, this air purifier is pocket-friendly even with its excellent specifications. It reduces energy consumption by its auto sensor operation that senses people or pets around it and generates negative ions and ozone accordingly. Otherwise, it shifts to sleep mode in order to reduce energy consumption. It is filter-less, long-lasting, and free of noise.
Learn more about the TREKOO Air Purifier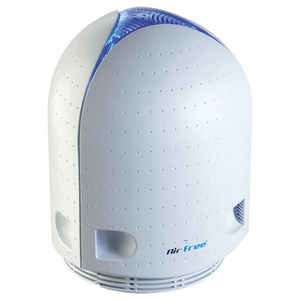 The standard Airfree P1000 is a perfect fit for a 450 square-feet space. With the iconic Airfree innovation of Patented Thermodynamic TSS Technology, this filterless air purifier applies the same principle used in boiling water to kill microorganisms.
It uses heat to efficiently kill all airborne pollutants such as bacteria, viruses, molds, etc. Airfree P1000 gives you clean air and is devoid of dust particles, pet dander, and smoke particles to ensure a healthy respiratory system.
It is absolutely necessary for patients with breathing difficulties due to asthma and other allergies. The device ensures clean air and pollutant-free surroundings. Its filter-free mechanism also saves time for maintenance.
Learn more about the Airfree P1000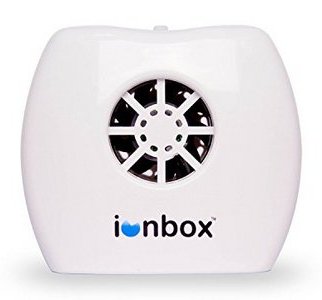 The IonPacific Ionbox filter-free air purifier is a leading product in the market with respect to negative ion technology. The air ionizer is capable of emitting around 20 million negative ions per second. Another advantage is that the purifier is designed with a special fan that keeps your walls clean and prevents them from blackening.
It is energy efficient with a dual voltage supply and Ionbox's multi-power supply technology, making it travel-friendly. With its state of art design and technology, it is perfect for an area of 500 square feet.
The portable size is capable of delivering about ten times higher negative ions compared to other models of the same size. This is because the state of the art technology ensures maximum efficiency in minimum size. The filter-free feature of the purifier makes it time-friendly. The need for maintenance is minimal.
Learn more about the IonPacific Ionbox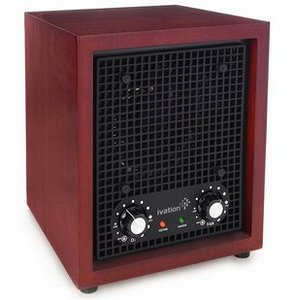 A little conventional in its design, the Ivation Air Purifier is efficient in its negative ion technology. It cleans the air up to 3500 square feet, helping you to breathe in cleaner air. It can remove dust particles, allergens, bacteria, and other irritants from the environment. By releasing activated oxygen in the form of ozone, the purifier prevents bad odor. And more importantly, the virus-eliminating nature of this cleaner targets various harmful viruses.
It is an ideal fit for your office space or home decor as it is compact, portable, and blends well with any surroundings. The design is also durable and attractive. The latest model is also silent and ensures a quiet environment.
The Ivation Air Purifier would save you a lot of money that you would otherwise spend on tons of supplies such as air filters, sterilizers, sanitizers, and other cleaning products.
Learn more about the Ivation Air Purifier, Ionizer & Deodorizer
Final Verdict
Remember to prioritize your health and invest in an affordable but efficient filter-free air purifier that gives you clean air. In the present-day environment, it becomes more of a necessity than a luxury. Hence, it is vital to look for the best filterless air purifier for your home and office spaces.