Quiet industrial shop fans have gained popularity over your average oscillating room fans due to their higher velocity output and rugged design.
They are ideal for shop environments where you need a higher output, such as large industrial workshops. But higher and better airflow means increased noise levels, distracting you and decreasing your productivity.
In addition, the throbbing sound of higher velocity airflow becomes quite irritating if you spend hours in commercial spaces.
In such a situation, a quiet fan helps reduce the distracting noise in your working space.
These are high velocity fans that produce a sound below 85 decibels, significantly less than a box or floor fan.
Let us look into the best quiet shop fans and their features.
How Quiet Should An Industrial Fan Be?
Since industrial fans oscillate, they tend to produce more sound. However, most working environments' general noise level specifications are 85 decibels for all workers working an eight-hour shift.
According to the Occupational Safety and Health Administration, there are legal limits regarding the sound levels in a working space. The noise levels for commercial spaces should be below 85 decibels and three feet away to prevent initial occupational hearing loss.
However, most industrial fans produce higher noise levels. Therefore workers need to take additional measures to reduce the loud noise as it may cause noise-induced hearing loss.
One effective way to combat this issue is to invest in quiet industrial shop fans that can significantly reduce the ambient sound to maintain a safe and comfortable working environment.
These fans produce sound levels of less than 75 decibels, suitable for the staff working an eight-hour shift.
Read Also: Easy Ways To Fix A Ceiling Fan Making Noise
Factors Influencing Noise Level of an Industrial Fan
Understanding the noise levels and their subsequent impact is vital for commercial workers. For example, since industrial fans are equipment that has rotating components, they vibrate and produce noise.
To reduce these noise levels, you must look into the factors contributing to the sound. The noise level produced varies as it depends on the fans' flow rate, efficiency, pressure, material, and size.
Here are additional variables that affect the level of fan noise.
Vibration of Parts
Industrial fans have components such as blades and screws that vibrate, producing structure-borne noise. In addition, the vibration of loose mounting screws increases noise levels.
Some industrial fans are mounted on metal or wooden surfaces. The fan vibrates against the wooden or metallic exterior. This amplified surface vibration produces more noise.
Many people use vibration isolators to reduce vibration transmission.
Size
Industrial fans emit more noise due to their turbulence effect. In addition, the fan blades rotate from the fan shaft to produce increased noise levels.
Larger fans increase turbulence due to larger fan blades and a working motor.
Moreover, their higher speed produces more airflow. This makes them ideal for working spaces, but they have more sound with faster rotations.
Design
Sometimes the design of the fan can also contribute to more sound. For example, the air movement system's design produces unwanted noise as the air velocity inside the fan interrupts the output airflow.
This happens due to numerous sources such as pressure values, outlet/inlet sound power, size, motors, and fan efficiency.
Fan Speed
Fan speed is another factor contributing to the increased noise levels. Larger fans with faster fan speed produce more sound.
In contrast, low-speed fans are quieter, but they deliver less airflow, which is unsuitable for commercial spaces. This is why you must look for quiet industrial shop fans.
Warped Blades
Warped or damaged blades of an industrial fan can enhance the noise levels. Broken blades cause noise when the fan rotates.
Moreover, the fan motor generates a more significant work output if the blades are warped or damaged. This results in more motor noise.
Fan Motor Noise
An industrial fan motor produces significant noise. Typically, fan motors for working environments produce less than 85 decibels sound levels.
Still, various factors such as the working space, ceilings, and reflective materials play a critical role in reducing or increasing the sound coming from the fan's motor.
Lack of Lubrication
Most often, the noise produced by industrial fans is due to rusted interior parts. Thus, if your fan provides extra noise, it could be due to the internal parts not having sufficient lubricant.
Fans require oiling to function properly. Therefore you must check your industrial fan and drip oil into the oil hole to run it smoothly.
Read Also: How to Lubricate a Ceiling Fan Without Taking It Down
What Is The Quietest Industrial Shop Fan?
There are numerous fans available for large industrial workshops, and we can't sift through all of them. As our primary concern is reduced noise levels, we must look into the fans with a high-velocity airflow but a low noise range.
The quietest industrial shop fan has excellent dust resistance with a high-velocity airflow output. Here are the top five quietest industrial shop fans perfect for workspaces such as a garage or warehouse.
1. Tornado 24 Inch High Velocity Industrial Floor Fan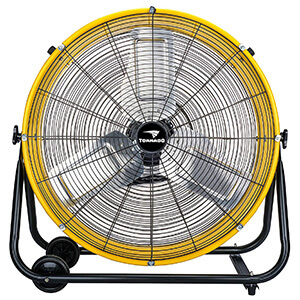 The Tornado 24 Inch Industrial Fan is an excellent high-velocity shop fan with a classic wire cage design. This floor fan features a heavy-duty metal drum designed to move a more significant air volume, making it ideal for commercial and industrial spaces.
Moreover, it is highly durable and sturdy due to aluminum and powder-coated steel construction. It also features a rust-resistant grille and three-blade propellers that have steel housing.
The Tornado industrial fan has three-speed settings for air delivery. It also comes with two integrated handles at the top, making it easier to carry. Furthermore, the fan doesn't weigh a lot, so you don't have to worry about moving it into your garage. In addition to this, it has non-skid positioned legs that feature rubber castors.
The fan tilts 360 degrees and produces about 72 decibels only. This is an ideal sound range for working spaces. Its futuristic noise-reducing technology makes it one of the quietest industrial shop fans available on the market. However, it is on the upper end of the price spectrum.
2. Simple Deluxe 20 Inch Heavy Duty Industrial Fan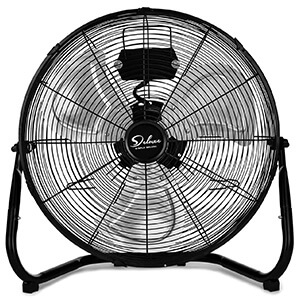 The Simple Deluxe 20 Inch Industrial Fan is a small yet powerful heavy-duty fan suitable for small to medium working spaces.
The fan has a rugged design featuring a metal frame for enhanced durability. It also has a pivoting head that provides a wide range of air circulation. The pivoting head with a 360-degree tilt directs high-velocity airflow for better ventilation in compact spaces.
This floor fan also features a convenient built-in handle on the rear guards for easy carrying. This handle lets you move the fan anywhere you like. Moreover, it only weighs about 11 pounds.
The Simple Deluxe quiet fan is compact but highly efficient. It has three powerful speeds. You can conveniently switch the speed by the fan's rotary switches.
Besides this, the reinforced wire grill enhances safety. The all-metal construction makes the fan durable and rust-resistant, so it works well in garages, basements, and workshops.
Moreover, aluminum blades help create a maximum air velocity of 4012 CFM. This industrial fan comes with double-ball bearings designed to reduce friction.
3. XPOWER 14 Inch Air Circulator Utility Shop Fan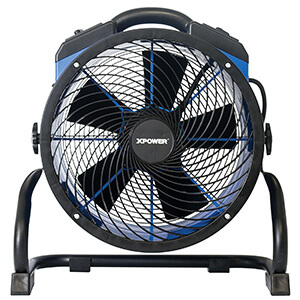 The XPOWER 14-Inch Utility Shop Fan comes with excellent performance as it incorporates a ¼ horsepower motor that draws 1.5 amperes to produce 2100 CFM.
This industrial shop fan features a 4-speed switch with a specialized grill, ensuring efficient, rapid, and continuous airflow output. Due to these features combined with the intelligent directional flow, the XPOWER shop fan can provide air circulation to a spacious room.
The four adjustable fan speeds and three-hour set-and-forget timer make this industrial fan extremely versatile and convenient. In addition, it features a heavy-duty wrap-around cord design with durable housing.
Moreover, you don't have to worry about the fan's installation as it comes fully assembled. Due to its compactness and lightweight, you can stack up the XPOWER fan up to 5 units high for transportation and restoration.
Its powerful high torque technology and induction motor with a 360-degree directional airflow make it one of the best industrial shop fans that produce low sound levels even in compact spaces.
4. Air King 20 Inch Industrial Grade Wall Mount Fan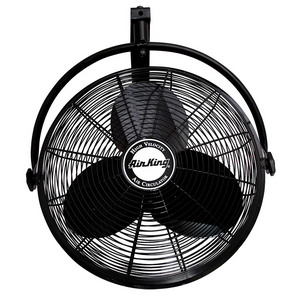 The Air King 20 Inch Wall Mount Fan is excellent for cooling and circulating air in industrial or commercial workspaces such as warehouses, loading docks, storage houses, etc.
This fan features a powerful motor with durable steel construction and can produce high-velocity air circulation. In addition, the motor does not require maintenance as it comes with a permanent lubricator capacitor.
The Air King industrial grade fan features three powerful speeds and a pivoting head that directs airflow. The pivoted fan head can manually be rotated as well, so you can direct airflow however you like. This makes it highly recommended for compact spaces for the best airflow.
This wall fan comes with a pull cord switch located at the back, which is easy to operate. In addition, the mounting system for fast installation makes it user-friendly. Moreover, the unit comes with a 9-foot-long conductor SJT-type power cord. Since you can mount the fan, it will save the table and floor space in your garage.
The fan comes with an assembled fan head, safety cable, user manual, and a wall mount bracket with assembly hardware. It is ideal for spaces that lack floor space.
5. DeWALT 24 Inch High Velocity Shop Fan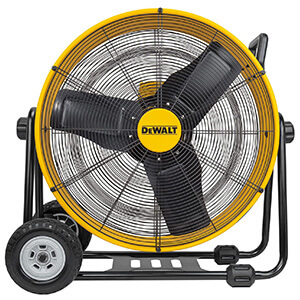 The DeWALT 24 Inch Shop Fan is where durability meets functionality. This high-velocity industrial fan operates between 30 to 60 decibels, producing minimum noise.
It comes with three-speed settings with a maximum of 6500 CFM and 1050 rpm, ideal for providing enhanced airflow in large spaces. The fan does not oscillate, but the head has a 360-degree tilt feature, allowing you to tilt it for directional airflow.
Moreover, it features a folding carry handle with rubber wheels for easy transportation. This fan has a considerable weight of 33 pounds, all thanks to the metal and aluminum body and blades.
DeWALT's high-velocity fan comes with a 12 ft long power cord, suitable for large working spaces. The only downside of this fan is that it produces irritating sound at the most powerful speed settings. It has a significant noise difference of 30 decibels between the lowest and the highest setting.
But overall, the DeWALT industrial shop fan has enhanced stability, sturdy construction, and dynamic air circulation, making it ideal for workshops, barns, garages, etc.
Conclusion
Commercial and industrial spaces need fans to keep the air circulating, but sometimes the noise from traditional fans can be a distraction. Quiet shop fans have been designed for these types of spaces, with higher velocities and less noise.
You must look into factors such as the tilt design, durability, high velocity, airflow, and noise levels before purchasing industrial shop fans to use in your garage, factory, or workshop.
We recommend choosing fans from our list, as these fans are durable, have a higher speed, and produce a minimum of noise, which allows you to focus on your work without any distractions.