Humidifiers are found to be effective as a therapeutic alternative to treat and prevent skin dryness, lips, nose, and throat, especially for those who live in humid and dry environments.
Humidifier therapy eases the indications of seasonal colds and flu and helps keep our homes toasty and cozy.
As an investment, we bet you want to get the most effective and appropriate humidifiers for your home. That's the reason why we have gone over six of the best humidifier for hard water in the market to help you find the perfect one for your needs and preferences.
But before that, let's look at some of the most common questions and concerns with using hard water and what you can do about it.
Short on Time? Here Are Our Top Picks for the Best Hard Water Humidifier in the Market
– MegaWise Cool Mist Humidifier with Water Filter: Ultra Quiet
– HoMedics Humidifier with Demineralization Cartridge: User-Friendly
– Pure Guardian Warm and Cool Mist Humidifier: Best for Large Rooms
Why is Hard Water Bad for Humidifiers?
Hard water, commonly known as tap water, is the prevalent water supply available to any household. Using hard water on humidifiers poses no problem under normal conditions. Tap water is usually safe to diffuse water into the air.
However, hard water has unwanted aftereffects and reactions that are detrimental to your health and can damage the diffuser you are using. Ordinary water holds higher levels of calcium and minerals that can damage your mister.
Whole-house humidifiers or central humidifiers are the most susceptible to mineral build-up as they entail a steady and large water supply. Aside from destroying the pipes, the accumulation of bacteria and viruses can also be hazardous. Mineral deposits from hard water also leave white dust on your home and furniture.
What's the solution?
If you have an existing misting appliance, you can shift to distilled water to soften the water. Though more costly, soft water helps in the effectiveness of humidifiers and greatly reduces mineral build-up.
Another solution is utilizing water softener tablets or a demineralization cartridge. Both methods are successful in removing mineral traces in hard water.
What Type of Humidifier is the Best for Hard Water?
If it's no longer possible to apply alternative solutions, you can buy one that features a built-in filter system. For those who don't have one yet and plan to purchase a room humidifier, it's wise to find the type of humidifier that works best for tap water.
The sheer number of brands and kinds of humidifiers available can be overwhelming. Vaporizers work well in different room conditions and the type of water used.
Ultrasonic Vs. Evaporative
For instance, evaporative humidifiers have wickers that filter heat and blow the vapor into the air. This filter system in the machine effectively traps almost all mineral content, germs, and viruses from the water, making tap water safer to make use of.
Ultrasonic humidifiers utilize frequency and tremor to blow mist into the room. Since there are no water filters in ultrasonic humidifiers, they function well with purified water.
Cool Mist Vs. Warm Mist
Hard water accumulates white residue that requires regular cleaning. Cool mist humidifiers are easy to clean and use less energy. In contrast, the warm mist has added a heating component that makes it tough to disinfect.
Cool mist humidifiers are great for hard water because they are easier to sanitize, safer, and need less energy.
Read Also: Does a Cool Mist Humidifier Cool a Room?
6 Best Humidifiers for Hard Water Without White Dust
1. MegaWise Cool Mist Humidifier with Water Filter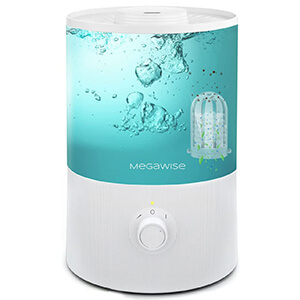 Megawise cool mist humidifier is a noiseless, close-packed, and easy-to-clean humidifier. This ultrasonic vaporizer is the best for the bedroom and nursery. It has a unique silencer technology that limits its sound to only 24dB at low setting and 30dB as the highest when working. It comes in seven-color lights and an oil diffuser for extra comfort and aroma.
Since this product has a water filter, it effectively eliminates lime and hard water impurities. Each filter cartridge contains up to 40 full tank uses. The filter can be detached, letting you use it without one. Since it is manufactured with anti-corrosive materials, you can add essential oil without damaging your unit.
Megawise cool mist humidifier is highly recommended for homes with babies and light sleepers.
2. HoMedics Warm & Cool Mist Humidifier with Demineralization Cartridge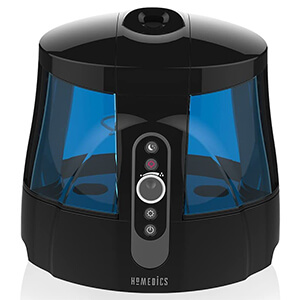 This ultrasonic humidifier from HoMedics offers cool and warm misting choices. You can use it in hot summer months or cold winter seasons. Aside from having a practical choice, it boasts easy-to-use and clean features. You can effortlessly adjust the mist level through simple control buttons.
HoMedics humidifier has a clean tank technology feature. It keeps your abode looking and smelling sanitized and fresh. Anti-microbial technology stops the spread of bacteria and viruses and prevents mold and mildew as well as white residue build-up. This ultrasonic diffuser comes with 2 demineralization cartridges for healthier mist quality.
Many users are fond of its compact and classy design; however, they are particularly unhappy with the loud noise it emits.
3. Vicks Starry Night Filtered Cool Mist Humidifier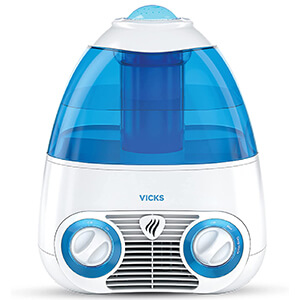 Vicks starry night filtered cool mist humidifier has a projector screen that changes an ordinary space to be a sky night full of stars. Other than the delightful transformation, this humidifier gives a cool and calming effect to aid in your child's deep sleep.
Since the liquid is absorbed into its wicking filter, you are assured that the vapor from the fan is dust and mineral-free. This cool-mist humidifier is well-suited for bedrooms and other indoor areas. Although concerns about the removable tray on the bottom of the machine cause leakage, you can empty the tray whenever you use the mister to a leakage.
Vicks starry night filtered cool mist humidifier is best for kids who are having trouble with sleep. It offers temporary relief from coughing and nasal congestion to keep your children sound asleep.
Read Also: Causes for a Humidifier Leaking Water
4. SPT Humidifier with Ion Exchange Filter
Suppose you want a dual-function, energy-efficient, ultrasonic humidifier. In that case, the SPT humidifier with an Ion exchange filter is the perfect one for you. Aside from noiseless operation, this dual mister also effectively relieves dry skin and throat and nose drying.
Its Ion exchange filter ensures you and your family can breathe easier and sleep comfortably. This unique filter technology softens the water, therefore prolonging the wear and tear of your ultrasonic mister and averting white residue deposits. Specially created with a 360 degrees modifiable split nozzle for wider coverage, it can effectively reach an area of up to 500 square feet.
It comes in a sleek design with simple to use and control panels and an easy carrying handle so you can take it from one room to another without having to worry about breakage or damage.
5. Pure Guardian Ultrasonic Warm and Cool Mist Humidifier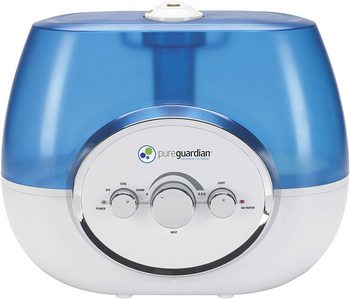 Pure Guardian warm and cool mist humidifier comes in ultrasonic technology that diffuses calming steam without hum or noise. This very quiet feature is highly ideal to use during sleeping hours. It comes in a silver clean tank that protects the appliance from germ and fungus growth.
It effectively preserves the air from getting stuffy and dry making it ideal for cold and dry skin. Another great Pure Guardian product feature is that it's best to use for bigger rooms. It has an easy-to-fill 1.5-gallon water tank, runs up to a hundred hours, and covers up to 630 square feet of room space.
Additional features include an easy-to-clean and replace filter system, a low water indicator, a soft evening glow, and a multi-directional mist. It also automatically turns off when the water tank needs refilling.
6. Honeywell Cool Moisture Humidifier with Wicking Filter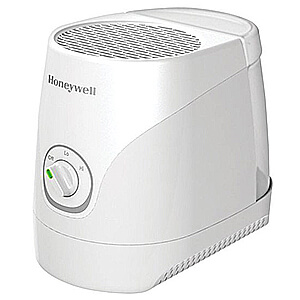 Honeywell cool moisture humidifier has filtered cool moisture that silently emits unseen mist to make your home cozy and homey. It is specially created for small to medium rooms and effectively adjusts room humidity levels by about 40 to 60 percent. Because it can make a room's air feel warmer, it greatly improves breathing and sleeping. Plus, it is 30 percent more silent than other brands available in the market.
It has a wicking filter to capture mineral content from tap water and inhibits residue build-up. Another great thing about Honeywell products is that it has a durable water tank with a wide opening for easy cleaning and water replacement.
Honeywell cool moisture humidifier with a wicking filter is an excellent choice for light sleepers. It effectively raises humidity without the annoying hum.
Conclusion
As with any other home appliance, humidifiers also need proper care and protection for better functioning and result. As an appliance that utilizes liquid to add moisture to the air, humidifiers need water to evaporate mist effectively.
Whether you want an ultrasonic or evaporative humidifier, it is best to choose one that can efficiently filter hard water and prevent the growth of white dust and mineral build-up.
For us, the best choice is MegaWise Cool Mist Humidifier with Water Filter. It effectively purifies and softens the water that significantly promotes good health and well-being, and creates a cleaner and more comfortable living space even for babies.
Pure Guardian Ultrasonic Warm and Cool Mist Humidifier is another prime choice if you want quiet, effective, and safe technology for your home. It also makes a good choice for bigger indoor living areas because it covers wider spaces than other brands.