With the current global pandemic still being present to date, keeping your home and office space clean is highly important to keep you and your loved ones' health safe.
Smart technology has taken a huge role in keeping households safe against sickness. One of the best technologies introduced in the market these days is a dehumidifier and air purifier all in one unit. These machines help in providing clean and fresh air indoors through their air filtration and excess humidity removal functions.
If you want to ensure your air at home is clean and free from impurities, you should consider investing in a high-quality dehumidifier and air purifier combo unit.
Best dehumidifier air purifier combo: At a glance
– Best HEPA filter: Afloia Q10
– Best for basement: Midea 50 Pint
– Best for bathroom: Tenergy Sorbi
– Best for bedroom: Hysure 2-in-1
What to Consider When Choosing a Dehumidifier and Air Purifier Combo
When shopping for a dehumidifier air purifier combo device, it is important to invest in one that is going to deliver the functionality your home or office requires. In order to make sure you are getting your money's worth, make sure to consider these factors first before buying one.
Device Capacity
There are various options for dehumidifier and air purifier combo that are made for different sizes of room areas. Before deciding which product to purchase, make sure the device caters to your room size. You can find the device's room size capacity in its description which is typically indicated in square feet units.
Tank Capacity
Dehumidifier and air purifier device combo are also designed with different tank sizes which determine the device's water collection volume capacity. If you intend on using the device for long hours, it is ideal to choose one that offers a larger tank size.
Ease of Use
A dehumidifier and air purifier combo should not be complicated to use. In order to make sure you won't have a hard time operating your device, choose one that comes with advanced automatic options that make the air purification process a breeze. Also, make sure to choose one that allows you to easily set a timer so you won't have to take a mental note of when it's time to turn off your device.
Operating Temperature
In the process of eliminating excess humidity, air purifier and dehumidifiers require certain operating temperatures in order for the device to deliver optimal air purification. It is highly recommended that you choose a combo that can deliver optimum performance all year round regardless of the season.
Warranty
Given that home appliances such as dehumidifier and air purifier combo units are typically expensive, you must look into the unit's warranty period and terms and conditions. Most of the time, units with longer warranty periods are engineered with high-quality components and are typically long-lasting.
5 Best Dehumidifier and Air Purifier All-in-One Units
1. Afloia HEPA Air Purifier and Dehumidifier 2 in 1
When purchasing an air purifier and dehumidifier combo, you want a unit that would deliver the best job at purifying indoor air and eliminating excess humidity. The Afloia 2 in 1 is designed to provide the best quality of indoor air with its advanced functionalities. This space-saving device is also designed to eliminate unpleasant pet odors, smoke, and dust.
The Afloia Q10 features HEPA filtration 99.97% microscopic particles and pollutants in the air. This device promises to create fresh air and that almost no pollutant can escape its purification action.
In terms of water-collection capacity, this device is equipped with a 35oz tank. It can collect up to 25oz of water daily and it works efficiently in room areas that are 215 sq ft in size.
When it comes to convenience and ease of use, this air purifier with a dehumidifier is fairly simple and very easy to operate. It also comes with a handy auto shut-off feature that turns off the device once the tank is full.
If you are looking for a HEPA air purifier dehumidifier all in one unit that is cost-effective, space-saving, and delivers optimum performance, the Afloia Q10 is one you should check out.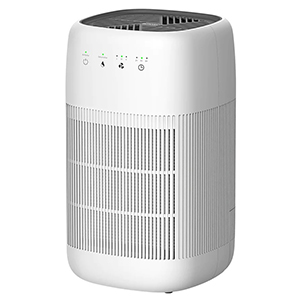 Check out this air purifier and dehumidifier combo on Amazon.
2. Tenergy Sorbi Dehumidifier w/Air Purifying Function
Those who are on the lookout for a high-quality but budget-friendly dehumidifier air purifier combo will surely appreciate the Tenergy Sorbi. This device is engineered to help you get fresh air indoors without breaking the bank.
The Tenergy Sorbi utilizes HEPA filtration and Peltier technology which effectively removes excess humidity and purifies indoor air. In addition, this device's True HEPA filter claims it can capture 99.97% of microscopic particles in the air that many standard HEPA filters can't capture.
This dehumidifier and air purifier combo is equipped with a 1-liter tank that is easily detachable. It can also collect up to 750ml of water daily in environments with 80 percent humidity.
Aside from being one of the good affordable options on the market, the Tenergy Sorbi is also well-commended for being highly energy efficient. This device is also very easy to use and comes with a convenient water level indicator and an auto shut-off function.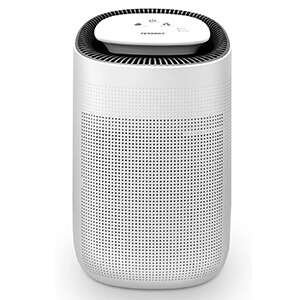 See this dehumidifier with air purifier on Amazon.
3. Midea Dehumidifier with a Reusable Air Filter
Midea is one of the top-trusted brands when it comes to home and office appliances given its excellent track record of providing high-quality products. The Midea dehumidifier with a reusable air filter is no exception when talking about the brand's top-selling products.
This dehumidifier and air purifier combo is engineered to deliver exceptional humidity elimination and air purification for large rooms with its 4500 sq ft capacity. Its dehumidifier is Energy Star-certified and it claims to deliver ultra-quiet operation.
Moreover, this combo device is equipped with a large tank with a water capacity of 50 pints or 23 liters. If you want a device that is perfect for large rooms and will not require you to empty the water tank frequently, the Midea dehumidifier with an air filter is the way to go.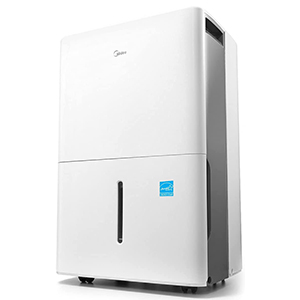 Learn more about this dehumidifier air purifier combo on Amazon.
4. Frigidaire Dehumidifier with a Washable Filter
While many dehumidifier and air purifier combos deliver an excellent job at providing fresh and clean indoor air, not all of them are considered eco-friendly. If you are an environment-conscious consumer and you want to invest in a device that is considered sustainable while also able to provide exceptional performance, then you should check out Frigidaire dehumidifier with a washable filter, a Climate Pledge-certified unit.
This dehumidifier air purifier combo comes with a 10-liter (22 pints) water tank and an easy-to-clean washable filter. This device claims to effectively capture dust and impurities in the air while also removing the excess humidity.
One unique feature of the Frigidaire combo that many other similar machines on the market do not have is its "Continuous Drain" function. This allows the device's tank to drain continuously which is extremely convenient for many busy homeowners.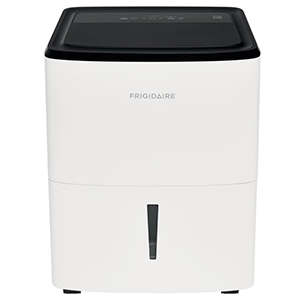 Find this dehumidifier with a washable filter on Sylvane.
5. Hysure Dehumidifier Air Purifier Combo
If you are looking for a dehumidifier and air purifier combo that you can easily place in your basement, bathroom, or closet, then you should check out the Hysure dehumidifier with air purifying function.
This device delivers optimum air purification without taking up so much space. It has a room size capacity of 215 square feet, a 1-liter tank size, and claims to collect up to 750ml of water daily.
Hysure dehumidifier air purifier combo features HEPA filtration that can capture up to 99.97% of microparticles in the air with the help of its highly-efficient media filter.
This device also comes with handy touch panels with LED indicators and delivers stellar performance with very minimal to zero noise.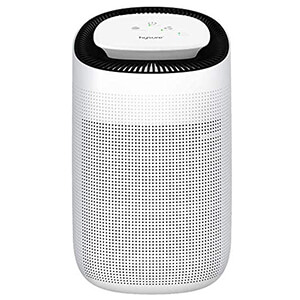 Check out this dehumidifier air purifier combo on Amazon.
Our Verdict
Home appliances such as the air purifier and dehumidifier all in one unit are designed to help people achieve fresh and great-quality air indoors. However, these 2-in-1 machines can be quite expensive given their multi-functionality. Thus, when choosing one, it is important that you pick a unit that is going to deliver optimal functionality and dependability for long-term use.
Now that you know our top five picks for the best dehumidifier and air purifier combo units, choosing the right device for your home or office should be a lot less challenging on your end by now. Make sure to take the factors for consideration mentioned above in mind.
Before you go, be sure to check out the related post: Best air conditioner air purifier combos