Mini split heat pumps are a practical way to heat up your garage. However, as with heating any other space, you'll need to look for the most efficient solution.
With so many options available, this can be a challenging decision to make. This article looks at the best mini split heat pumps for a garage while also giving you all the info that you need. Let's get started!
Can a Ductless Mini Split Unit Heat Your Garage Well?
If you've chosen the right heater and it was properly installed, a mini-split unit can heat up your garage very well. This means you have to find the heater that works optimally for the size of your garage, a joint or detached garage, the type of insulation your garage has, and the climate conditions you live in.
A 400-square-foot garage needs about 6,000 BTUs of heating, which most ductless mini-split heat pumps are more than capable of providing. They also come in larger sizes, so you won't have trouble with the one that can heat up your space.
With a mini-split heater, you won't have to worry that your vehicle won't start on freezing winter mornings. Nor would you be overheated when you accidentally leave the appliance on for too long. You'll even be able to save money by getting a ductless heat pump instead of installing additional insulation to prevent heat loss.
Comparing Mini Splits vs. Other Garage Heating Options
Let's take a look at the other garage heating options so you can make the right choice.
Garage Space Heaters
A garage space heater can be a great way to heat up your garage, but there are a few things to keep in mind before you buy one. One of the main pros of a garage space heater is that it can help you save money on your energy bill.
If you use your garage for working on projects or for storage, then you probably don't need to heat the entire space. A space heater will allow you to target the area that you're using.
However, there are a few potential cons to consider as well. One of the main cons is that a space heater can be a fire hazard if it's not used correctly. Additionally, a space heater can make the air in your garage very dry.
Wall Furnaces
One advantage of wall furnaces is that they allow you to control the temperature in your garage more precisely than other heating methods. However, they can also be less efficient than other options, and may not evenly distribute heat throughout the space.
Additionally, wall furnaces can be expensive to install and maintain. But if you're looking for a reliable and easy-to-use heating solution for your garage, a wall furnace may be the right choice for you.
Portable Heaters
Portable heaters come in a variety of shapes and sizes, and they can be powered by electricity, propane, or natural gas. Some even come with built-in thermostats so you can maintain a consistent temperature.
However, they can be expensive to operate, and they can be a fire hazard if not used correctly. Before using a portable heater in your garage, be sure to do your research and understand the risks involved.
Floor Heating System
One of the biggest pros is that floor heating is very efficient. The heat radiates up from the floor, so it evenly warms the entire space. Another advantage is safety as you don't need to worry about open flames or accidentally being burned.
However, there are also a few cons to consider. One of the biggest is that floor heating can also be expensive to install and it can be difficult to control the temperature.
Read Also: Best Heaters for Garage Gyms
What Are the Benefits of a Garage Mini Split?
Compared to other garage heater options, mini splits often prove to be the most efficient solution – and for several reasons. For starters, you can leave them on all day long without risking overheating or any other issues. This means you won't have to go into your garage several times to turn the unit on and off just so you won't freeze spending 15 minutes there.
Unlike with some other heating systems, the components of a mini split heat pump are typically installed relatively close together. You'll save space and money on installing your ductless heater because you won't require any additional wiring, cables, or tubes. This also comes in handy during maintenance and when you want to inspect the system for potential issues. The repairman will have an easier time accessing both parts of your system.
The lack of space between the components also means that you'll waste less energy. Provided your garage has good insulation, the heat loss will be minimal. With fewer temperatures fluctuation, everything you keep in your garage will be preserved more efficiently.
Since a mini split unit doesn't take up much space, you'll have more room for the items you want to store in your garage. And if you decide to convert the garage into a space with a different function, it will be much easier to do so with an uncomplicated ductless heat pump than with a heating and cooling system that requires wires and ducts. Since they are less than appealing, the latter also reduces the property's market value. With a mini-split heat pump, you won't have this issue.
What Size Mini Split Heat Pump Do You Need for a Garage?
To determine what size of mini split heat pump you need, measure the garage square footage. Here is a sizing breakdown for garages of different sizes depending on the insulation:
Garage Size
Garage Type
BTU (good insulation)
BTU (poor insulation)
200 Sq Ft
one-car garage
3,000 BTU
5,000 BTU
300 Sq Ft
one-car garage
4,500 BTU
7,500 BTU
400 Sq Ft
one-car garage,
two-car garage
6,000 BTU
10,000 BTU
500 Sq Ft
two-car garage
7,500 BTU
12,500 BTU
600 Sq Ft
two-car garage
9,000 BTU
15,000 BTU
700 Sq Ft
three-car garage
10,500 BTU
17,500 BTU
800 Sq Ft
three-car garage
12,000 BTU
20,000 BTU
900 Sq Ft
three-car garage,
four-car garage
13,000 BTU
22,500 BTU
1,000 Sq Ft
four-car garage
15,000 BTU
25,000BTU
You'll also need to consider how you want to divide the area. For example, if your garage has a window or a drafty door, it's best to divide the heating into three areas. So, if you have a 900-square-foot garage, you'd need about 4,500 BTUs per area. If you don't have windows or drafty side doors and your garage is small, you may get away with using a small heater undivided.
4 Best Mini Split Heat Pumps for a Garage
In this section, you'll find the 4 best mini split heat pumps for a garage. As you'll see, each product has been selected due to a different feature. They contribute to their value in diverse ways and are recommended for different reasons.
1. Pioneer 12000 BTU Ductless Mini Split Heat Pump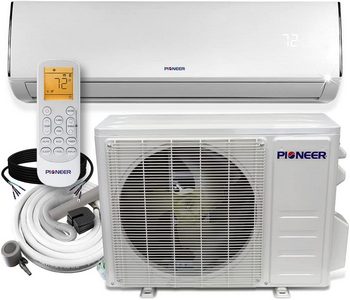 The Pioneer Ductless Mini Split is a highly efficient inverter heat pump system that provides the heat power of 12,000 BTUs. This system can be used for heating and cooling, and besides the 12,000 BTU per hour, it also has a 10 HSPF and a 20 SEER efficiency. The heat pump is perfect for residential applications.
Its low profile takes up less space and makes the area more appealing to use for different purposes. The entire mini-split system includes the outdoor (condenser) unit, the indoor (fan coil) unit, a vibration absorbing pad for the condenser, a 16ft. line set, and a wireless remote controller with a holder. The latter makes it ideal for smart temperature control.
It's recommended for maintaining temperatures at a constant level, in which case it only draws around 300 watts of energy. When actively heating, it can use anywhere from 800 to 1200 watts, so it's not recommended to turn it on and off.
2. Senville LETO Series 9000 BTU Mini Split
The Senville LETO Series Mini Split is an Alexa-enabled system that allows you to use an app or voice control to operate your unit. It also comes with a feature that lets you set up temperature based on average climate conditions, which can help you save up to 40% on your energy bills.
This mini split heat pump also functions as a dehumidifier and is also equipped with a fan and a turbo function. It works with a DC Inverter, which makes it even more durable. The device is backed by a 5-year manufacturer's warranty on the compressor and replacement parts and free technical and installation support.
Its attractive appearance makes it ideal for garages, but you won't regret installing it even if you decide to convert the space either. The packaging includes an outdoor condenser, an indoor air fan, remote control, a 16ft. line set, a communication wire, and an installation kit.
3. Mr. Cool 18000 BTU Ductless Heat Pump Split System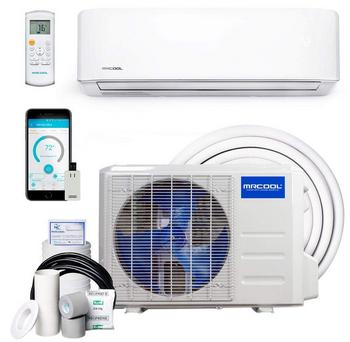 The Mr. Cool Heat Pump is a ductless heating system compatible with Google Assistant and Alexa. It can also be controlled via an Apple or Android smart device. The mini-split system sets the temperature from where the remote is located, so it won't stop heating because the air around the unit has reached the set temperature.
It's a 20 SEER system designed to heat and cool up to 750 square feet effectively. It comes pre-charged with an R-410A 25ft quick connect line, so the lines do not need to be evacuated. It runs on a variable-speed DC inverter compressor and has leakage protection.
Its installation is without a fuss, which is why it's recommended for DIY projects. You can install it in any garage without any special or expensive equipment. It can be powered with a cord, as long it's wired that way, and use a heavy enough gauge wire and a 20 amp plug circuit.
4. Cooper & Hunter 24000 BTU Mini Split AC/Heating System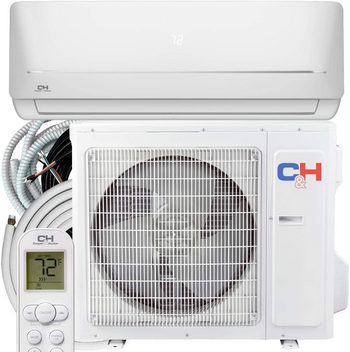 The Cooper & Hunter Mini Split AC/Heating System is an incredibly powerful heater that can heat up large spaces such as 3-car and 4-car garages. This 2 Ton 17 SEER ductless heat pump is Intertek-approved, AHRI-certified, and WiFi ready. You'll only need a smart device with an internet connection to operate it.
The unit comes pre-charged with refrigerant. It's ready for installation, complete with communication wires, a 16 ft. copper line set, and a drainage extension – although it's recommended to be set up by a professional installer. After this, it will work so quietly that you'll forget it's even there.
It's recommended for large garages or ones divided into two-three sections. It's also suitable for poor insulation and colder climates as it works with ambient temperatures up to 5F°. The mini split heat pump is backed by a limited 7-year warranty on the compressor and a 5-year warranty for spare parts.
Tips for Installing a Ductless Heat Pump System in Your Garage
Here are a few tips to help you with installing a ductless heat pump system in your garage.
Determine Where to Install the Units
First, you'll need to determine where you'll put the indoor unit. These are typically installed around 6 feet from the floor level. From this, you'll measure the line set that will need to run to the outside unit. There are several options to choose from.
For example, you'll find line sets in 50′ and below and in 75′ and 100′ rolls. In general, the shorter, the better. The shorter line will cost you less and takes less time to install. It also reduces the stress put on the system, which will increase its longevity.
Install the Mini-Split System
Once you know where you'll install both components, you can calculate how many brackets and pads you'll need to support your units and map out their placement. After installing them, you can secure the heat pump units into their places.
Establish a Maintenance Schedule
Look at the specific instructions for the manufacturer's required maintenance. This entails removing the cover of the indoor unit, cleaning it of dirt and dust, and occasionally changing filters. This prolongs the system's life. In addition, some manufacturers have a stipulation that says that the warranty is only applicable if the unit is properly maintained.
Check Your Local Permit Requirements and Laws
Check your state and local laws about installing heating systems or consult with local contractors to learn what type of permits you need to avoid violating any laws and facing fines.
Final Thoughts
Each mini split heat pump listed in this article can provide the optimal solution for different purposes. Your choice will depend on your budget, preferences, and needs. Some are more suitable for smaller areas, while others work efficiently in larger garages. Some split systems come with additional features, which can also come in handy in your garage.