Believe it or not, indoor air in your home is sometimes just as polluted as the outdoor air, especially if you live in an industrialized city. So instead of breathing in fresh and clean air, you inhale harmful bacteria, pollens, and dust which can exacerbate many respiratory health conditions.
So what is the solution? Nowadays, many people are opting for the best plug-in air purifiers to improve their indoor air quality. What's more, these portable air filtering machines are excellent at removing foul odors from the air too.
If you are intrigued, keep reading the following article to learn more about these pluggable purifiers and how they can purify the air in a small space effectively.
Our Top Picks
Best Overall: GermGuardian Pluggable UV-C Air Purifier
Runner Up: Hamilton Beach TrueAir Odor Eliminator
Do Plug-In Air Purifiers Work?
While you may doubt the effectiveness of plug-in air purifiers, published research in JAMA supports health benefits in older adults using low-cost air purifiers. The study showed reduced fine particulate matter in the indoor air and a significant decrease in the participants' blood pressure.
So do plug-in air purifiers work? Yes, they do. However, they do have some limitations depending on their size and their filters.
Most plug-in air purifiers can filter out dust, pollen, pet dander, and germ. Moreover, they can even remove volatile organic compounds and gases from the air if they come with HEPA filters or contain high-quality activated carbon filters.
Many purifiers are also strong enough to remove foul odors from the air, especially if they use carbon filters to trap the molecules.
But if you talk about their effective range, most pluggable air purifiers are just that, plugged in. As a result, they have a small range where they can work to make your air safe and clean. This can be your bathroom, car, small study room, office cabinet, and even a small hotel room.
Besides this, air purifiers are also effective at reducing mold particles from your indoor air too. So while they may not fix a mold infestation at your home like a dehumidifier, an air purifier can reduce the risk of many allergic reactions and diseases.
Read also: How to Tell the Difference Between Dust and Mold
What Are the Benefits of a Plug-In Air Purifier?
If you are looking for cost-effective ways to clean your indoor air, there is nothing better than a plug-in, portable air purifier. However, its benefits do not end here.
The following section highlights all the pros of purchasing a plug-in purifier to keep you healthy:
Plug-in air purifiers with carbon or HEPA filters can remove bad odors from your indoor air effectively.
They effectively remove dust particles, germs, smoke, and pet dander from your indoor air, making them especially beneficial for people suffering from asthma and allergies.
Their portable size is suitable for cleaning the air in small spaces and packing it into your bag while travelling. You can plug into a socket in your car or take it with you to hotel rooms on extended trips. Since they connect to a wall outlet, you will not even have to worry about recharging them.
Instead of placing a large purifier on your desktop table, the compact plug-in air purifier is comparatively space-saving.
Unlike traditional air purifiers, plug-in varieties are also quite energy-efficient. For some models, you might only need three to eight watts overall.
A few air purifiers even come with other features, including built-in air fresheners, sanitizers, and lamps.
List of the TOP 7 Direct Plug-In Air Purifiers
Many brands have come out with their plug-in air purifiers in recent times, which make it challenging to find the best one for your needs. Fortunately, we have reviewed seven of the top pluggable purifiers in the following section to narrow down your search.
1. Germ Guardian GG1100W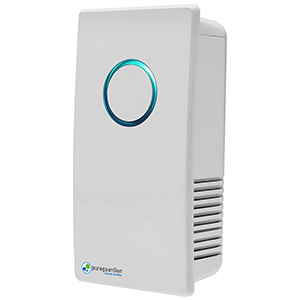 Germ Guardian GG1100W is one of our best plug-in air purifiers that can clean indoor air for healthy living. It can eliminate unwanted, bad smells from pets and the kitchen while also removing dust and smoke particles from the air.
As the name suggests, the Germ Guardian is also especially useful in killing airborne germs with its UV-C light feature. Besides removing the existing bacteria in your house, the light also prevents any future germ infestation.
Furthermore, the air purifier even features titanium dioxide to eliminate VOC (volatile organic compounds) from your home. With no filters in the machine, you do not even have to worry about replacing filters every couple of months. Instead, you will only have to replace the UV-C light every six to eight months.
The seven-inch compact yet powerful purifier has a direct plug-in connection to any wall outlet, making it suitable for small spaces like bathrooms, kitchens, cars, and litter rooms.
2. Hamilton Beach TrueAir 04530GM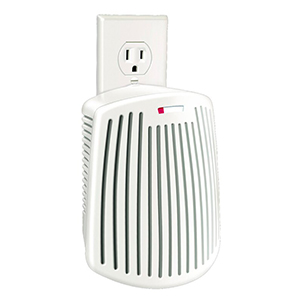 If you are looking for a compact yet multi-functional air purifier, look no further than the Hamilton Beach TrueAir Purifier. Not only is it extremely cost-effective, but the pluggable air purifier is portable enough to carry anywhere with you. What's more, its compact size is ideally suited for purifying the air in small-sized rooms in your home.
It contains a carbon filter that can remove pungent odors from pets, molds, and cooking fumes. Meanwhile, the included Green Meadow Cartridge in the air purifier adds a fresh, flowery scent to your indoor home air. Besides this, the brand has also added an easy-to-use on/off button to start cleaning your air with a press of a button.
In addition, with a convenient filter replacement indicator, you will never forget to replace the filter on time anymore. Typically, each filter can last for around three months at a time. If all this was not enough, the Hamilton Beach plug-mount air purifier could even function as a nightlight for your room too.
3. FRiEQ Car Air Purifier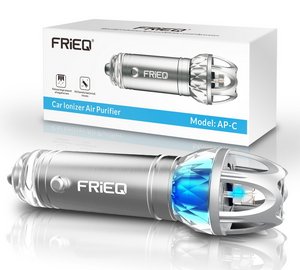 If you spend long hours traveling on the road, you already know how your indoor car air can get harmful. You might even collect dust and smoke particles over time, which can later exacerbate your allergies. Fortunately, FRiEQ Car Air Purifier can function as both an ionic air purifier and an air freshener for your car.
Instead of using just an air freshener to cover up the smell, it produces negative ions to destroy smell-producing particles in your car. Although it is pretty compact, the FRiEQ air purifier can release around 4.8 million negative ions per cm³ to improve the air quality inside the vehicle.
Besides this, it generates a small amount of ozone to remove microscopic particles too. You simply need to plug the 12V purifier into your car socket and let the ionizer purify the air for you.
4. Germ Guardian GG1000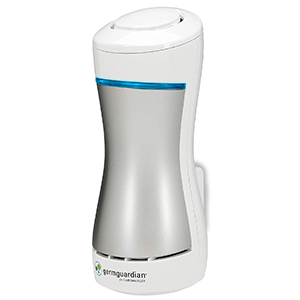 When we talk about plug-in air purifier design, only a few options can beat the Germ Guardian GG1100. The seven-inch tall air purifier has a sleek and slim body, which you can plug directly on a wall socket. It is perfectly suitable for purifying the air in small rooms and portable enough to carry it in your bag on your travels. You can just take it to your hotel room and breathe fresh air even in the most polluted cities.
While the cleaner has a compact design, you cannot underestimate its function depending on its size. The Germ Guardian uses UV-C light technology to kill germs and prevent their reproduction.
Besides this, the filter-free air purifier can remove dust particles, pet hair, mold particles, and even bad odors from your room. Meanwhile, its titanium dioxide feature gets rid of harmful volatile organic compounds in your air.
5. GreenTech Environmental pureAir 50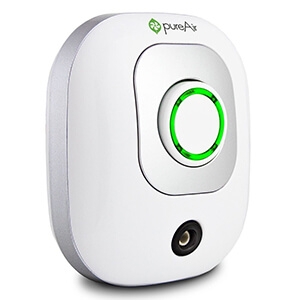 GreenTech Environment is committed to producing appliances that can benefit the health of its customers. Hence, it is no wonder that their PureAir 50 Air Purifier is one of our top seven choices.
The device combines practical design with high efficiency to offer you a lightweight, portable air cleaner, which can remove even pungent smells in a matter of minutes. While it may be small, the machine can purify the air up to 325 square feet of area.
What's more, GreenTech uses only the best technologies like activated ozone to ionize the dust particles and provide clean air. With a simple design, you just have to plug it into a socket, adjust the purification setting using the included dial, and get fresh and allergen-free air in no time.
6. Envion Therapure TTP50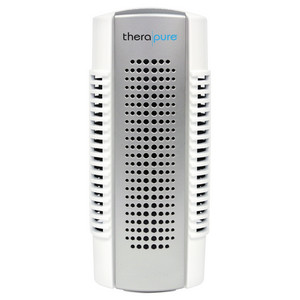 The Envion Therapure TTP50 is another high-quality pluggable air purifier that offers some of the best features in a compact design. Unlike other models in the list, the Envion stands out with its unique internal fan that helps circulate the air for faster purification.
Moreover, the air purifier uses a cleanable filter, which minimizes the need for frequent filter replacement. Not only is it cost-effective and convenient, but this feature makes the air purifier more energy efficient.
Besides the filter, the Envion Therapure TTP50 also uses UV-C light technology to reduce the germs, smoke particles, and odors in your indoor air. Hence, you can breathe clean air in small-sized rooms and spaces. Along with this, its compact size allows you to take it wherever you want. You can use it in your car, office cubicle, and even a hotel room.
7. Clarifion Negative Ion Generator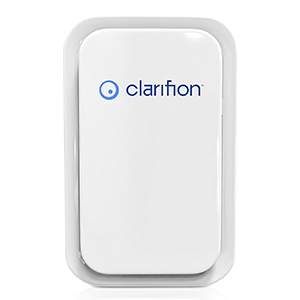 Clarifion Negative Ion Generator is one of the most powerful plug-in air purifiers in the market that uses advanced technology to purify your indoor air. Although it is pretty compact, the small machine can generate up to one million negative ions per cm³. These negative ions can remove bacteria, viruses, allergens, pet hair, and smoke particles to improve your health quality. As a result, they are especially beneficial for people suffering from respiratory diseases.
Besides this, the air purifier comes with a convenient LED indicator and has low noise and energy consumption. So you can use it all day, and it will only have a minimal effect on your electricity bill. Apart from all this, it doesn't need any maintenance or filter replacement. You simply have to plug it into a socket and let it clean the air for you.
Conclusion
While your home may have fewer pollutants than the outside air, you are not as safe as you perceive it to be. Fortunately, a plug-in air purifier can make a world of difference in your home and health at only a small cost.
This device can remove dust particles, germs, and allergens to purify your indoor air and improve your health. Since it's also compact, you can even carry it to your car, office, or around the world.