Imagine enjoying reading a book as you sip your hot coffee wrapped in a cozy blanket in front of a heater during cold winter nights. Moments like these add meaning to our lives; however, higher electricity bills are definitely a turnoff.
That's why this article presents the best portable non-electric heaters for indoor and outdoor use – such as the backyard or camping. Furthermore, indoor heaters that don't require electricity are essential for every household in case of a power outage during snowstorms.
---
Best non-electric heaters featured in this article:
---
Types of Non-Electric Space Heaters
We can divide non-electric space heaters into three types based on the fuel source:
Propane
The propane-driven non-electric heaters are multi-functional and affordable. You can keep these for indoor and outdoor use. However, there are styles and models available in the market designed especially for either outdoor or indoor use.
On the downside, as we all know, propane is a gas which means it won't burn while camping at higher altitudes. Nonetheless, at average altitudes, propane serves to be efficient enough, offering a clean burning. Moreover, it can produce heat for a relatively long time.
Unlike a kerosene non-electric heater, a propane heater isn't powerful enough to warm up large spaces. However, it's still an excellent choice for garages or workshops.
Kerosene
The kerosene heater certainly has an edge over the propane non-electric heater in terms of power and efficient heating. For instance, a kerosene heater has an exceptional heating range of a 1000-square-feet area, which is incredible. Another advantage of using the kerosene heater is its ability to burn efficiently even at higher altitudes.
Unlike propane, kerosene is liquid oil and not gas, which means higher altitudes may not affect the burning. However, combustion still remains an issue because of lesser oxygen in the area to combine with the fuel.
Furthermore, it's a bit harder, especially for beginners, to ignite the kerosene. It's because it requires some external assistance such as wicks to continue burning.
Related Post: Propane vs Kerosene Heater
Natural Gas
We all are familiar with a natural gas heater because it's the most commonly used heater found in almost every other household across the United States. The functionality is quite similar to propane, with very few differences.
First, as the name suggests, this non-electric heater requires a permanent gas line connection that indeed restricts its mobility around the home and for outdoor use. Furthermore, it's not portable, and you can't use it while camping.
Second, you need to hire a professional to install the gas line in the heater to prevent any mishap, which translates to additional costs. Nonetheless, a natural gas heater doesn't require any propane or kerosene. Therefore, the trade-off lies between the money spent to fill the tank vs. one-time gas line installation.
Lastly, natural gas heaters are certainly more eco-friendly and offer clean burning.
Benefits of Having a Non-Electric Heater
One of the most significant advantages of using a non-electric heater is its low maintenance. Lucky for you, it's relatively easy to clean.
Furthermore, non-electric heaters are the best if you prioritize silent operations. However, you may need to compromise on quick heating as non-electric heaters take more time to heat the room than electric heaters.
In case of a power outage, a non-electric heater can serve as your backup. Moreover, the non-electric heaters are portable and compact, allowing you to take them with you on road trips, hiking, and camping.
As the name suggests, a non-electric heater runs without electricity. It means you can save a lot of your money on your electricity bill by opting for non-electric heaters that offer relatively more clean and efficient burning.
Read Also: Oil Filled Radiator Heater Efficiency and The Cost to Run
List of the Best Non-Electric Space Heaters
Non-electric heaters are essentially conventional heaters that are effective in heating large spaces. The heat transfer mechanism is straightforward – the heat transfer oil inside the heater is responsible for radiating heat from the surface.
Using a thermostat, you can regulate the heat while the hot air disperses through the room with the natural airflow.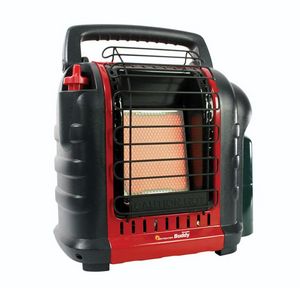 The Mr. Heater F232000 MH9BX is a compact and featureful non-electric heater offering 4,000 to 9,000 BTUs of power, sufficient to heat up to 225 square feet of area.
This versatile heater includes all the necessary features, such as a tip-over and low-oxygen sensor. These features, coupled with an additional carbon monoxide detector and a slightly open window of the tent or room, offer optimal heating and protection. It means you can relax, sit back and enjoy the warmth in your room or while camping. Moreover, the grid cage covers the flammable material and prevents your hands in case you accidentally touch it.
Mr. Heater F232000 comes with a 16 ounces propane fuel canister that easily lasts from three to six hours. You can install an optional hose assembly to attach a large cylinder. Not only that, but you can also install a battery-operated stroller fan to ensure even heat distribution. Lastly, you should know that the heater won't be able to work at altitudes higher than 7,000 feet.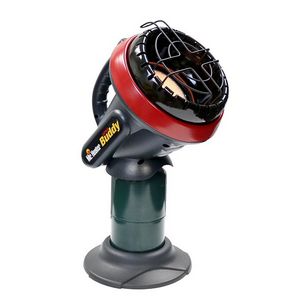 If you are an adventurer looking for a portable indoor heater, the Mr. Heater F215100 MH4B is the perfect choice for you. This compact, power-packed heater offers 3,800 BTUs of power, which is enough to warm up an enclosed space up to 95 square feet. You can use this portable heater while camping at up to 7,000 feet of elevation (at a max).
The Mr. Heater Little Buddy offers a 45-degree heating angle to provide odor-free and uninterrupted heating for up to five and a half hours. It's an easy-to-use heater with a single-button ignition and ON function.
Lucky for you, this compact non-electric heater includes all the safety features, such as a tip-over switch to automatically shut off the heater if you accidentally knock it off. Moreover, the low oxygen sensor shuts off the heater if it detects low oxygen levels in the room. Lastly, the unit comes with a warranty of one year to ensure safe investment.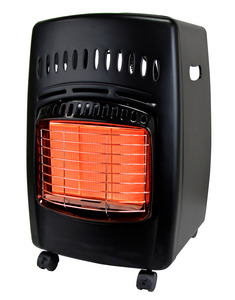 The Dyna-Glo RA18LPDG is an affordable non-electric heater offering 6,000 to 18,000 BTUs of power, enough to heat up to 600 square feet of area. Furthermore, the push-button Piezo ignition allows you to fire up the heater without any difficulty.
You don't need to worry about your family's safety as the Dyna-Glo heater comes with an Oxygen Depletion Sensor that automatically shuts off the heater if it detects low levels of oxygen.
Another good news is that the Dyna-Glo heater offers an adjustable range of power, allowing you to select heating between 6,000 to 12,000 BTUs or up to 18,000 BTUs. It's because the unit has three adjoining burners of 6,000 BTUs. You can turn on and off each burner individually by the gas valve, placed on the cabinet's top.
Moreover, the wheels allow you to move the heater around your home while the two locking casters keep the heater in place.
The Mr. Heater natural gas heater offers an incredible 30,000 BTUs of power to heat a large space of up to 1,000 square feet. Furthermore, the blue flame burner ensures even and clean convection heating throughout the room.
You can control the temperature of the room using the thermostat. Another great advantage of using the Mr. Heater blue flame natural gas heater is the battery powered electronic ignition. It means you don't need an external lighter to turn on the flame; instead, just turn the knob 'ON,' and you are good to go.
Moreover, the heater comes with a battery, so you don't need to buy one separately. It depends on you to mount the heater permanently on the wall or to use mounting brackets and fasteners to fasten it to the floor securely. Lastly, the Oxygen Depletion Sensor (ODS) automatically shuts off the heater upon detecting low oxygen levels.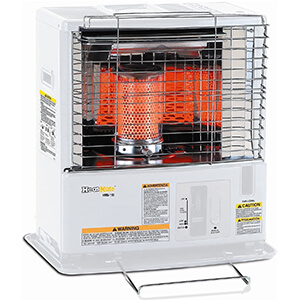 The Sengoku Kerosene Heater comes with a large capacity of a 1.2-gallon tank to ensure continuous heating for up to 14 hours. This 10,000 BTUs is a powerful multi-functional heater that is perfect for both indoor and outdoor use. It's because it doesn't create unpleasant smoke or open flames. Moreover, it works well to heat an enclosed space of up to 380 square feet.
The Sengoku Kerosene heater weighs around 22.6 pounds with a total dimension of 22 x 13 x 20 inches. Moreover, it comes in white color, offering a modern and compact design. Lucky for you, this allrounder heater incorporates all the desired safety features, such as an automatic shut-off to turn off the heater if it gets too hot.
Other features include a tip-over switch, an EZ flame adjuster, an easy push-button start, and protective safety grills. You should know that the unit doesn't come with any siphon pump, fuel gauge, and batteries.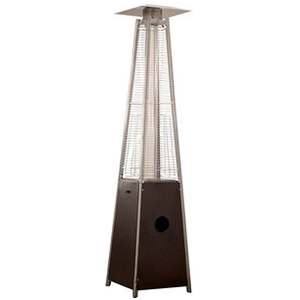 If you love to enjoy a little bonfire in your home with your friends, the Hiland Pyramid Patio Propane Heater is a perfect choice for you. This powerful heater comes with a 20 pounds propane tank that offers heating for up to eight to ten hours. Moreover, it provides a power output of 40,000 BTUs in high mode.
As the name suggests, it's a pyramid patio heater with a Quartz glass tube that makes the heater visually pleasing. It's an 89 inches tall heater offering a hammered bronze finish. This outdoor heater requires a coverage area of 10 square feet and can radiate heat to 15 feet or more, speeding upon the wind condition.
Moreover, it comes with a safety cage and doesn't rely on an open flame. It also means you don't need to worry about your kids or pets getting hurt. The Hiland Pyramid Patio heater comes with a sturdy igniter for quick start and a safety auto shut-off valve.
Read Also: Using Patio Heaters Indoors
How to Find the Best Non-Electric Heater
You often find yourself at the crossroads while buying a non-electric heater amidst the variety you find in the market. Don't worry because this section lists down all the necessary features that you should look for in a non-electric heater.
This way, you can make a well-informed decision to buy a reliable heater that matches your requirements.
Use
One of the most significant deciding factors is your use, whether you want to use the heater indoors, outdoors, or both.
For instance, some heaters designed for outdoor use only generate intense heat bursts that don't dissipate quickly in the surrounding. As a result, outdoor-only heaters are generally more powerful as compared to indoor heaters.
Alternatively, you can't confine indoor heaters to small places or basements as it may lead to the buildup of carbon monoxide leading to severe suffocation. Furthermore, you can install a carbon monoxide detector in the room to ensure your family's safety.
Weight
Before buying a non-electric heater, you should evaluate your requirements. For instance, do you want to place it in a dedicated place or move it around the house? If your priority is mobility and portability, you need to buy a lightweight non-electric heater.
The good news is that you can find heaters whose weight ranges from 5 pounds to 20 pounds. Moreover, you can buy convection, radiant, or forced-fan heaters based on your preference.
A majority of the portable heaters offer impact-resistant, sturdy construction with handles to ensure portability. Not only that, but some premium-quality units also include a carrying case.
Furthermore, you need to buy large non-electric heaters for your backyard and patio, keeping the open and large serving area in view. However, the outdoor heaters aren't portable, but they do include wheels for convenient repositioning. Conversely, some outdoor heaters have mounting kits so that you can install them on the walls.
Size
Tank size is directly proportional to the total heating hours offered by any heater. For instance, a kerosene heater with a one-gallon tank can keep you warm for a good 14 hours before refueling.
Conversely, propane is a compressed liquid gas and works differently. For example, a large-sized heater with a 20-pound tank offers 10 hours of heating. However, a small portable heater requires a 16-ounce canister to provide three hours of heating.
Unlike kerosene tanks, the propane tanks don't include any fuel gauges, so you may not know about the remaining fuel.
Power
Power or energy is usually measured in British Thermal Units (BTUs). Higher BTUs mean more heat and vice versa. For example, an indoor heater with a maximum BTU of 9,000 is sufficient to heat up to 225 square feet of area.
Conversely, an outdoor heater requires more power higher than 40,000 BTUs to warm open space. Lastly, a compact and portable non-electric heater usually offers 5,000 BTUs.
Non-Electric Heater Safety Tips
Courtesy of the advancements in technology, the latest non-electric heaters include different safety features, such as a shut-off switch. However, it's necessary to follow all the instructions and guidelines while operating a non-electric heater.
Most of the non-electric heaters automatically shut off if accidentally tipped over. However, it's essential to choose the placement with the least foot traffic. Moreover, the non-electric heaters should be out of reach of children, toddlers, and pets.
You need to place the non-electric heater on an even ground to prevent fuel spillage or, worse, flame exposure. A general rule is to have at least a distance of three feet or more between the non-electric heater and flammable material such as fragrances or chemical sprays.
For your convenience, we have compiled a list of the following safety guidelines that you should always remember while operating a non-electric heater:
You should only buy a non-electric heater that includes safety features.
It's essential to follow the instructions regarding outdoor and indoor use.
Lastly, you should only use the proper fuel source required for the heater.
Conclusion
The key takeaway of this guide is to emphasize the importance of buying a supplement non-electric heater.
The use of non-electric heaters isn't just restricted to some emergency power outage, but it's one of the best portable heaters that you can take along on your camping trip.
In addition to the kerosene or propane heaters, you can also buy a battery powered heater to keep yourself warm in tents, cabins, and garages.