Believe it or not, your seemingly useless garage can become a highly functional and productive space if it is ventilated correctly. While most people use their garages as workspaces and studios, they can also be used as garage gyms and other recreational areas.
However, with most garages coming without windows in modern houses, it can get difficult to control the temperature. Trapped hot air creates a stuffy atmosphere inside during summers, while winters can make the space freezing cold.
The best way to regulate the temperature inside your garage is to install an air conditioner. But, what is the best air conditioner for a garage with no windows? Read below to find out.
What Types of Air Conditioners Are Best for Garage Without Windows
Is it even possible to put an AC unit in a garage with no windows? Yes, by creating a hole in the wall to vent an air conditioner, you can quickly cool a garage with no windows.
But, you should know what types of air conditioners are best for a garage without windows. Then, you can pick the ideal model without wasting your time and money.
With the vast range of types and models, newbies can quickly get confused while making a purchase. Here are the options you should consider while purchasing a garage air conditioner.
Mini Split Air Conditioners
If you want to add some ventilation to your garage, then mini split air conditioners are one of the best options to consider. These systems require minimal ductwork and multiple temperature adjustments, making them apt for garages without windows.
You can choose from a wide range of sizes from 6,000 to 42,000 BTUs. Although they are expensive, you can install most models yourself to avoid additional service charges.
The mini-split AC units are cost-efficient and conserve energy while delivering high BTU power to save up on electricity expenses.
Related: Best Mini Split Heat Pump/AC for Garage
Wall Mounted Air Conditioners
Wall-mounted air conditioners are also good choices for garage air conditioners as they help you cut energy costs while regulating the temperature in a given space.
They operate just like a window air conditioner but can be installed without windows. This makes them ideal for windowless garages. However, you will have to cut a hole in the wall to install the metal sleeve to extract hot air from inside and replace it with cooler air.
Besides that, wall-mounted air conditioners also ensure noiseless operation. So, if you intend to use your garage as a workspace or studio, you won't be disturbed by the constant noise of the air conditioner.
Portable Air Conditioners
If you don't have a window to install an air conditioner in your garage, you can invest in a portable air conditioner. These air conditioners can work anywhere as long as they are properly vented.
To vent a portable air conditioner, you can cut a hole in the wall or use the gap between the garage door and the floor. However, portable air conditioners are pretty expensive, so you might need to stretch your budget to buy these for your garage.
What You Need to Know Before Installing an Air Conditioner in Your Windowless Garage
Whether you're installing an air conditioner in a windowless garage or an attic, there are various aspects you should know before making a purchase.
First, you should assess the space you have at hand to find a unit that fits your needs perfectly. For example, if your garage is directly exposed to the sun, you will need a highly efficient garage AC unit to regulate the temperature quickly.
Besides that, you should also consider the usage of your garage space before investing. For example, if you use it as a parking space and don't spend much time in the area, you can get a moderate-level AC unit without any noise efficiency and energy conservation features.
However, if you spend lots of time in your garage and use it as a gym or workspace, you should install a high-end air conditioner to make yourself comfortable.
If you think you need an air conditioner in your garage after assessing these aspects, you should look at these features before selecting a suitable AC unit.
Garage Size
To ensure your selected AC unit adequately regulates the temperature in your garage, you will need to choose the right BTU efficiency according to your garage size. For example, if you have a large garage space exposed directly to the sun, you should consider buying an AC with a high BTU level.
However, if your garage is small and is already well-insulated, an air conditioner with low BTU levels might also work. Measuring the square footage of your garage will help when choosing the right BTU level for your air conditioner.
Insulation
If your garage is not adequately insulated, you should look for an air conditioner with higher BTU levels. For example, even if your garage is windowless, it might have small crevices or door gaps to let air escape.
Air conditioners require more power to regulate the temperature within a given space in such situations. Therefore, if you don't choose an air conditioner according to your insulation levels, it will consume vast energy and pile up your energy costs.
List of the 7 Best AC Units For Garage With No Windows
#1 Senville Mini Split Air Conditioner
The Senville mini split air conditioner works as a cooling and heating unit so that you can regulate the temperature inside your garage in any season.
It can also dehumidify your garage area. So, if you're using it as a storage space or keeping your crucial equipment in there, you can be concern-free about its safety in the enclosed environment.
This air conditioner is ideal for garages with no windows that double up as workshops and studios. That's because it barely emits any sound higher than 38dB so that you can work in peace without any disturbance.
It also comes with an installation kit, so you can save up on installation services by taking up the task by yourself.
#2 MrCool Ductless Mini Split Air Conditioner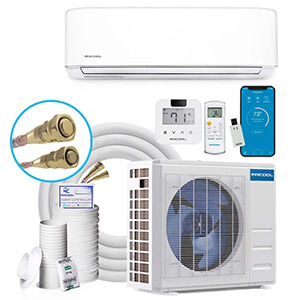 This ductless AC unit by MrCool is a robust 3rd generation mini split that can be installed easily in a garage without windows by simply making a hole in the wall.
Adjustable temperature control features combined with moisture-reducing technology are excellent for creating a healthy environment in your garage. However, the best part of this air conditioning system is its smart remote controlling system.
You can operate it through its wireless remote or integrate it with Google Assistant or Amazon Alexa to activate any feature. Even when you're not in your garage, you can turn your AC on and off through your smartphone so that the temperature is ideal when you want to use the space.
Its corrosion-resistant compressor comes with a 7-year warranty, so you can be sure it'll last you long term. Also, you can easily install it yourself without any professional assistance.
#3 Koldfront Through The Wall Air Conditioner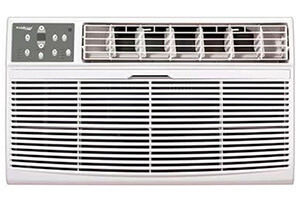 With a coverage area of around 300-350 square feet providing 8,000 BTUs of cooling, this Koldfront air conditioner is one of the best choices for your windowless garage. The air conditioner has multiple temperature controls, which you can adjust easily through its digital display.
Moreover, it has a unique energy-saving feature that you can use to ensure a favorable environment in your garage even when you are not using it. Besides that, you can also operate it using a 24-hour timer to save unnecessary energy costs.
The best part about this AC is its sleep mode. This mode lets the AC work for 6 hours at a stretch, gradually increasing its temperature automatically. This means you can set this mode and get to work without any hassle.
Although the AC is budget-friendly, you will have to purchase its metal sleeve separately.
#4 SereneLife Portable Air Conditioner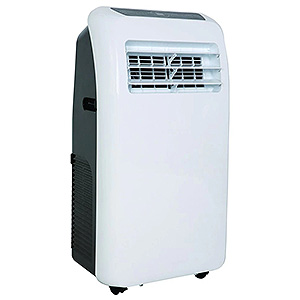 If you need an air conditioner for your windowless garage but don't spend much time in the room, consider this portable air conditioner by SereneLife. It has a robust operating system combined with a sleek and lightweight exterior to facilitate efficient cooling in your garage.
Additionally, the unit comes with accessible rolling wheels, so you can take it out and use it in any other room when your garage is not in use. Finally, the AC can easily regulate the temperature in an enclosed garage with three cooling modes, including a dehumidifier and an automatic swing mode.
Furthermore, it has an accessible remote control system to adjust the settings whenever you want without any hassle. The unit can cover an area of more than 450 square feet and delivery up to 12,000 BTUs of cooling, which is ideal for medium to large garage spaces.
#5 BLACK+DECKER Portable Air Conditioner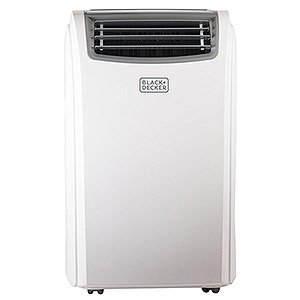 If you need a compact AC unit for your garage, then the Black+Decker portable air conditioner is just right for you. It comes with a fast cooling system that can make a 350 square foot room comfortable within minutes.
Its floor-standing system makes it perfect for garages without windows. You have to adjust its hose and adapter and get it running in no time. Besides that, you can also use the AC in another room when your garage is not used to save on energy costs.
The unit has a cool, fan and dehumidifying mode so that you can customize its settings. The best part is that its bucket-less self-evaporating system ensures minimal clutter in your garage area so you can put the space to optimal use.
#6 Portacool Evaporative Cooler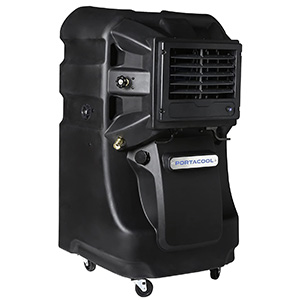 If you don't want to go through troublesome installation and maintenance tasks, then this Portacool evaporative cooler is excellent. It is easy to install, so you can place it in any available space in your garage and start using it right away.
It requires no additional ventilation holes or windows to work, so it is the ultimate choice for a windowless garage. The compact unit can lower the temperature in your garage within minutes while also controlling dryness and humidity.
This way, you can ensure a favorable environment in your garage, whether using it as a workplace or a recreational area. Moreover, its evaporative cooling system uses less energy so that you can save up on energy costs in the long run.
#7 Hessaire Swamp Cooler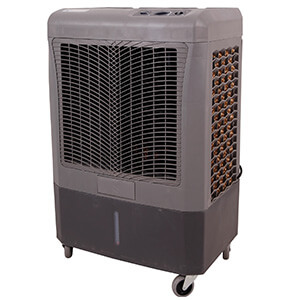 If you have a large garage that easily accommodates more than one car, this Hessaire swamp cooler is an efficient and affordable solution. It covers more than 950 square feet within minutes.
The unit requires no permanent installation, so you can easily use it in a garage with no windows. You have to place it in any corner you like and fill up its 10-gallon reservoir for constant cooling. You can attach its hose to a water outlet for continuous cooling if possible.
Moreover, if you're not spending much time in your garage, you can use it for cooling your cars during the afternoon and move it to your bedroom in the evening. This way, you can save the energy and operational costs of multiple air conditioning systems.
On the other hand, if you're using your garage as a workplace, this unit ensures noiseless operation to work in a peaceful and comfortable environment.
Conclusion
A garage with no windows can get quite stuffy and uncomfortable, making it inefficient for any type of use. If you wish to put the space to optimal use, the best way is to install an air conditioner to regulate the indoor temperature.
While most AC units require windows and vents for proper installation, mini-split ACs, wall-mounted ACs, and portable air conditioners can work without windows. When checking these models out, take their BTUs and your garage size into account to make the right choice.