You have come home after a long day of work and turned on your AC, instantly you realize that something is wrong. The smell is different, and certainly not what you want in your room.
The problem? Your central air conditioner smells like chemicals, and you are wondering what to do about it?
It is most likely due to the following reasons:
A refrigerator leak
Molds on the evaporator coil
Open chemical containers near an indoor handler
In this article, we will provide you with all possible solutions to fix the problem.
Air Conditioner Smells Sweet, Chloroform-Like
Most likely, this happens due to a refrigerant leak. You might be wondering what is refrigerant. Well, refrigerant is a powerful chemical used by AC.
The purpose of refrigerants is to absorb heat inside the home. If your air conditioner is working perfectly fine, the refrigerant travels through closed copper coils. Over time, due to wear and tear, copper coils might leak, letting the refrigerant out, causing an unwanted smell.
How to spot a refrigerant leak? Look out for these signs:
AC does not cool your home properly
Your bills are higher than usual
Bubbling noise coming from coils
The ice of the evaporator coil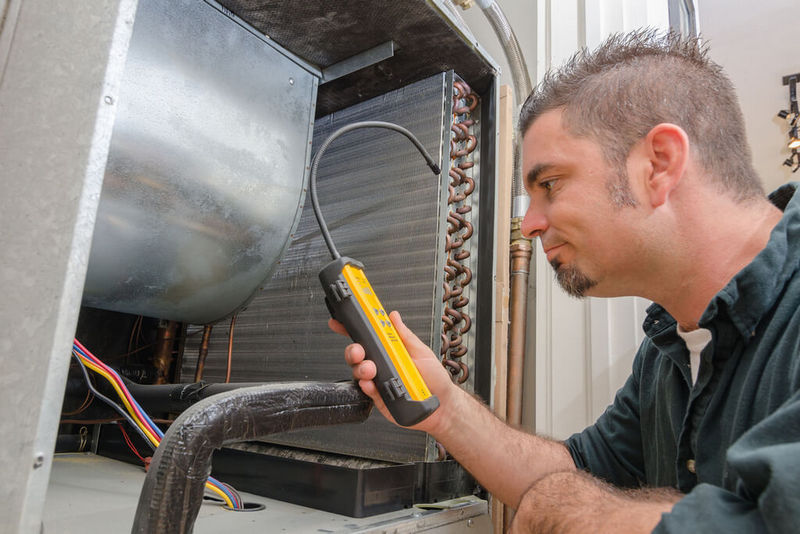 What to do: You need a professional to fix this unless you are a do-it-yourself champion. Ask the professional to repair the leak before you recharge your system.
Please be notified of the fact that electronic cleaners can also be a source of smell as they produce ozone.
RELATED: The Best Radiator Fin Straightener
Paint, Cleaning Supplies, and Chemical Smell from AC Unit
The indoor air handler is responsible for blowing air through your home. This usually happens if chemical containers are surrounding the indoor air handler of your air conditioner. This handler is often found in storage space.
If there are any paint thinners or cleaners nearby with open containers, the smell will be blown in your entire home.
What to do: The solution to this one is easy and straightforward. Simply close any open containers near the air handler, and it will hopefully go away.
Air Conditioner Smells Like Chlorine
An electrostatic air filter usually causes this chlorine-like smell. This chemical odor is not only annoying but can cause immense trouble breathing. It is very common and happens to almost every AC owner at least once.
What to do: Try to lower the filter setting to get rid of the chemical and ozone smell. If the problem persists, call an experienced technician.
Musty, Ammonia Like Scent
It is primarily caused due to mold on the evaporator coil. The purpose of the evaporator coil is to absorb all the heat and cool air. Over time, moisture in the air will result in mold formation, which gives off a musty, ammonia scent in the air.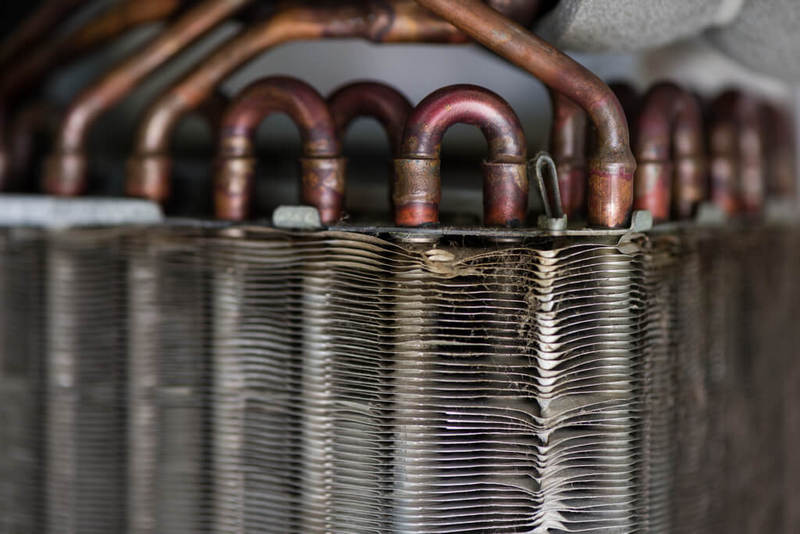 What to do: Immediately call a professional so that he can remove the mold from the coil. In some cases, mold can spread to the ductwork. In that case, ductwork also requires extensive cleaning.
RELATED: The Best AC Coil Cleaner
Burning Odor from the AC Vent
If your AC is giving a burning, electrical smell, most likely there is some kind of mechanical issue involved. Problems with compressor, wiring, and failure of electrical components can create such a smell. Prolonged exposure to such scent is unhealthy and can cause irreversible damage.
Give your air conditioner about half an hour to see if the smell goes away on its own. If it doesn't, it's time to call in some help.
What to do: Most of the time, this odor is caused by a problem with wiring or a motor and should only be handled by a professional.
AC Smells of Rotten Eggs
Firstly check if there are any rotten eggs in your home or not. If not, you might be dealing with a gas leak. Although the gas itself is odorless, most AC manufacturers add a scent to alert AC owners in case of a gas leak.
If you smell it, immediately call inspection. Prolonged exposure to the gas can cause serious problems such as lower oxygen levels in the blood.
What to do: An expert will access the gas leak and fix your AC accordingly.
Air Conditioner Smells like Car Exhaust
It shouldn't be a surprise to you that AC does not run on a combustion engine. So, if it smells like one, it isn't normal.
The air conditioner uses certain chemicals and fluids. If your AC starts to smell like a combustion engine, there is a chance of a leak in the refrigerant line. It negatively impacts the overall performance of your air conditioner.
What to do: Turn off the AC and call an AC repair specialist to repair the leak. It will be fixed in just a few minutes. In the meanwhile, make sure that your house is adequately ventilated.
---
Some Points to Keep in Mind
Never repair the AC by yourself at home unless you know what you are doing; always call for professional help. AC is an electrical component, and there is still a chance of getting an electric shock.
Prioritize your safety and do not experiment. Otherwise, you can do more harm than good.
If you still feel that you are qualified enough to do the job, always go through the AC manual and make sure you have the right tools to fix it.
Some people try to cater to the smell by using air fresheners, but it can only make matters worse. Delaying the repair work will cause irreversible damage to your AC.
Final Thoughts
We hope you found this article helpful and got the answer to why your air conditioner smells awful. Whether your conditioner comes with a duct or is ductless, things can go wrong.
Now that you know which odor means what, it'll better equip you to deal with any malfunctions and proceed accordingly. Remember to always call for professional help and do not experiment on your own.