If you suffer from eczema, also known as atopic dermatitis, then you understand how frustrating and painful it can be. It's a chronic skin disorder that causes your skin to become scaly, red, cracked, swollen, and itchy.
This condition is often caused by dry or sensitive skin, scratching, and the food we eat. But it's mostly linked to poor air quality due to the fact that eczema typically flares up when you're surrounded by allergens like pollen and dust mites.
Although there are several ways to treat and prevent eczema, most people often opt for using an air purifier.
Can Air Purifiers Help With Eczema Symptoms?
While eczema can affect everyone differently, poor air circulation is still a common trigger for it. Eczema is especially prevalent during the winter and fall months when the air is a lot drier than usual.
Air purifiers can help deal with eczema symptoms. Since eczema is commonly caused by the presence of allergens in the air, air purifiers prevent it from flaring up by removing these harmful airborne particles.
You can vacuum your home and clean as often as you want to try and prevent or alleviate eczema flare-ups, but you won't be able to completely get rid of all kinds of pollutants in the air. Air purifiers can do the job more efficiently and circulate clean air into your home, too.
Air purifiers can also help reduce the rashness in your skin. Without the rashes, you won't get the urge to scratch your skin, resulting in lesser chances of you accidentally worsening the condition of your skin.
Best HEPA Air Purifiers for Eczema
Air purifiers deal with eczema well, but you would need to use the right air purifier to get the job done. Here are some of the best HEPA air purifiers you can use to minimize eczema flare-ups:
Best Value: Medify MA-25 Air Purifier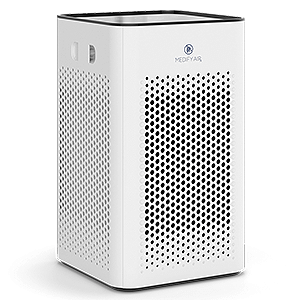 The Medify MA-25 air purifier can clean up to 500 square feet in just 30 minutes, making for a highly efficient unit. It's ideal for rooms that are medium-sized. It also has a HEPA H13 filtration that can remove up to 99.9% of eczema-causing particles.
This air purifier also operates quietly, minimizing noise pollution. You can choose between three fan speeds, with the lowest setting being virtually silent. Its features are also fairly easy to use and navigate.
You get the best value out of this air purifier with its impressive air purifying quality at the price it's sold at. It's definitely an air purifier that people would commonly recommend.
Does this help with pet hair?
Yes, the Medify MA-25 air purifier can deal with any type of particles floating around in your home, and this includes pet hair and dander.
How can you tell if the filter should be replaced?
When it's time to change the filters, a little red light will appear with two little filters on top of the unit. To reset this, you can press the Dimmer button for three seconds.
Best Functionality: Dyson Pure Cool Link Air Purifier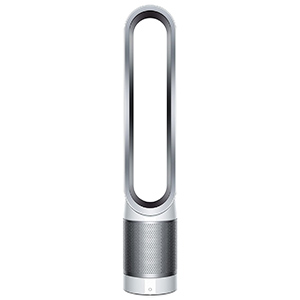 Dyson air purifier has dual functionality. It purifies your home all year and can help you cool down during the summer. Its HEPA filter can get rid of up to 99.97% of allergens in your home that are as small as 0.3 microns like pollen, dust mites, and mold spores.
Additionally, it has wireless connectivity, so you use it with your Amazon Alexa, allowing you to control it even from a distance. The Dyson air purifier also has automatic monitoring and reacting future where it can give you real-time reports on your home's air quality and react accordingly.
It's definitely another must-have air purifier. Not only does it effectively minimize eczema in your home, but its wireless connection provides you with a convenience that most air purifiers don't.
How many square feet can the Dyson Air Purifier cover?
It can cover up to 1.600 square feet of continuous space.
How frequently do you need to change its filters?
It can depend on how much dust it needs to clean per day but on average you can expect the filters to last you 6 months before needing replacement.
Most Unique: HATHASPACE HSP001 Air Purifier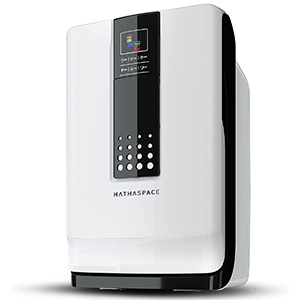 The HATHASPACE air purifier has a five-in-one filter system that removes dust, VOCs, odors, pet dander, and smoke from your home air. It captures up to 99.9% of allergens that can lead to eczema.
It also has a unique honeycomb activated-carbon filter that allows it to absorb smoke, odors, and VOCs. The state-of-the-art motor and fan features circulate clean air quietly and efficiently throughout your home.
The HATHASPACE HSP001 air purifier is manufactured by a trusted brand and has thousands of positive reviews, making it a recommended device to have at your home.
Does the air purifier produce ozone?
The air purifier does produce ozone, but only in very small and safe amounts when its ionizer feature is enabled.
Are the filters washable?
The filters are not washable and can only be replaced by purchasing new ones (check availability & price).
Check out our post about top-rated air purifiers with washable filters.
Best Performance: LEVOIT Core 300 Air Purifier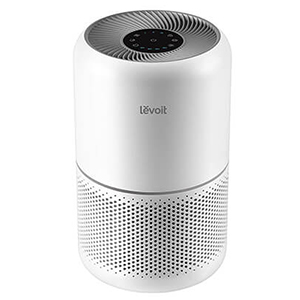 The LEVOIT Core 300 air purifier is ozone free, making it less environmentally risky to use. With this air purifier, you get to enjoy clean air within minutes after activating it. It can clean up to 547 square feet of space in just 30 minutes.
It uses the H13 True HEPA filter, working with the High-Efficiency Activated Carbon filter and the Pre-Filter to remove up to 99.97% of airborne particles as small as 0.3 microns found in your home.
It's a sought-after device not only because of its impressive performance but because of the filter options available for you. It has different filters that specialize in removing different types of particles, making it flexible and easily adaptable to any situation.
How long do the filters last?
It usually depends on how you use the purifier but typically, it's recommended to replace the filters every 6-8 months or if you start noticing any abnormalities with it.
How do you adjust its fan settings?
You only need to tap the fan speed. The settings can change from I, II or III.
Most Long-Lasting: Alen 75i Air Purifier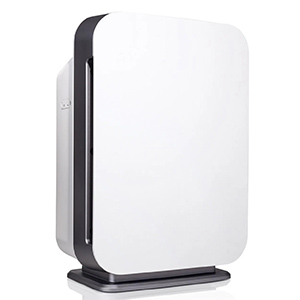 The Alen air purifier is ideal for larger rooms, schools, offices, and open spaces. It has a standard B-7 Pure filter that eliminates any airborne allergens found in the space it's placed.
Its HEPA filter can capture up to 99.99% of airborne viruses, bacteria and particles that are bigger than 0.1 micron. The HEPA filters can also last about three to five months longer than standard filters found in other air purifiers.
With its ability to clean the air of about 1300 square feet of space in 30 minutes, it's a recommended device to help you reduce your eczema symptoms and other allergies.
Does this air purifier produce ozone?
No, it does not. Instead, its ionizer produces negative ions that are actually helpful in filtering the air.
Can this be put against a wall or does it need to have extra space behind it to work?
Yes, you can have it placed against a wall. Air comes in from all sides and is then expelled through the top of the unit.
Air Purifier vs Humidifier for Eczema
Both air purifiers and humidifiers do a great job of improving the quality of the air in your home but choosing which one to use largely depends on what problem you're trying to solve.
Air purifiers filter and clean the air by eliminating any dust, dirt, pet hair, or other allergens circulating inside the space. On the other hand, humidifiers are great for solving dry air issues. They add moisture to the air but do not really have an impact on the allergen levels present.
In the case of eczema, air purifiers work best for reducing its symptoms. This is because eczema is usually caused by an allergic reaction to the particles in the air, which a humidifier would not be able to get rid of.
Conclusion
Eczema is not an uncommon skin condition that people experience. It's important to figure out what exactly triggers this since it can differ on a case-to-case basis.
Air purifiers are generally effective in eliminating the symptoms and preventing eczema from flaring up. But you need to make sure with choosing only those high-quality ones that are worth investing in.