In this era, having a good-quality air purifier is a necessity. Inhaling bad quality air can be quite dangerous for your respiratory health. To get rid of any impurities and hazardous material from the air, you can invest in a HEPA air filter.
Especially if you have asbestos insulation in your house, investing in an air purifier is essential. Most people worldwide avoid asbestos linings because of their harmful side effects.
However, if you still have this material in your house and you want to purify your air of its microparticles, then you are at the right place. Keep reading to know the best HEPA air purifier for asbestos and what you need to look for when shopping for it.
What is Asbestos?
Asbestos is a naturally occurring mineral used for insulation in housing and different machines. It is a fibrous silicate used for thermal and electrical insulation.
Even though this material was a major part of the construction, it is now banned in Canada, the UK, Australia, and 28 countries of the European Union. Despite that, it is still used in many parts of the world, including the US.
Exposure to asbestos fibers can be hazardous to health, especially when inhaled for an extended period. It can cause respiratory diseases like mesothelioma, asbestosis, and lung cancer. So, if you have this mineral around you, getting an air purifier is necessary.
See Also: Best HEPA Air Purifiers for Radon
Will HEPA Air Filter Catch Asbestos?
The high-efficiency particulate absorbing (HEPA) air filter is popular for its strong filtration properties. Because of its strong filtration system, these air purifiers are commonly used in schools, hospitals, offices, and houses. It can filter out even the most stubborn and difficult impurities from the air, like asbestos.
Asbestos particles have the size of 0.7 to 90 microns that can infest our lungs and cause severe diseases. Therefore, getting a filter to remove particles less than 0.7 microns to properly clean your air is important.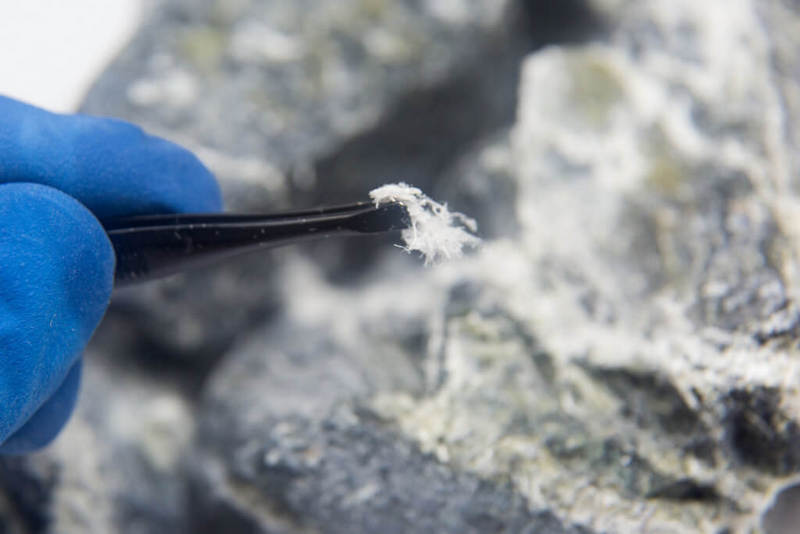 Most traditional air purifiers can remove dust and smell from the air but cannot remove bacteria, viruses, and asbestos fibers as small as 0.3 microns. This is why we suggest using a HEPA air filter. It can remove particles as small as 0.3 microns from the air. This way, you can breathe in the cleanest air possible.
If you don't know whether the air around you contains asbestos particles, you can use an asbestos testing kit. Once you have identified the impurities in your air, it is time to get a high-quality HEPA filter. The best part is that it can also protect you from airborne viruses, allergens, and dust.
Related: The Best Way to Avoid Exposure to Fiberglass Particles
What to Look for in an Air Purifier Asbestos?
If you are looking for the best air purifier for asbestos, there are a few things that you need to consider:
Filtration Technology
It is important to know which filtration technology the purifier is offering. There are several main kinds of filters available in the market: pleated filter, electrostatic, UV light filter, washable, HEPA, etc.
The HEPA filter is ideal for removing asbestos particles from the air. Since it can filter particles as small as 0.3 microns, it is perfect for preventing any damage caused by asbestos in the air.
Coverage
The coverage of an air purifier is mentioned in the form of CADR. For example, a CADR of 200 for asbestos means the purifier can filter out asbestos particles and provide fresh air at 200 cubic feet per minute.
You need to put most air purifiers near the source of asbestos. However, these days, many strong air purifiers are available in the market to catch asbestos particles from all over the house.
Noise
Air purifiers come with several fans that pull the air inside to pass it through the filters. Unfortunately, these fans can make a constant noise which can disturb the users.
However, some purifiers come with a relatively silent fan. These fans either make no sound at all or make a soft humming noise that is barely noticeable. An air purifier with less noise is the ideal option to go for, especially if you have to keep it in your bedroom.
You can also get portable air purifiers to transfer them to different rooms. If you have a small and lightweight air purifier, you can place it wherever you are working for a relaxing and healthy experience.
Filter Lifetime
Lastly, check the lifetime of the filter of your air purifier. If you are getting a HEPA filter, you need to change it every ten years. This is a fairly long lifetime considering the efficiency of the filter.
This filter will keep dust, bacteria, asbestos particles, viruses, and allergens away from you.
List of the Top 4 HEPA Air Purifiers for Asbestos
To make your hunt for the HEPA air purifiers easy, we have compiled the list of the top 4 air filters to remove asbestos fibers from the air.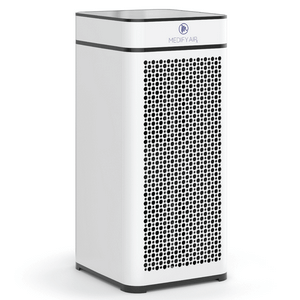 The Medify MA-40 is a portable air purifier with a HEPA H13 filtration system. It has a sleek white body with small holes in the front to push clean air into the room. This air purifier comes with three-speed settings that filter your air without making a noise.
It can purify large spaces that are up to 1600 sq. ft. within an hour. It also features an easy-to-use, touch control panel to operate the air purifier without a hassle.
So, if you are looking for an air purifier that provides maximum coverage without making noise, then the Medify MA-40 is the best option for you.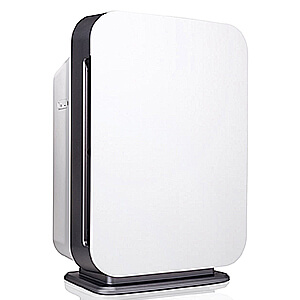 The Alen BreatheSmart air purifier is one of the few air filters that come with various color options. This air purifier features True HEPA filters that can filter out particles as small as 0.1 microns.
It also features an air quality sensor light to inform you about the air quality of your home. Not only is this air purifier ultra-quiet, but it also covers a large area of 1100 sq. ft. The best part about this unit is that it creates a pink noise to help you sleep better at night.
The Alen BreatheSmart air purifier is ideal for people who like contemporary and fuss-free designs with quick filtration technology.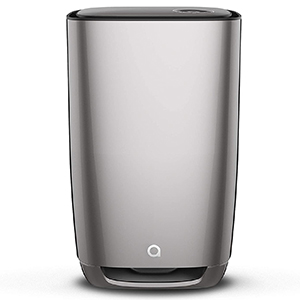 The Aeris 3-in-1 Pro air purifier has a sleek gray body with smart control options. It can easily connect with your Wi-Fi so that you can control it through your smartphone. This air purifier comes with three different air filtration systems.
The first one is a pre-filter that catches dust and pet dander. The second is an activated carbon filter that absorbs all unwanted smells from your surroundings. The last one is the True HEPA filter that filters out impurities as small as 0.1 microns.
So, if you do not want to compromise on the air quality, then the Aeris 3-in-1 Pro air purifier is a good choice. It covers up to 1500 sq. ft. area, which means you don't have to worry about moving it around.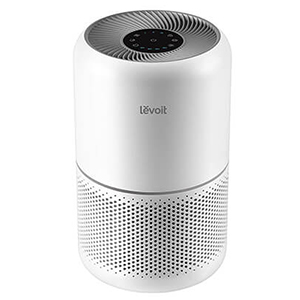 The Levoit Core 300 air purifier has a small, portable body with air vents on the lower part of the cylinder. It has three different filters to choose from. The Toxin Absorber Filter absorbs smog, VOCs, and toxins. The Smoke Remover Filter absorbs wildfire and smoke. Finally, the Pet Allergy Filter helps filter out pet dander and absorb unpleasant odors.
It spaces up to 547 sq. ft. in 30 minutes and pushes filtered air in all directions. This filter also avoids using UV-C light filtration methods that can be hazardous to health.
If you want a sleek, modern, and portable air purifier, then the Levoit Core 300 is the one for you. Say goodbye to sneezing, congestion, and other allergic reactions with this smart HEPA air purifier.
Conclusion
Investing in the best HEPA air purifier for asbestos will be a significant step towards a healthy lifestyle. These filters feature advanced technologies to clean all the impurities from the air you are breathing.
With just a few tips up your sleeves, you can get the best air purifiers for your house. These top 4 purifiers to remove asbestos from the air are tried, tested, and quite affordable.
So, wait no more and get your hands on a HEPA air purifier to protect your respiratory system from this poisonous mineral. Stay healthy!