Do you want to stay cool and allergy-free in the summer? An air purifier fan can meet your needs! It will help remove pet dander, bacteria, and smoke particles, keeping the air clean around you.
But the real deal is to find the best air purifier fan combinations for improved air quality.
Is it necessary at all? Well, you can survive without it, but it's a good idea to have one if you have respiratory issues of any kind.
Don't worry, we will explore the different air purifier fans below, so you can make an informed decision.
In a hurry?
If you don't have much time use the links below to quickly find the best air purifier fan on Amazon:
– Best Overall – ULTTY Bladeless Tower Fan and Air Purifier in one
– Also Great – Dyson Pure Cool TP01 HEPA Air Purifier & Fan
List of the Top-Rated Air Purifier Fan Combos
Not all air purifiers are the same! We have compiled a list of top air purifier fan combos. Go through them carefully and buy the one according to your requirements.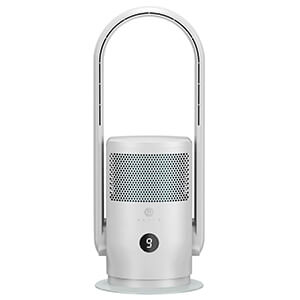 First things first, the bladeless fan technology prevents children and pets from getting hurt, making it ideal for parents and pet owners. It purifies the air by 99.7%! You don't have to worry about pollen, dust, lint, dander, and dust mites. The ULTTY fan and air purifier combo in one is best known for its ultra-smooth breeze as well.
The cooling fan features three modes and nine speeds. You can control the settings with the LED touch screen and a remote control system. It can cover up to 320 sq. ft and purify the surrounding air by five times. The ULTTY also reduces air noise, so you can sleep or work in quiet. Apart from its easy cleanup process, this air purifier fan only requires filter replacement once in six months.
Learn more about the ULTTY Bladeless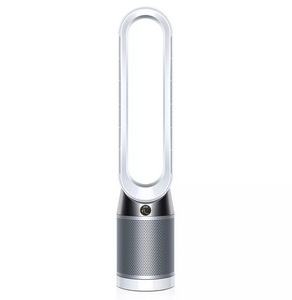 Dyson is a known brand name when it comes to creating great home appliances. One of its top-selling products, Dyson Pure Cool Air Purifier and Tower Fan, works wonders for air purification. The product features a 360-degree, rounded filtration system. It also includes an activated carbon filter that is 99.7% more effective than all the previous models. It traps micro allergens, including pollen, lint, pet hair, dust, and many other particles.
Dyson features a bladeless fan that offers diffused airflow through the machine's back and works in ten airspeeds. It is one of the reasons it tops our list of best fan and air purifier combos. What's more, it comes with an LCD screen. You can track the progress to know when the air quality returns to the optimal levels. Moreover, the magnetic remote, app support, and Wi-Fi make this air purifier fan extremely easy to use.
Learn more about the Dyson Pure Cool TP01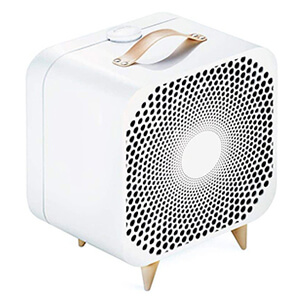 Nothing can beat Blueair Pure Purifying Fan when it comes to style. But it doesn't only look the best! This one claims to clean the air full of germs and contaminated particles by around 99% in only 20 minutes. However, that's only true for 28m³ rooms. The fan comes with two filters that are easy to maintain. It is suitable for most rooms and offices and is quieter as compared to other options.
You won't have any difficulty using this air purifier fan combo, even if this is your first time. The touch-sensitive white circle allows easy operation. Having said that, Blueair does not come with remote control, app functionality, or air quality monitoring device. In a nutshell, it's an excellent product for people who want an easy-to-use device. But if you're looking for more features, you may try other air purifier fans in this review.
Learn more about the Blueair Pure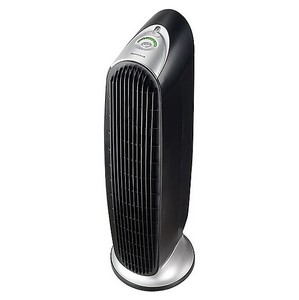 Honeywell has 25 years of experience in the air purifying industry. Honeywell HFD-120-Q captures around 99 percent of airborne particles up to 0.2 microns. It has three cleaning levels; a clean filter, a washable pre-filter, as well as, an on/off oscillation control. The pre-filters are washable, reducing the overall maintenance cost of the filters.
Also, the circulating air will keep the air fresh and healthy. You must trust its energy efficiency as this air purifier is Energy Star-certified. The HFD filter purifies the air and reduces odor and smoke to keep the air healthy. This oscillating air purifier is suitable for medium-sized rooms, is 186 square feet in size, and the sleek look makes it perfect for offices as well. Honeywell purifier LED control panel offers three speeds and is one of the quietest cleaners out there.
Learn more about the Honeywell HFD-120-Q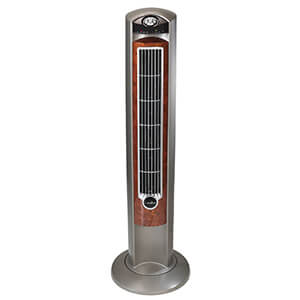 If you want a portable air purifier and cooling fan combo, you should look into the Lasko Wind Curve Tower. The stand-up fan promotes airflow in the room, making the space cooler. It comes with a carry handle that is a built-in and remote control and supports optional oscillations for better air circulation. You get three quiet speeds to choose from.
It has a built-in ionizer that disperses negative ions into the air. As the negative ions grow, the surrounding air becomes fresher and free of dust particles. The vertical design makes it a real space saver, making it suitable for even the smallest spaces. It also includes an energy-efficient timer. You can set this timer for around 0.5 to 7 hours. Moreover, the patented Blue Plug safety fuse technology makes it safe to use in a hot and humid climate.
Learn more about the Lasko Wind Curve
What is an Air Purifier Fan Combo?
An air purifier cleans the air from any contaminants and allergens such as dust mites, pollen, pollution, and other irritants. Some of the models have a tower fan, while others come with a traditional fan. The purpose of fans in air purifiers is the same as any fan – to keep the surrounding cooler.
So an air purifying fan combo will give you double benefits!
Keep in mind not to confuse it with an air cooler, as an air purifier and fan in one will not lower the room temperature. Instead, it provides a cooling sensation. The right air purifier fan combo will have effective air filtration, oscillation, and forward-facing airflow.
Read Also: Best Portable Air Conditioner and Air Purifier Combo
The Benefits of an Air Purifier and Fan in One
There are many benefits of using an air purifier and fan combo. We are listing the top ones below:
Relieves asthma symptoms by purifying the air of pollen, dust mites, and other allergens that aggravate the symptoms of asthma
Gets rid of harmful chemicals polluting the air in your space
Removes unpleasant odors
Reduces the chances of airborne diseases
Significantly improves the quality of sleep
Helps to get rid of hazardous asbestos particles
Increases life expectancy by strengthening respiratory, cardiac, and neurological systems
Eliminates radon pollution by trapping its particles and gas
What to Look for in an Air Purifier Fan Combo
The suitable air purifier fan combo will remove allergens and keep the airflow sufficient, improving ventilation.
Here are a few things you need to look at before purchasing an air purifier fan combo:
Cost of Replacing a Filter
As a general rule of thumb, you should replace the filter every six months. Look at the costs associated with your air purifier fan before making the final decision. Some air purifiers come with washable filters. In this case, your price is practically cut down to zero.
Certifications
Keep an eye out for the certificates. You should buy something with the Energy Star logo, Energy Star certified purifier, CADR, and AHAM verified signs or stamps.
Room Size
You need to decide beforehand in which room you plan to put your air purifier. Usually, the package will show the ideal room size compatible with the air purifier fan.
Noise
Everyone has a different threshold for noise. Not every air purifier fan works silently. Some produce a lot of noise, making them nearly unbearable. Keep the noise factor in mind if you can't withstand loud sounds for long.
Complexity
Some people prefer many settings and remote control options, while others hate the complexity and want a single start button. You may choose according to your preference!
Final Words
That was it! We discussed some of the best air purifier fan combos for the summer season. You don't have to compromise your health by inhaling bad-quality air.
What works for one person might not work for others. So it's important to know what you want. Most air purifiers and fans in one combination will likely not include everything you're looking for if you have a tight budget. Happy, healthy living!
Before you go, be sure to check out this post: Best dehumidifier air purifier combos.