Are you tired of a musty odor in your home? Or maybe you have a kitchen or basement that smells worse than the other areas? An air purifier may help with musty smells and improve your home's indoor air quality.
In this article, we'll talk about mold, mildew, and other sources that are causing those unpleasant odors. We also reviewed the top 3 air purifiers that may help remove musty odors in your home.
What Causes Musty Odors in Your Home?
Stagnant areas in your home such as the laundry room, bathroom, and basement can promote mold and mildew build-up. This can lead to high humidity and excessive moisture that releases foul-smelling gasses that permeate your carpets and curtains.
Excessive humidity can cause:
condensation on windows
moldy bathrooms
musty odor
wet stains on walls and ceilings, etc.
Mold and mildew due to excessive humidity are often caused by the following:
Leaky roofs and walls
Leaky air conditioner
Poor home ventilation
Condensation buildup
Unremediated water or flood damage areas
Damp clothes, blankets, and other fabrics
Are Mold and Mildew Dangerous?
Mold and mildew release harmful gasses that when inhaled can cause several side effects including fatigue, headaches, nausea, dizziness, nasal congestion, and itchy skin or eyes.
These microorganisms can cause severe reactions in people with asthma. Additionally, those who already have lung disease or those with compromised immune systems may get lung infections due to mold exposure.
Read: Best At-Home Mold Detectors and Sensors
How to Get Rid of Musty Odors
To remove musty odors in your home, locate all kinds of leaks and repair them. Also, you should improve your home's air circulation once you notice a musty smell. In this article, we discuss ventilation ideas for windowless bathrooms.
Lastly, install a portable air purifier that has good HEPA and activated carbon filters.
Which Types of Air Filters Help with Musty Smell?
Activated Carbon Filters
An activated carbon filter is one of the two types of pre-filters used in air purifiers. It is more advanced than a mesh filter, the other type of pre-filter. Activated carbon filters are the ones that truly help eliminate odor by trapping gaseous vapors, including the musty odor released by mold and mildew.
Activated carbon is made from various raw materials such as wood, coconut, and coal. Such materials are activated through a chemical process or by steam. Activated carbon filters remove odors from many different sources including chemical vapors, paint, cooking, garbage, mold, etc.
HEPA Filters
True HEPA filters in air purifiers deal with biological pollutants; they do not absorb gaseous vapors. HEPA filters are designed to capture solid airborne particles such as pollen, pet dander, visible smoke, dust, and bacteria.
They are known to remove 99.97% of airborne particles no smaller than 0.03 microns. While this type of air filter does not absorb musty odors in your home, it can capture the bacteria that release the odor.
Best Air Purifiers to Get Rid of Musty Smell
1. BLUEAIR Blue 211+ Auto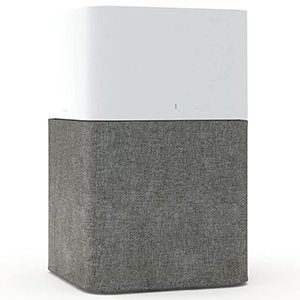 Filtration: HEPA Silent dual filtration and carbon filter
Coverage: 550 sq. ft.
Noise level: 23 dB
Control method: Touch button
The BLUEAIR Blue 211+ Auto is a large air purifier perfect for the home gym, basement, or any space that doesn't get as much foot traffic.
What surprised us about this air purifier is that it can quickly remove musty odors especially when it's on boost mode. We tried it in a 1,000-square-foot basement of an 80-year-old house and it significantly reduced the persistent musty smell.
Again, this air purifier is built based on functionality and simplicity. While it has smart sensors, there's no wireless connectivity and LCD display.
2. Dyson Pure Cool Link TP02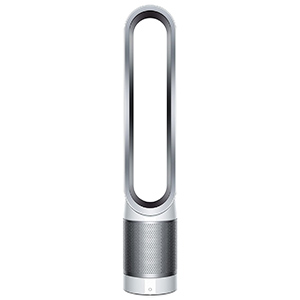 Filtration: HEPA and activated carbon filter
Coverage: 400 sq. ft.
Noise level: 40-63 dB
Control method: Remote controlled via app and voice controlled via Alexa device
The Dyson Pure Cool Link TP02 belongs to the 2nd generation of the Dyson Pure Cool Tower series. It is equipped with the latest smart features also found in the latest flagship generation.
This air purifier allows you to control it remotely using the Dyson Link app or an Amazon Echo device. It can intelligently purify your home and cools you in the summer with its powerful fan.
The one drawback with this smart air purifier is its noise level, it's somewhat louder compared to its competitors.
3. LEVOIT LV-PUR131S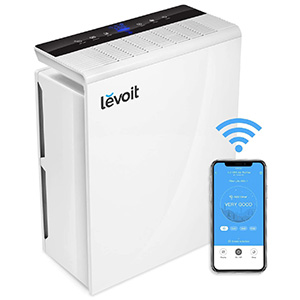 Filtration: Pre-filter, activated carbon filter, and H13 True HEPA Filter
Coverage: 360 sq. ft.
Noise level: Up to 27dB
Control method: App controlled
The LEVOIT LV-PUR131S is a silent yet powerful and efficient air purifier. It can deliver fast improvement in the overall air quality of your home in just 30 minutes.
What we love the most about this air purifier is the auto mode feature that does all the work for you. The appliance detects and analyzes air quality in a room. And then, it automatically adjusts the fan speed to match what the room needs.
That being said, you'll need to replace the air filters every 6 months. But note that filter replacements for the LEVOIT LV-PUR131S are pricey (check availability and filter price), which can increase the operating cost in the long run.
You will also want to check out our selection of the best air purifier and dehumidifier all-in-one units.