People living in humid areas must know that excessive moisture can ruin their house's wooden framework. In fact, the crawl space is most likely to be affected as it is directly above the moist soil.
And when the crawl space gets too humid, the effects travel up into the entire house. Therefore it is imperative to install the best crawl space dehumidifiers in our homes.
Why Do You Need a Dehumidifier in Your Crawl Space?
These three significant reasons make a crawl space dehumidifier a must:
Getting rid of excess moisture: You might be living in a wooden house. If so, humid air is your archenemy. It can significantly weaken the framework of your house. Besides, even if you live in a concrete-made home, the damp odor from your crawl space can be unpleasant. Hence a crawl space dehumidifier is your solution.
Keeping the crawl space mold-free: The humid environment of a crawl space is the ideal home for mold and pathogens. Therefore investing in a dehumidifier will also ensure your family's health.
Increasing the comfort level: Humid air makes us feel damp and sticky all the time. It even makes breathing a bit more strenuous. Hence the installation of a dehumidifier might improve the comfort level of your indoor life.
Read Also: Best Air Scrubbers for Your Home
What to Look for When Buying a Crawl Space Dehumidifier
Before opting for a model, we must consider a few variables that will aid our selection process. Here are the four primary parameters one should check before buying the best crawl space dehumidifier:
Coverage area
The first thing one needs to consider is the crawl space's size. We must buy a dehumidifier that is built according to our foundation's size. Otherwise, the unit won't run as efficiently, and you won't get your money's worth.
Therefore, always consider the coverage area. Dehumidifiers' coverage area usually ranges from 1,300 to 5,000 square feet. So, pick a machine with a coverage area equal to or greater than your crawl space's size.
Tank capacity
The humidity differs from region to region. Hence if you live in an area where the moisture is above average, you might need a dehumidifier with a larger tank capacity. This ensures that it doesn't get full in a single day, and it spares you extra effort.
If you are unaware of the humidity in your locality, buy a humidistat. The device will show a percentage of moisture in the air. Anything above 60 percent is high, and you'll need a large tank capacity to cope up with it.
Warranty and budget
Considering the wide variety of options available in the market, you must select a dehumidifier that is cost-effective. Anywhere around the $600-1000 range is a good purchase.
Secondly, you must buy a product that has a decent warranty. As this device will be working 24/7, you want to be cautious. In that case, the guarantee is imperative.
Safe-to-use and easy installation
Convenience and safety are two vital pillars of a good purchase. If you buy a product and struggle to install it, it can become a hassle. Therefore, easy installation should be a key consideration when making a purchase.
Additionally, a crawl space dehumidifier should be safe to use. The unit will be under constant stress, and it may heat up. Therefore, it's important to investigate safety parameters before choosing a specific option.
Read Also: Is Water Collected from a Dehumidifier Drinkable?
Best Crawl Space Dehumidifier Reviews
If you detect a musty odor and moisture in your home, it could be originating from your crawl space. In this case, dehumidification is a dire need. The following seven crawl space dehumidifiers are recommended for effectively reducing humidity levels.
1. AlorAir Sentinel HD55 Dehumidifier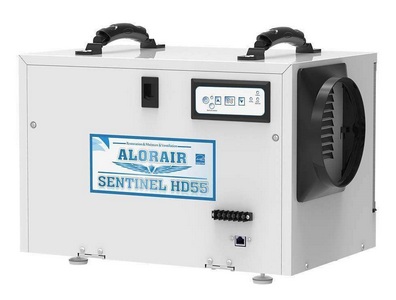 The AlorAir Sentinel HD55 is an exceptional dehumidifier that we had the opportunity to test in our crawl space. With its ability to remove 55 pints of moisture per day at AHAM condition and 120 pints at saturation, it can cover an area of up to 1,300 square feet.
One thing that really stood out to us was its automatic defrost feature. It's able to work efficiently at a low temperature of 36 degrees Fahrenheit, and if frost is detected on the coils, it runs an automatic defrost cycle to prevent frost build-up and associated issues. This process allows the unit to work continuously and efficiently without the need for periodic stopping during the defrosting process, saving energy and prolonging the unit's lifespan.
Another impressive feature is its internal corrosion protection technology, which minimizes corrosion and Freon leakage. Regular coils get corroded quickly, but this innovative feature extends the life of the coils by providing protection against oxidation, hydroxide, or sulfide and maintaining the coil's heat transferability.
In addition, the AlorAir Sentinel HD55 also comes with a 5-year warranty and has been safety tested to comply with electrical safety ETL. The professional customer support team is always ready to assist you if you have any questions or concerns.
Pros:
Good dehumidification performance
Metal construction
Responsive and helpful customer service
Cons:
May have cosmetic damage upon delivery
High noise level
2. Dri-Eaz PHD 200 Crawl Space Dehumidifier with Pump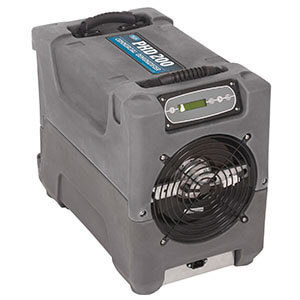 The Dri-Eaz PHD 200 dehumidifier is a must-have for anyone struggling with moisture-related problems. One of the key features of this crawl base dehumidifier is its compact size. At just 22″D x 13″W x 18″H and weighing 63.2 pounds, it's easy to transport and store, making it a great option for those tight spaces that need dehumidification.
But don't let its size fool you, as it can remove up to 16 gallons of water from up to 15,000-cu. ft. spaces. Plus, with its built-in humidistat and touch-pad controls, you can easily set it to the optimal relative humidity level (40%-90% Rh) to effectively reduce existing humidity levels and keep your tools and valuables protected.
This commercial crawl space humidifier also features an auto pump out system and durable rotomolded housing that's built to last. And with its included filter and drain hose, setup is a breeze.
Overall, the Dri-Eaz PHD 200 is a reliable and high-performing solution for controlling humidity and moisture in your crawl space. It's no wonder why over 70% of water damage restoration professionals choose Dri-Eaz equipment – it simply gets the job done.
Pros:
Can remove a lot of water quickly
Compact design makes it easy to move between job sites
Has a pump for removing condensation
Cons:
Does not restart automatically after a power loss
May have issues with blockages in the pipe
3. AlorAir Storm LGR Extreme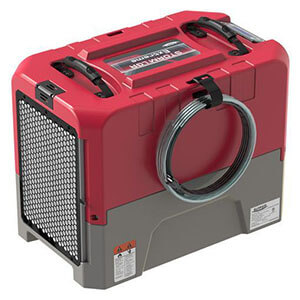 The AlorAir Storm LGR Extreme dehumidifier can remove up to 180 pints of water from the air per day, making it perfect for large spaces up to 2,300 square feet. With a high airflow of 210 CFM, it can maximize the drying performance, and its compact design with two carrying handles makes it easy to position in your crawl spaces.
What's more, this commercial-grade dehumidifier comes with an internal pump for nonstop high-efficiency moisture removal, making it a great option for high humidity spaces that require continuous dehumidification.
One of the best features of the unit is its intelligent touch panel, which allows for easy operation and effortless humidity control. The dehumidifier can automatically start dehumidification when humidity above the target is sensed, and the dehumidifier will start or restart with the setting data before the outage.
The AlorAir Storm LGR Extreme also has easy MERV-8 filter access, protecting internal components from damage due to dust and other particles while ensuring efficient operation and long-term use.
Overall, the AlorAir Storm LGR Extreme is a reliable and efficient dehumidifier with a 5-year warranty and a professional customer support team, making it a great investment for those looking to maintain optimal humidity levels in their crawl spaces.
Pros:
High removal rate
Easy installation
Self-draining for nonstop operation
Cons:
Needing to wash the reusable filter once a month
Despite having a setting for WIFI on/off, this model does not have WIF
4. Aprilaire E070 Commercial Dehumidifier for Crawl Spaces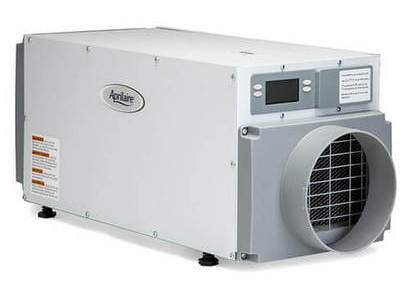 The Aprilaire E070 70 Pint Dehumidifier is a versatile and high-performing unit that's perfect for maintaining optimal moisture levels in tight spaces. Whether you need to dehumidify an entire house or a single crawl space, this dehumidifier offers powerful moisture removal and simple controls for easy operation.
At AHAM, the Aprilaire E070 can remove up to 70 pints of moisture per day, making it a great choice for spaces up to 1,400 square feet. Its powerful 200 CFM fan moves air quickly through the unit, ensuring that fresh air is distributed evenly throughout your space. With a 5-year replacement warranty, you can trust that this dehumidifier is built to last with quality American-made parts.
The Aprilaire E070 is compact and lightweight, measuring just 12.5 x 12.5 x 25 inches, and it comes equipped with leveling feet to ensure stability even in crawl spaces. Additionally, this dehumidifier can be ducted with 5-10 feet of insulated ductwork, making it easy to circulate dehumidified air throughout your space.
Pros:
Quick and easy plug-and-play installation
Digital controls make it easy to set desired humidity level
Quiet operation
Well-built and repairable
Cons:
The built-in humidity sensor may not be very accurate
The hanging kit is not included
5. Santa Fe Compact70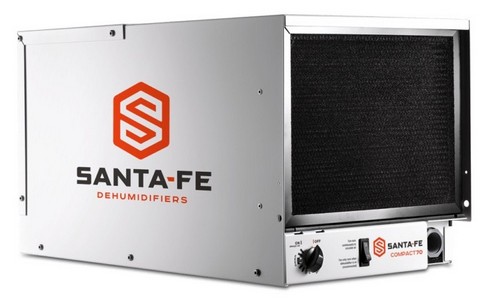 The Santa Fe Compact70 is a compact yet powerful unit. It features exclusive energy-efficient technology showcasing a high-efficiency model. While in this mode, the device can remove 5 pints of moisture per kilowatt-hour of energy.
Moreover, the metallic exterior of this dehumidifier guards its effective flow-through design. On top of that, if you are wondering about its power consumption, it's 580 watts. This might interest anyone who is in search of an energy-efficient alternative. Apart from this, it comes with a large coverage area of up to 3,000 square feet. If you own a large house and a vast crawl space, this product might suit you well.
However, this dehumidifier doesn't come with a built-in pump, restricting its position near the drain. Nevertheless, the brand offers an additional condense pump installed separately to get the job done. We would recommend it if you are looking for a cheaper, more robust dehumidifier.
6. BaseAire AirWerx55 Portable Dehumidifier for a Crawl Space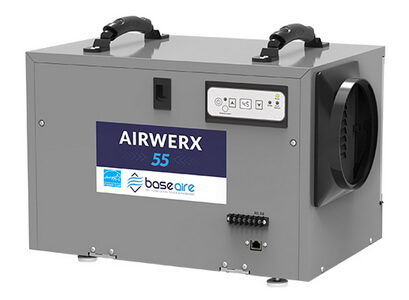 This model could be your ideal choice if you are looking for something quiet and calm. Loud machinery might disturb some people, but this dehumidifier has a maximum sound of 52 dB, which is below the loudness considered as noise.
Furthermore, the BaseAire AirWerx55 comes with compact packaging topped off with a sturdy handle. So if you moved it from place to place, that wouldn't be a hassle. On top of that, BaseAire products come with a 5-year warranty.
If that wasn't enough, this portable dehumidifier for a crawl space comes with smart anti-frost technology and automatic switching. If you are looking for something along the lines of intelligent AI, this unit might suit you. It has a built-in humidistat that automatically turns on and off depending on the humidity. We recommend this to you if you are looking for a quiet yet efficient dehumidifier that is intelligent. It has no apparent negatives.
7. Dri-Eaz F413 Small Crawl Space Dehumidifier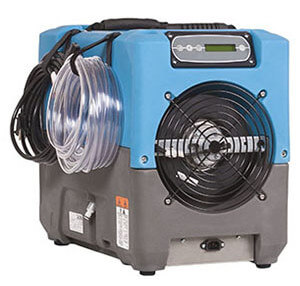 The Dri-Eaz F413 could be a reliable option for you if you deal with a hefty amount of moisture in your crawl space. This dehumidifier comes with a 17-gallon tank. Moreover, it is a compact piece and can fit in places where other commercial crawl space humidifiers cannot reside.
On top of that, you might want a dehumidifier that can restart automatically after a power outage. The Dri-Eaz F413 checks this box as well. The installation process is also convenient as it comes preassembled.
Furthermore, the dehumidifier features a durable build quality equipped with an easy-to-use control panel. Some people may find a complex set of buttons challenging. Hence if you are one of them, you might find this device straight up your alley. This model is ideal for anyone who wants a long-lasting dehumidifier that is easy to use and has a pump to drain water out of their crawl space.
Common Questions About Crawl Space Dehumidifiers
The following list features some of the most frequently asked questions about crawl space humidifiers. Give this a read and clear all your doubts.
Can I use a regular dehumidifier in a crawl space?
A dehumidifier made especially for the crawl space under your house may work better than other ones. However, a regular dehumidifier might work well if it matches the dimensions, the humidity, and the temperature of your crawl space.
What are the differences between a crawl space dehumidifier with a pump vs. without it?
A crawl space dehumidifier with a pump can transport the collected water over a longer distance. In contrast, one without a pump uses gravity to drain the water into the collection tank.
Does an encapsulated crawl space need a dehumidifier?
An encapsulated crawl space needs to get rid of the excess moisture. A dehumidifier is a convenient option, while a supply air method is also applicable for a place with insulation.
What size dehumidifier do I need for my crawl space?
The dehumidifier's size strictly depends on two factors; the area of your crawl space and the amount of moisture present in the air.
Where to place a dehumidifier in a crawl space?
Ideally, you should place your dehumidifier in a location with an open flow to the entire crawl space. The ideal place is also one where drainage is easily possible.
What is the lowest temperature crawl space dehumidifiers can operate in?
Regular crawl space dehumidifiers are designed to work at temperatures above 65 degrees. However, LGR (Low Grain Refrigerant) models are proficient in working under 65 degrees and are best suited for cold areas.
How long does a crawl space dehumidifier last?
If used properly, a crawl space dehumidifier can easily last for around 3-5 years. The timeframe may increase or decrease depending on the workload and the care taken of the device.