With the summer approaching, the idea of spending the whole season hot and sticky is nothing less than horror. Having a window air conditioner at home will keep you comfortable while preventing dehydration and other heat-induced problems.
But when it comes to selecting the AC unit, the vast number of options can be overwhelming.
Luckily, we've hand-picked the best lightweight window air conditioners that you can purchase to beat the heat.
In a hurry?
If you don't have much time use the links below to quickly find the lightest window air conditioner on Amazon.
– Best Overall – Frigidaire FFRA051WAE
– Also Great – LG LW6017R
How to Properly Size a Window Air Conditioner
Since each room has a different function, their heat levels vary too. Plus, people who use these rooms expect different levels of coolness, depending on what they do there.
So, it's only logical to size the window air conditioners according to each room's demands.
Generally, the standards for BTU per square feet are as such:
100 to 300 square feet: 5000 to 6000 BTU
250 to 400 square feet: 7000 to 8000 BTU
350 to 650 square feet: 9800 to 12500 BTU
Bedrooms
Bedrooms are typically smaller, ranging from 100 to 200 square feet. A window air conditioner in the 5000 to 7500 BTU range should be good for your bedroom.
Larger/Master Bedrooms
If you have a larger bedroom or it's connected to a smaller office or seating space, you'll need a bigger AC. For bedrooms ranging from 300 to 500 square feet, the air conditioner must be 7500 to 9000 BTU.
Check out the largest window AC units powered by 230V here.
Home Offices
Home offices are generally smaller, up to 200 square feet, so an air conditioner in the 6000 BTU category should be suitable for work from home spaces.
Living Rooms
Living rooms are normally the largest rooms in the house, so they need bigger air conditioners. Depending on the size of the living room, you can opt for an AC between 7500 to 12000 BTU.
See Also: How to Use an Extension Cord for a Window Air Conditioner
List of the Best Lightweight Window Air Conditioners
Now that you're familiar with the right AC energy limit for each room, let's take a look at some small and lightweight window air conditioners.
1. Frigidaire FFRA051WAE Mini-Compact Window Air Conditioner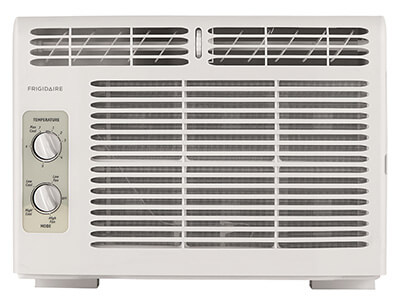 The Frigidaire FFRA051WAE compact AC unit can easily maintain a steady cooling temperature in a small space, such as your bedroom or home office.
The 1465.36 Watt cooling power, with a 150 square feet range, allows the air conditioner to keep you sweat-free during the summers. Moreover, there are two-speed fans so you can control the airflow according to your needs.
The mechanical rotary controls let you fix a steady internal environment for rest or work. Featuring 5000 BTU, the air conditioner can also sufficiently cool a one-bedroom apartment space.
Learn more about the Frigidaire FFRA051WAE Mini-Compact Window Air Conditioner
2. LG LW6017R Lightweight Window Air Conditioner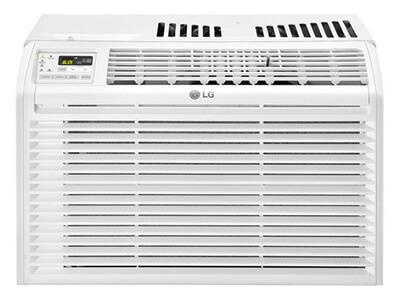 While most lightweight window air conditioners tend to be quiet, the LG LW6017R takes the crown for being practically noiseless at 52dB. Furthermore, it has three fan speeds, allowing you to customize the cooling settings according to your requirements. Plus, the remote control offers easy-to-use options for controlling the AC perched on your couch or snuggled in bed.
In case of a power failure, the air conditioner automatically turns on upon power restoration, owing to the auto-restart feature. More importantly, it can cool rooms measuring 250 square feet, thus being suitable for larger bedrooms, living rooms, kitchens, and office spaces. Since it's a 6000 BTU model, it will keep your rooms much cooler as compared to some other small AC units.
Learn more about the LG LW6017R Lightweight Window Air Conditioner
3. Thinnest Lightest 5000 BTU Window AC: MIDEA MAW05M1BWT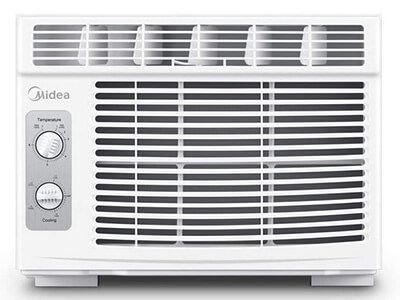 The 5000-BTU Midea wall-mounted air conditioner can cool a room of up to 150 square feet efficiently. So, you can install it in your apartment living room or an average-sized bedroom. To offer effortless operation, the AC comes with two cooling settings, two fan speeds, and seven temperature settings. With the two-way air direction, you can stay cool no matter which part of the room you're in.
With a height of 11.13 inches, the Midea MAW05M1BWT is the thinnest window air conditioner on the market as far as height is concerned. One of the highlighting features of this AC is the easy installation. It fits easily into an existing window frame with a width of 23"-36" and a height of 13''. Since all mounting accessories come in the package, you most probably won't even need a handyman for the job.
Besides, the Midea AC has a Combined Energy Efficiency Rate of 11.0, which helps lower your electricity bills. To ensure safe usage, you can wash the AC's filter and remove any dirt or bacteria. It minimizes the spread of airborne particles in the room along with removing any foul odors that might be due to the dirt in the filters.
Learn more about the MIDEA MAW05M1BWT 5000 BTU
4. hOmeLabs 8,000 BTU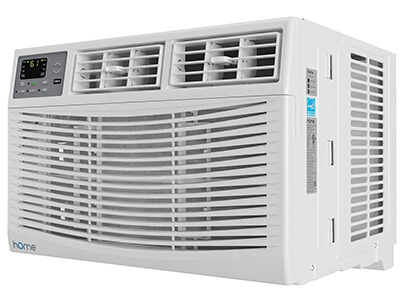 If you're looking for a lightweight window air conditioner for your living room or master bedroom, the hOmelabs is a powerful pick. With multiple cooling functions, such as fan, sleep, cool, dry, and ECO mode, the air conditioner offers practical usage for 300 to 350 square feet spaces.
You can adjust the timer to turn off the AC automatically after a certain period. It's particularly helpful if you want to lower the electric bills. Plus, the easy-to-use, full-featured remote control allows you to tweak the settings from anywhere in the room.
Since the AC has a slide-out, reusable filter, you can wash the filter occasionally to keep bacteria, dirt, and odors out. Moreover, it features low-noise technology, working quietly at 55 to 59dB. With 18.6 x 15.6 x 13.3 inches dimensions, the AC fits in most window frames, saving you the hassle of any modifications.
Learn more about the hOmeLabs 8,000 BTU
5. Lightest Smallest 5000 BTU Window Air Conditioner: Emerson Quiet Kool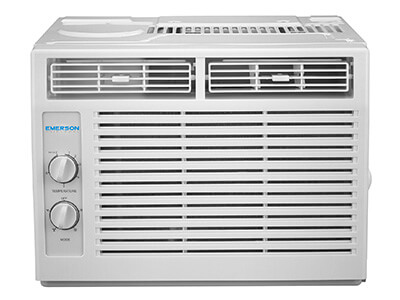 The Emerson Quiet AC might be smaller and more lightweight than most other AC at just 36.7 pounds, but it definitely does not compromise on quality and functionality. The 5000-BTU AC can cool a room of up to 150 square feet and comes with a 24-month warranty on parts.
Plus, it has mechanical rotary controls with two fan speeds and two cooling speeds to customize the room environment just as you need it to be. A notable feature of this air conditioner is the moisture removal, which rids the air of 1.3 pints per hour, keeping the environment comfortable. While it's doing all this, the AC remains quiet at just 50dB.
Learn more about the Emerson Quiet Kool Window Air Conditioner
6. Best Small Room Lightweight Window AC: TCL 5WR1-A 5,000 BTU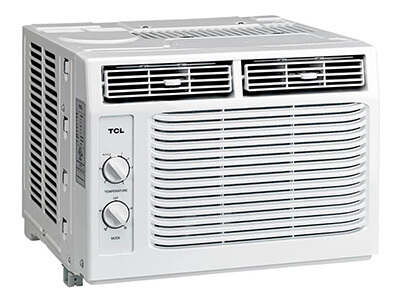 The TCL 5000-BTU air conditioner can cool a small room from 100 to 150 square feet and comes with two fan speeds. Therefore, you can choose the cooling settings according to your comfort level. Running at 50dB, the AC unit is comfortably quiet, allowing you to sleep or work without any disturbance. Plus, it has been designed to cool every part of the room, owing to dual four-way directional vents that offer eight-way cooling.
Most importantly, it's pretty simple to set up this air conditioner unit. If your window dimensions are 23-36'' in width and 14.5'' in height, you can get to work now. Meanwhile, the mechanical knobs let you control the AC unit easily. To expand the life of the air conditioner, you can wash the reusable filter and prevent any airborne particles from contaminating the room's environment.
Learn more about the TCL 5WR1-A 5,000 BTU
7. Keystone Window-Mounted Air Conditioner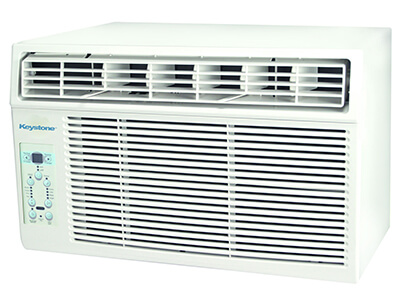 The Keystone AC unit is the only air conditioner on your list with an LED display. The display lets you select the controls with a single tap, while the 49dB quiet operation ensures little to no noticeable noise production while the AC is on.
Being a 5000-BTU AC, it can cool a small living room, bedroom, or office space. Plus, the dehumidification functionality removes 1.3 pints per hour from the air to keep the environment sufficiently comfortable.
Learn more about the Keystone Window-Mounted Air Conditioner
Lightweight Window Air Conditioner Buying Guide
When shopping for a lightweight window air conditioner, there are a few things you must keep in mind to bag the best purchase. Here are some factors that will make decision-making easier:
Cooling Capacity
Cooling capacity refers to the ability of an AC to remove the heat from a room. BTU or British Thermal Unit is used to determine an AC's cooling capacity.
A BTU refers to the amount of heat an AC unit can remove from the room in an hour. While it may seem that an AC with a higher BTU is automatically the best choice, this is not the case.
The AC's BTU must correlate with the size of the room. If the BTU power is too little, it will take longer to cool a room and eat up more energy.
On the other hand, if the AC has a higher BTU power than required for space, it will not dehumidify the room properly. As a result, you'll have uncomfortable cold pockets in the room, making you clammy.
Energy Efficiency
On average, window ACs are more cost-effective and energy-efficient than central cooling systems. Still, you can look for the following features for higher efficiency:
Energy Star Rating: Air conditioners with this rating use 10% less energy than their counterparts, lowering your electricity bills.
Energy Efficiency Ratio: An AC unit with a higher EER will be more efficient. Make sure you're getting an AC with at least 10.0 EER for saving energy costs.
Electrical Requirements
Most window AC units operate on 220, 120, or 110/115-volt circuits. Since air conditioners are more powerful than other appliances in your home, you need to make sure that their electrical requirements can be met by your home's existing system.
110-120 Volts: These are standard residential circuits and are suitable for ACs under 15000 BTUs. Check out the largest AC units running on 110V here.
220 Volts: ACs over 15000 BTUs need 220-volt circuits. Thus, you'll have to install electrical wiring. It's best to consult an electrician if you're getting a more powerful AC unit.
Conclusion
To wrap up, we'd say that you won't be disappointed if you pick an AC from our list. Hopefully, the buyer's guide taught you everything you need to know about buying lightweight window AC units.