Water-based air purifiers are a type of air purifier that uses water as a filter to remove airborne particles from the air. They are especially effective at removing airborne allergens such as dust, pollen, and pet dander, as well as a range of other pollutants. They are also typically easy to use and maintain, and can provide a more natural way to clean and purify the air.
A water air purifier, also known as a water air revitalizer, is often quieter and more cost-effective than a standard air purifier, making it a popular choice for those looking to improve the air quality in their home.
List of the Best Water-Based Air Purifiers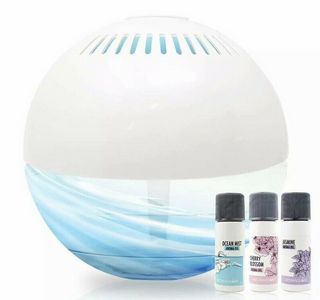 If you want a multifunctional air purifier with a cool design and an affordable price, the US Jaclean water air purifier fits the bill. When I tested this product, I was impressed by its rotating motorized system, which stirs the tank's water to draw in air and capture all sorts of particles and unpleasant smells.
What's more, this purifier functions as a scent diffuser too. The three included bottles of antibacterial aroma essential oils gave my home lab a lovely fragrance while also working to purify the air. I especially appreciated this feature during the winter months when my home tends to get stuffy and dry.
The US Jaclean water-based air purifier has a compact, spherical design with a small footprint suitable as a tabletop purifier. Despite its size, the machine can purify the air up to 700 square feet of area. Besides this, it features four LED lights and a clear plastic bottom that displays the swirling water for ambiance in your room.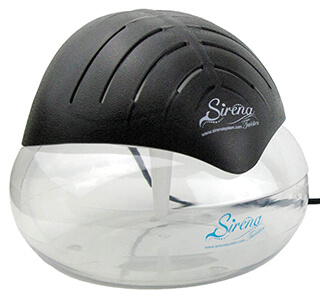 The Sirena water air purifier is another product with multifunctional use. I loved how effectively it drew in contaminated air and trapped all the allergens in its swirling water filtration system. As someone who suffers from respiratory issues, I was relieved to find that the Sirena purifier released air with significantly fewer dust particles and molds, which made breathing easier and more comfortable.
Another thing I appreciated about this water-based air cleaner is how it adds moisture to dry air. I noticed that the air in my home felt less dry and stuffy after using the Sirena purifier for just a few days. This feature makes the purifier especially useful for pet owners and smokers, who often struggle with air quality issues.
If you want to deodorize the air and add a scent to your room, you can even add your favorite aromatic oil to the machine. The air freshener is also compact, portable, and stylish, and comes with seven different LED options. Hence, you can use it as a night light and improve your sleep at the same time.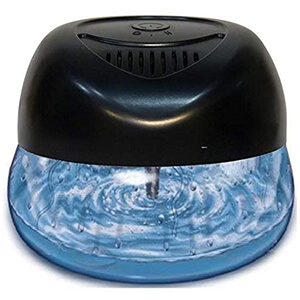 The Bluonics water air revitalizer uses hydro-purification technology to remove dust, pollen, spores, and pet hair from your indoor air. After trying out this product, I was pleased with how well it purified the air and deodorized foul smells, leaving me only clean and humid air to breathe.
You also have the option to add your favorite scents to the air purifier, keeping your space smelling fresh for hours. Additionally, it has a one-quart water tank capacity and can purify air in up to 360 square feet of space.
Although the machine's size is quite compact and weighs just three pounds, Bluonics water-based air revitalizer is suitable for both small-sized and large rooms. It even features six different LEDs that can function as a soothing night light for your or your children's rooms.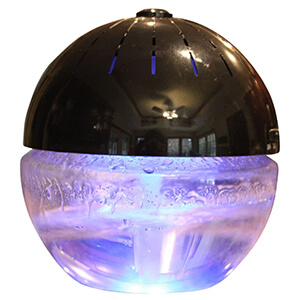 The EcoGecko water air purifier is a versatile and powerful option that functions as an air purifier, humidifier, and scent diffuser. When using it, I was pleasantly surprised by how quietly it operated at less than 45 dB. Despite its low noise level, it's powerful enough to purify air in large spaces up to 600 square feet. I also appreciated the adjustable fan speeds that allowed me to customize the settings based on my needs.
The added bonus of the warm, glowing blue light made this water-based air purifier not only functional but also visually appealing. The swirling water added to the ambiance of the room, and the blue light added a soothing touch. If all this was not enough, the EcoGecko has added a convenient auto shut-off feature when the top is lifted from the unit.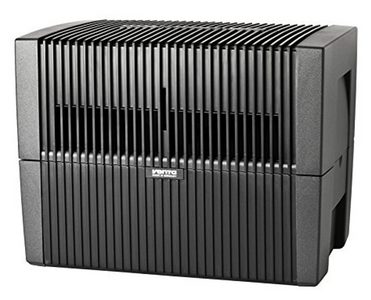 Compared to the other air purifiers on the list, the Venta Airwasher stands out. It has a sturdy plastic construction and is larger than standard air purifiers.
Although some people might not find its size desirable, it makes up for it excellent air purification results. The Venta can remove particles up to 10 μm in size from your indoor contaminated air and even offers an optimal 40 to 60% air humidity.
What's more, it is perfectly suited for large spaces up to 600 square feet and comes with a user-friendly control panel. You only have to add tap water to its water tank to keep it from working for days on end.
What is a Water Air Purifier & How Does It Work?
Like air purifiers, a water-based air purifier or a water-based air revitalizer cleans your indoor air to remove dust, pollen, spore, pet hair, smoke, and even bad smells from your room.
However, it does not use any types of filters or ionizers to purify your air. Instead, it uses a smart water filtration mechanism to trap in all the allergens inside your room.
Most water-based air purifiers use a rotating motor to create water swirls. Here, allergens are trapped, and the water continuously cycles inside the water reservoir. As a result, the machine can also function as a versatile humidifier and a scent diffuser.
The air purifier with a water tank adds moisture to your dry indoor air and disperses your favorite scent in the whole room. These air purifiers can function from hours to days, depending on the size of the water reservoir.
Read also: The Best Filter-Free Air Purifier for Your Home
How Well Do Water-Based Air Purifiers Work?
Water-based air purifiers function exceptionally well for their price and size. Although they are quite small, a high-quality purifier can purify the air in large spaces and remove most allergens.
And the best part, these machines even function as a handy humidifier, night light, and a great scent diffuser for your rooms.
Just like HEPA filters, water filtration technology is great at removing large particles from your air. However, they do not function as well when it comes to purifying the air from smaller particles. Moreover, HEPA filters have the upper hand at capturing odor particles too.
Despite this, water-based air purifiers are preferred for their multifunctional use at a reasonable price. Although they cannot clean air at a microscopic well, they are excellent for purifying your air from most allergens.
Recommend: Best Air Purifiers with Permanent Washable HEPA Filter
Pros and Cons of Using Water Air Purifiers
As mentioned above, there are many advantages of using a water-based air purifier to make your life better and reduce pollutants in your indoor air. However, there are several cons to the machine as well.
Let us take at both the pros and cons of these purifiers.
Pros
They are comparatively more affordable than other air purifiers.
Since they have a water filtration system, clean-up and maintenance are relatively quite easy.
It is a multifunctional device, allowing you to use it as a purifier, humidifier, and scent diffuser. Some models even feature a convenient LED for night lamps.
They have a quiet operation, making minimal background noise.
You do not have to spend money on changing any filters. Instead, you simply have to replace the water in the water tank.
They are compact and portable.
Cons
They are not as efficient as HEPA and carbon filters at removing odors and filtering microscopic particles.
Water spillage is common.
Water-based purifiers are not suitable for large rooms.
Excessive humidity from the purifier can increase mold and encourage bacterial growth.
You need to clean the water tank frequently.
How to Choose the Best Water Air Purifier
Since there are various water air purifier models available in the market, it is quite challenging to find the best air purifier that uses water for filtration. We have highlighted some significant features to look for in your purifier in the following section to help you out:
Fan speeds: with multiple fan speeds, you can control the swirling speed of your air purifier. Hence, you can adjust the level of humidity and purification according to your climate and needs.
Water tank capacity: since water-based air purifiers are generally quite compact, they have a smaller water tank capacity. As a result, you need to clean them more often than most other purifiers. To get rid of this hassle, opt for an air purifier with a larger capacity to keep the machine running efficiently for longer periods.
Multifunctional: most water-based air purifiers in the market are quite multifunctional. Besides cleaning your indoor air from pollutants, the machine can diffuse scent in your room and moisture in dry areas.
Before purchasing a purifier, look for these versatile features to keep your room smelling fresh and to improve your health with just one device.
How to Clean a Water-Based Air Purifier
Compared to air purifiers, water-based purifiers need thorough and frequent cleaning for optimum results. If you are confused about how to go about the cleaning process, the following steps can help you maintain your purifier.
For safety purposes, always make sure to turn off the electric supply.
Firstly, remove the cap of the air purifier to access the water tank. Here, take out the fan from inside the machine.
Since the fan keeps the water rotating, it is quite common for them to get dirty. Make sure to clean the fan thoroughly using mild soap and tap water.
Take out the water basin, dump the water, and rinse it in your sink with soapy water. Lastly, make sure to wipe it down.
For the exterior, make sure only to use a damp towel or antibacterial wipes for clean-up.
Clean the stem using a cotton bud or a long, thin brush.
Once every part is properly dried, reassemble it, pour water into the reservoir, and use the purifier when you need it.