Our homes are full of contaminants, from dust to pet dander and allergens to harmful chemicals. Although air purifiers offer a reliable way to eliminate airborne particles and upgrade our well-being, not all that glitters is gold.
Many air purifiers on the market produce ozone as a byproduct of electrical discharge. The Environmental Protection Agency highlights that inhaling ozone, even in smaller quantities, can cause throat irritation, coughing, and difficulty breathing.
Because air purifiers are intended to destroy pollutants and germs, you must invest in an ozone-free air purifier to ensure it doesn't generate the notorious byproduct – ozone. Otherwise, ironically, you might only be risking your health because the purifying device you paid for isn't purifying rather contaminating.
Are Air Purifiers that Produce Ozone Harmful to Your Health?
Research conducted by the University of California tested several air purifiers for ozone emission at 40-50% relative humidity in various indoor environments.
It was found that the ozone levels exceeded the standard safety guidelines, which are 90 parts per billion for an hour and 70 parts per billion for 8 hours in California.
In certain instances, the ozone levels went above 350 parts per billion, enough to trigger an outdoor stage 2 smog alert.
So, the researchers at the university concluded that air purifiers that produce even a few milligrams of ozone per hour build ozone levels that exceed public health standards.
Not only is it harmful to the lungs and causes chest pain and breath shortness, but it also exacerbates chronic respiratory diseases like asthma. Plus, it reduces a person's ability to battle respiratory infections.
Therefore, ozone-generating air purifiers are deleterious to health and must not be used indoors.
Read also: How long does it take for ozone to dissipate?
Which Air Purifiers Are Ozone-Free?
Air purifiers that don't emit ozone are naturally more effective at improving indoor air quality because harmful byproducts don't linger in the air after you turn them on.
Here are some air purifying technologies that do not produce any ozone:
Carbon filters. These filters eliminate gaseous pollutants and volatile organic compounds (VOCs) with a combination of activated carbon and high surface area. Although ozone-free, they aren't powerful enough to remove dust particles but work well to eradicate the gases.
HEPA filters are known for eliminating 99.97% of particles 0.3 microns in diameter present in the air. Although they might be slightly less effective against odors, they do not generate ozone, which is a plus.
PECO. The Photo Electrochemical Oxidation process features a safe UV-A light and creates optimal hydroxyl radical concentrations to eliminate air pollutants. Besides, while it doesn't produce ozone, studies unfold that PECO technology destroys ozone crawling in the air.
List of the Best Ozone-Free Air Purifiers in 2023
Whether you want to buy an air purifier that targets noxious odors and gases, air pollutants, or one that'll remove both, you'll find an ozone-free purifier to cater to your unique needs.
We reviewed several models for their features, filtration performance, and safety levels. Following this, we curated a list of the top 6 air purifiers that don't emit ozone.
Best for Allergies Sufferers
LEVOIT Ozone-Free Air Purifier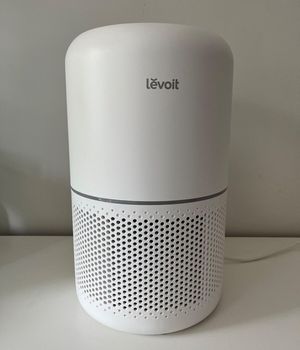 If stuffed toys, wall-to-wall carpets, or pets trigger your allergy, the high-performance LEVOIT air purifier is here to provide relief. With an H13 HEPA filter, the air purifier ticks the right boxes at an affordable price tag. With 360 air intake and Vortex Air technology, the device purifies a 219 square feet room in 12 minutes and 547 square feet space within 30 minutes.
The award-winning model blends portability with a sleek design, making up for a perfect device for your contemporary style home. The H13 HEPA filter, pre-filter, and activated carbon filter target 99.97% of airborne pollutants up to 0.3 microns in size.
This ozone-free air purifier eliminates common allergy symptoms like sneezing and coughing by effectively removing smoke, dust, and pollen from indoors. It also has a 3-fan speed control to let you set the fan per your preferences. Plus, the sleep mode allows for an undisturbed operation for you to catch a good night's sleep.
Overall, the device offers quality built-in features allowing you to kickstart your air cleaning journey without taking a massive chunk off your budget.
Best for Large Rooms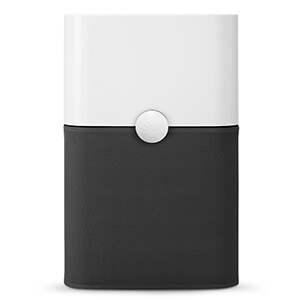 Do you have a hard time purifying the air of your large room? BlueAir air purifier dual filtration technology cleans a 540-square-feet room in around 12 minutes and a large space of 2592 square feet in an hour.
It features a simple control to adjust the fan as required. A flick of a button is all it takes to ensure improved indoor air quality. You can bring down the fan speed for a better night's sleep.
Light sleepers would be intrigued to discover another enticing feature of the device: silent operation. The device operates at 31 decibels at low settings, quieter than a whisper. The energy star rating is another perk for homeowners facing a budget squeeze. The device uses only 30W – less than a lightbulb – energy on low.
The Blueair purifier successfully eliminates allergens lingering in your indoor air. As such, it helps reduce asthma and allergy symptoms. The carbon filter eliminates the home odors, and the HEPA filter combats 99% of airborne pollutants, from smoke to dust and bacteria to pet dander.
All in all, it works reasonably well to remove odors and other harmful particles from the air in large rooms.
Best for Medium Rooms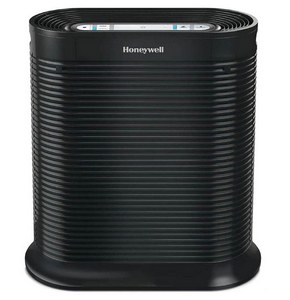 The Honeywell air purifier might pique your interest if you seek a classic-looking ozone-free air purifier for your medium-sized room that is equally well at eliminating airborne particles.
The device features a power button and several cleaning modes: General Clean, Turbo, Allergen, and Germ. You can stick to General Clean for the most part and switch to Allergen or Germ if you have an allergy.
This air purifier features an iconic 3-stage filtration. The HEPA filter traps 99.97% of airborne particles, including pollen, pet dander, bacteria, and mold spores. The carbon-pre filter works to catch smoke, dust, and odors, leveling up your indoor air quality.
Next, the Clean Air Delivery Rate (CADR) works well to eliminate pollen, dust, and smoke. The shut-off timer and control panel dimmer are other underappreciated features of the device – the timer allowing for automated device turn-off and the dimmer enabling brightness adjustment.
Overall, the Honeywell HEPA purifier's multi-cleaning modes are the right fit for people with allergies, breathing issues, and colds.
Best Filtration System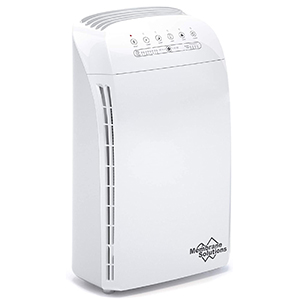 The MSA3 air purifier is another ozone-free air purifier. However, it stands out for its quality filtration system. The 3-in-one H13 HEPA filter features a 3-stage filtration design.
First, the pre-filter catches fiber, pet dander, and hair. Next, the HEPA filter traps dust, smoke, and other airborne particulates. Finally, the activated carbon filter eradicates odors by neutralizing them.
The result? Fresh indoor air and a healthy environment for your well-being. The air purifier cleans a 500-square-foot room in around 30 minutes and an 840-square feet room in an hour.
The iconic design and compact size allow you to effortlessly carry and place it in your bedroom, living room, or office. Child lock is another well-appreciated feature of the device. Press the button to lock the controls, keeping your children from meddling with the device.
You can also switch to sleep mode for a silent operation and an untroubled night's sleep. MSA3 air purifier is the right choice for homeowners seeking models that do not produce any ozone yet upgrade indoor air quality with a robust filtration system.
Ideal for Travel
Pure Enrichment Portable Air Purifier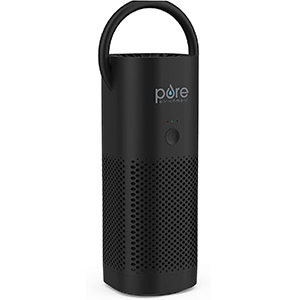 The Pure Enrichment air purifier is the perfect travel companion for thrill-seeking and adventurous souls. Perhaps you need a model that's easier to carry and lightweight. The versatile design featuring adjustable handles allows you to enjoy traveling while keeping your personal space clean.
It features a rechargeable lithium-ion battery, enabling you to use it consistently for up to 12 hours. You can always plug in the device to recharge it for continued pure air. The 2-stage air purification technology cleans up to 99.97% of smoke, smells, dust, and pollen from your surroundings. You can switch between 3 fan speeds: low, medium, and high.
The brand also provides a 5-year product warranty, giving you the peace of mind you deserve. Overall, the purifier weighing under 1LB makes up for a suitable device to bring along on vacations or when traveling to your office.
Best for Personal Use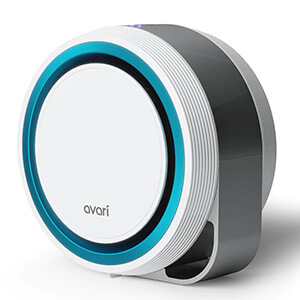 The AVARI air purifier is built to purify your personal breathing space. You can place it on your desktop when working on your laptop.
Traditional HEPA filters are ideal for purifying larger spaces but aren't suitable to function nearby. It's because the fans produce noise, disrupting your workflow. However, AVARI's ultra-smooth and quiet operation won't interrupt your work hours and effectively eliminate airborne particles down to 0.1 microns.
The micro-filtration boosts the surrounding air quality by capturing 99.9% of air pollutants. Whether you're allergic to dust or pet dander, the device will cater to your health needs by trapping most contaminants indoors.
Although the filters are durable, you must replace them yearly to keep them functioning optimally. Plus, consider vacuuming them monthly to eliminate accumulated debris and retain the product's performance.
The compact design makes it easy to carry around and keeps your personal space clean at all times.
Read also: 8 effective methods in removing pet hair from air
The Takeaway
Upper atmospheric ozone protects our planet from harmful UV radiation. However, ground-level ozone is deleterious to our health and well-being. The American Lung Association mentions that ozone exposure may lead to wheezing, shortness of breath, or premature death.
Ionizing air purifiers produce ozone due to their electric charge. Unfortunately, it equates to paying to harm your health. So, consider investing in an ozone-free air purifier that battles against airborne pollutants without creating ozone.