While pregnancy is a fulfilling journey, it's also both challenging and overwhelming. Pregnant women are more prone to sicknesses like coughs, colds, high blood pressure, and more. That is why pregnant women need to be as comfortable as possible, not to mention they should ensure that they are breathing easier.
This is where a humidifier comes in handy. A good-quality humidifier can maintain a healthy moisture level in your room to prevent symptoms of dry air. But is a humidifier safe to use for pregnant women? And if so, which is the best humidifier for pregnancy? Let's find out.
---
Featured in this article:
---
Is a Humidifier Safe to Use During Pregnancy?
Exposure to dry air while pregnant can irritate the nose and lungs. This can also cause nose bleeding, dehydration, and itchy skin. You can become more susceptible to these irritations due to increased hormonal levels.
The good news is that a humidifier can add moisture to the air and maintain optimal humidity levels to ensure your comfort while breathing despite your condition.
According to ACOG, the blood pressure of most pregnant women is likely to increase when frequently exposed to dry air. This condition may slow down the blood flow to the placenta, preventing the baby in the womb from receiving sufficient nutrients and oxygen.
Although a humidifier is safe for use during pregnancy, you must keep the humidity levels between 30 and 50% during use. Anything beyond the safe levels can raise the body temperature and make you uncomfortable.
Not only that, but it can also promote the growth of mold and bacteria which can only put the health of the mother and baby at risk.
Read also: Do humidifiers help with bloody noses?
What are the Benefits of a Humidifier During Pregnancy?
Here are the benefits you can expect when using a humidifier during pregnancy:
Helps Maintain a Healthy Humidity Level
Pregnant women are vulnerable to very low or high humidity levels. A humidifier can help them stay healthy and alleviate pregnancy rhinitis symptoms by maintaining correct humidity levels in your home.
Moisturizes the Skin
Your skin is prone to drying during pregnancy. Some pregnant women even develop itchy skin and rashes because of dry air.
When used correctly, a humidifier can moisturize the skin, leaving it feeling supple and beautiful. Similarly, added moisture can reduce the signs of dry eye irritation and chapped lips in pregnant women.
Check out this similar post: Air purifier vs humidifier for eczema
Improves Quality of Sleep
Placing a humidifier in your room can help reduce sleep issues like snoring, which is common in pregnant women. Snoring during pregnancy occurs because of exposure to dry air which can irritate the throat and nasal tissue.
Added moisture to the air, which is possible with a humidifier, can significantly improve your quality of sleep. Also, a warm humidifier may be useful if you want a decent night's sleep when you have nasal congestion.
Check out our related post: Do humidifiers help with congestion?
Reduces Nose Bleeding
Nasal congestion and runny nose are common symptoms of pregnancy rhinitis. These symptoms can aggravate when the air is dry.
What happens is that your body won't be able to produce adequate mucous in passageways like the sinus and throat. Luckily, you can alleviate this problem by maintaining the right humidity levels via a humidifier to moisturize your passageways.
What Kind of Humidifier is Good for Pregnancy?
Generally, there are three types of humidifiers in the market to choose from. However, when it comes to choosing the best humidifier for pregnant women, warm humidifiers and cool humidifiers are preferable.
Each humidifier type has its pros and cons, and your choice will depend on your specific needs and requirements. Let's have a look at each of them.
Warm Mist Humidifier
Warm mist humidifiers are designed with a heating element to heat the water inside. Once the water is heated, it then releases a warm mist.
The heating element raises the room's temperature to give you congestion relief. These mist units are best suited for smaller spaces like offices and bedrooms. The downside, however, is that they can be noisy and require regular maintenance.
Cool Mist Humidifier
Unlike warm mist units, cool mist units don't use heat to vaporize water. Instead, they use an ultrasonic and high-component device to change water into vapor. These units run cool and are particularly useful if you live in dry areas. They are also a suitable choice for large spaces and are even safe to use in children's rooms.
However, they are more likely to release bacteria and other contaminants into the atmosphere. Nonetheless, this can be prevented with regular cleaning.
Read also: Can cool mist humidifiers cool down your room?
The Best Humidifiers for Pregnant Women
Here are some of the best humidifiers in the market for pregnant women:
1. Vicks Pregnancy Humidifier
If you are in the market for a lightweight and filter-free humidifier for pregnant women, the Vicks cool mist humidifier may be an ideal choice. Despite being a mini-humidifier, it can provide up to 20 hours of moisture.
It also comes at an affordable price and is perfect for small rooms. You can easily adjust its moisture output to ensure an optimal level of comfort.
Also, the humidifier releases soothing moisture to get rid of dry air, helping pregnant women get relief from dry air symptoms such as skin conditions, nosebleeds, and more. Furthermore, it works to ensure optimal humidity levels to lower high blood pressure.
Any pregnant woman who enjoys essential oil scents will also find this humidifier a great investment. Like other Vicks humidifiers, this Vicks unit is compatible with VapoPads for a nice scent and added soothing comfort. Each VapoPad offers up to 8 hours of soothing vapors with different scents.
The problem with this one is that it can be difficult to clean, particularly in areas susceptible to mold growth.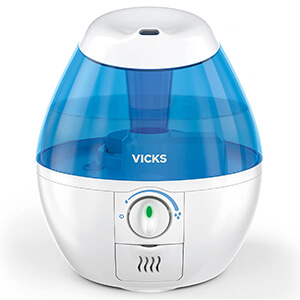 See this pregnancy humidifier on Amazon.
2. Crane Drop Ultrasonic Cool Mist Humidifier
Crane Drop is a cool mist unit that uses ultrasonic components to change water into vapor. This humidifier is well-designed to provide dry air relief for rooms that measure up to 500 square feet. This makes it ideal for medium living rooms, bedrooms, and office spaces.
This humidifier features variable speed settings to allow pregnant women to adjust their preferred humidity level. Moreover, the mist lid can be adjusted 360 degrees depending on where you want the mist to go.
It's equipped with a water tank that can operate for up to 24 hours. Impressively, there is an automatic shut-off feature that shuts off the unit when the water gets low.
Overall, this humidifier is easy to clean, and you can even detach the water tank. Plus, it's made of an antimicrobial material that resists bacteria growth up to 99.96%.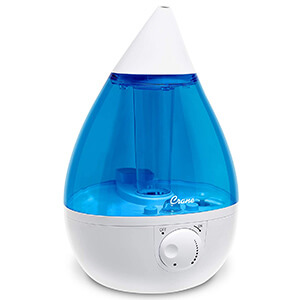 Check out this ultrasonic humidifier on Amazon.
3. GENIANI Top Fill Cool Mist Humidifier
The GENIANI humidifier may be an exceptional choice if you want value for your money. This humidifier also serves as a diffuser, which means that pregnant women can enjoy moist, quality air along with their favorite essential oils. This makes it the best humidifier for pregnancy when you want to relax. You can also find out whether a diffuser works as a humidifier.
If you are expecting a baby, this humidifier will also be ideal for your nursery room. It has a soothing night light so you can sleep comfortably without disruptions. Generally, it can promote better breathing and allow you to have plenty of rest, which is vital for your health.
One of its unique features is its built-in intelligent sensor. Remarkably, this technology allows you to manually adjust the speed output. So, whether you want low, medium, or high speed, you can effortlessly maintain a healthy humidity level according to your requirements.
Filling it is a breeze, thanks to the small insert at the top, and cleaning it is also very easy since the lid is removable.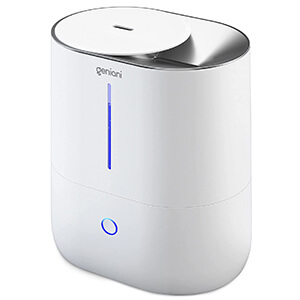 Click here to see this cool mist humidifier on Amazon.
4. Honeywell Cool Mist Humidifier
As a humidifier that's designed to maintain humidity levels between 40 and 60%, you can surely sleep well with the help of this one. The Honeywell humidifier fits well for medium rooms, including bedrooms, baby's rooms, and more.
This cool mist unit will release the right amount of moisture to keep nasal passageways hydrated and maintain optimal indoor humidity levels. This can help alleviate signs of congestion and cough which are common among pregnant women.
It comes with three-speed settings, and you can also adjust the right moisture output that best suits your needs. The water tank also has a wide opening that makes it easy and quick to fill with water and clean.
This unit comes with a filter to keep the water clean from minerals. The wicking filter also prevents mold growth, which can affect the quality of moisture released. Lastly, the filters are easy to change, but replacing them can be costly. Nevertheless, it is a great product that can significantly improve a pregnant woman's health.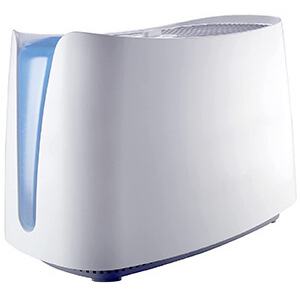 Check out the Honeywell humidifier on Amazon.
The Bottom Line
The use of a humidifier while pregnant can help you get quick relief from a wide range of pregnancy symptoms. With the right humidifier, you can maintain a comfortable and healthy humidity level inside your room.
Besides, it can help ease stuffiness and nasal congestion to enable you to breathe better and enjoy a smooth pregnancy journey. Just make sure to pick the right humidifier that suits your needs.
We hope this article can help you choose the best humidifier for your needs. Also, don't forget to rest, drink plenty of fluids, exercise, and keep yourself warm during pregnancy.