The smoke produced by indoor smoking can linger around your house for days, affecting your family's health. Perhaps that's the reason most smokers prefer smoking outside their homes. However, outdoor smoking isn't always a feasible option.
For instance, extreme weather conditions can make it difficult to leave your home, or sometimes it feels too inconvenient to drag yourself out of bed just for a puff of smoke.
But here's the good news: smokeless ashtrays allow you to smoke indoors since they remove cigarette smoke right away. In this guide, we've curated a list of the best smokeless ashtrays to help you pick one for yourself!
Our Top Picks
Best Overall: Holmes Smoke Grabber Ashtray and Odor Eliminator
Runner Up: Gratefulbuys Smokeless Ashtray
What Is a Smokeless Ashtray?
The downsides of indoor cigarette smoking extend beyond its adverse effects on the health of family members. Often, smoking indoors leaves an unpleasant odor and discolors your house walls, leaving an unflattering impression on visitors.
This is when smokeless ashtrays come into play.
These ashtrays come with filters that absorb smoke before it disperses into the air. This way, they prevent the emission of smoke and the odor that otherwise remains in your home. The National Library of Medicine mentions, "Smokeless ashtrays are designed to reduce ETS (Environmental tobacco smoke) exposure by removing particulate and/or gas-phase contaminants from this plume.
Do Smokeless Ashtrays Really Work?
When any new technology hits the market, people often question its authenticity and effectiveness. With the hype of smokeless ashtrays, many smokers wonder if they are actually helpful in eliminating smoke.
Smokeless ashtrays come with built-in fans and filters that suck the smoke before it spreads into the air. Some ashtrays are ionic, and they work by attracting negatively charged smoke particles, preventing the escape of tobacco smell. Others are designed with multiple-layer filters equipped with activated carbon. The carbon helps get rid of foul smells.
A few modern design ashtrays even come with chambers. These allow you to place the cigarette or cigars on it when you're not smoking. The internal filters and fans draw in the smoke while your cigarette rests on top.
According to research, smokeless ashtrays containing activated alumina and carbon had 70 to 95% removal efficiency for the 18-gas phase compounds. Hence, it implies that smokeless ashtrays work pretty well in removing environmental tobacco smoke. This is because these devices absorb the smoke and prevent the foul odors resulting from it.
The Best Smokeless Ashtray Reviews
With a plethora of smokeless ashtrays on the market, you might feel baffled about the right one. However, we have compiled a list of the best smokeless ashtrays of 2023 to help you select the one based on your preferences.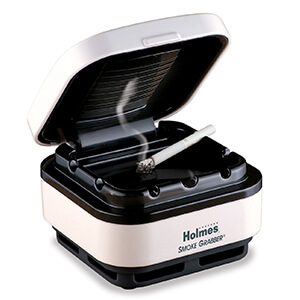 Holmes Smoke Grabber is perhaps the most well-known in the category of smokeless ashtrays and for the right reasons. It provides the best performance with an inexpensive price tag.
The ashtray comes with an activated carbon filter that absorbs cigar smoke and odor smell. Once you open the lid, the internal fan will automatically turn on, and you can smoke. Then, after puffing your cigarette, you can close the lid, and the fan will turn off on its own.
Holmes ashtray is pretty easy to clean, thanks to its straightforward design. It comes with a removable tray. Whether you want to wash it or clean it with a damp cloth, you can do so without hassle. Overall, it's easy to use and effective in removing cigarette smoke.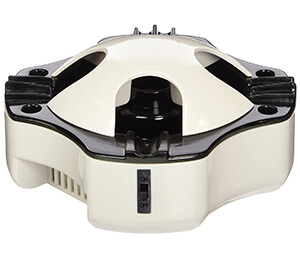 Gratefulbuys Smokeless Ashtray offers great value with good performance. Though it's not as best as the Holmes, it still works great to remove smoke considering its price range.
This ashtray is covered with chambers that allow you to place your cigars or cigarettes in. When you want to smoke, all you need to do is stick them through the hole, and the internal fan will do the rest of the job.
It will actively eliminate the smoke and keep it from circulating into the air. Also, its covered top minimizes the release of smoke into the air, which is a plus.
One drawback of this smokeless ashtray is that it restricts the use of a few cigars. For instance, cigars large in diameter are difficult to stick into it.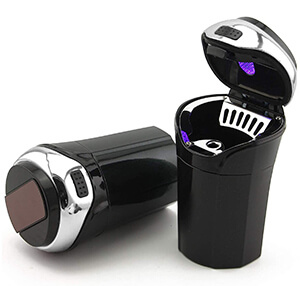 If you're extra cautious about smoke residing on your car seats, the TAKAVU Car Ashtray has you covered. The stands out in the category of smokeless ashtrays for cars. It is designed to fit seamlessly in your car cup holder and is equipped with blue LED light.
This car ashtray perfectly caters to the needs of drivers as it also has a lighter. So you don't need to reach your pocket to light your cigar or cigarette. All you need to do is turn out the lighter to light your cigarette while you're on the go.
The positives, however, aren't limited to its premium design; it also helps to eliminate second-hand smoke. So, you won't have to worry about smoke polluting your car. Overall, its classy design is convenient for busy drivers who smoke on the go.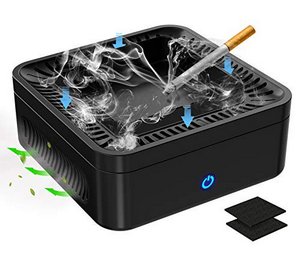 FORTGESCHE Smokeless Ashtray is suitable for homes, offices, restaurants, and hotels, thanks to its impressive design. But design isn't its standalone feature; this ashtray is electrical and comes with a 4000mAh rechargeable battery. It takes up to 2-4 hours to fully charge. Once charged, you can remove the plug and use it without trouble.
What else is good? It comes with adjustable modes. You can set the mode to "low-speed" and "high-speed" with the touch of a finger. Also, it's pretty easy to disassemble and clean due to its modern design.
This ashtray produces little to no sound during operation, which is another plus. Overall, if you're looking for a stylish and sleek smokeless ashtray that absorbs cigar smoke and odor smell, then FORTGESCHE is your best bet.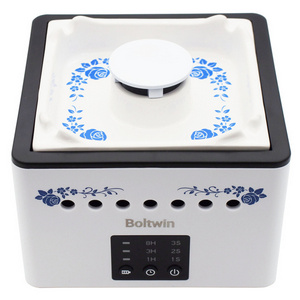 Boltwin Portable HEPA Ashtray is one of the best smokeless ashtrays for good reasons. It's an ashtray, it's an air purifier, and a diffuser all in one. As a smokeless ashtray, it includes five purification layers, including HEPA filter, negative ion, silver ion, pre-filter, and PM 2.5 filter technology (to capture the smallest of smoke particles).
As an air purifier, it purifies your air without producing annoying noises. That is, you can sleep in a comfortable environment when it's still running. Furthermore, it also diffuses an aroma that adds to the indoor ambiance. It's equipped with an 8000mAh Li-ion battery and can work for up to 8-10 hours.
Overall, if you're looking for a smokeless ashtray, air purifier, and aroma diffuser all in one place, Boltwin ceramic ashtray is the way to go.
Conclusion
Smokeless ashtrays might not eliminate 100% smoke from your cigarette, but the best smokeless ashtrays do a pretty good job if used correctly.
Air purifiers are quite expensive, but smokeless ashtrays are cost-effective; therefore, it's normal to feel skeptical about the latter's functionality.
However, these ashtrays are designed to be inexpensive and do not utilize any unique technology in manufacturing. The fans or carbon filters work pretty well to reduce second-hand smoke.