Breathing clean air is essential for good health, and air purifiers have become an increasingly popular solution to improve indoor air quality.
However, the ongoing cost and inconvenience of replacing air filters can be a drawback for some users.
That's where air purifiers with washable or permanent filters come in. These units utilize filters that can be cleaned and reused, making them more cost-effective and environmentally friendly.
In this article, we'll explore the best air purifiers with washable or permanent filters, examining their features, performance, and benefits, so you can breathe easier in your home or office.
In a hurry?
If you don't have much time use the links below to quickly find the best air purifiers with washable and permanent filters.
– Best Overall – Honeywell Air Cleaner and Odor Reducer
– Best Budget – Hamilton Beach TrueAir
What's the Difference Between a Washable and Permanent Filter?
When it comes to air purifiers, the best options are low upfront cost combined with a low maintenance cost in the long run. That's why you'll either find an air purifier with a washable filter or an air purifier with a reusable filter in the list below.
However, if you're new to the discussion, here's an overview of these two main types of air purifiers to make things clear for you.
Air Purifiers With Washable Filter
Firstly, an air purifier with a washable HEPA filter does not need any filter replacement even after prolonged use. Instead, you can remove the filter inside the air purifier and clean it using soap and water.
The process is pretty straightforward. All you have to do is remove the filter and soak it for a few minutes in a mixture of dish soap and water. After that, you can scrub it clean and remove all the dust, debris, and contaminants to make the filter as good as new.
When it comes to air purifiers with washable filters, you can choose from two main varieties. These include simple HEPA filters and ifD filters. Apart from having diverse cleaning technologies, these two have different levels of efficiency and price range.
Although washable air filters are affordable options, they cannot filter out particles smaller than 2 microns. This means if you live in an area contaminated with bacteria, mold, and spores, this filter will be inefficient against them.
Learn from this post about the Difference Between Mold and Dust
Air Purifiers With Permanent Filter
Secondly, air purifiers with permanent filters are the ones that can't be removed and washed separately. Nevertheless, it doesn't mean that they are not cost-effective as their counterparts in the long run.
To clean out this filter regularly, you can use a vacuum cleaner to suck out all the accumulated dirt and debris. But, first, make sure that the filter does not come into contact with water; if it does, you will have to buy a filter replacement.
On the plus side, the maintenance and cleaning process of permanent filters is faster and more efficient than washable filters. Similarly, these filters are better options if you want to trap minute particles like pet dander, smoke, and bacteria.
Related: The Best Filterless Air Purifier Reviews
Pros and Cons of Permanent Washable Filters
Now that you know the main differences between air purifiers with permanent and washable filters, you can easily decide which one works well for your home. To make sure you make the right purchase, check out this list of pros and cons before finalizing your decision.
PROS:
Washable permanent filters are effective against dust particles and debris, while some can even capture smaller particles like dander, spores, smoke, and bacteria.
You can save money by cleaning the filter yourself without any professional assistance.
The cleaning and maintenance process of reusable filters does not take much time.
Frequent cleaning increases the efficiency of permanent washable filters.
Air purifiers with permanent washable filters are quiet during operation.
CONS:
Some washable and permanent air purifiers may not remove particles smaller than 2 microns. Make sure you check the specifications before making your purchase.
If you use your air purifier with washable filters in a large room, it will get dirty quickly and require frequent cleaning.
Rigorous cleaning can cause permanent damage to washable filters, ultimately reducing their efficiency.
Read Also: Best Washable Furnace Filter Reviews
What to Look For When Buying an Air Purifier with a Washable or Permanent Filter?
After going through the list of pros and cons provided above, you must've decided whether you want to invest in air purifiers with washable and permanent air filters. If you are planning to buy one for your home, you will be surprised by the plethora of brands and models available in the market.
To make sure you choose the best one, read this list of aspects you should assess before buying an air purifier with a washable or permanent filter. Once you have all the information, you can go through the best air purifiers below and select the ideal option.
Filter System and Efficiency
As we mentioned above, you will find different filtration systems in permanent and washable air purifiers. Choosing the right one is important as it determines the efficiency and productivity of the purifier.
HEPA air filters can remove particles as small as 0.3 microns. This means you can get rid of pet dander, pollen, mold, and bacteria.
On the other hand, activated carbon filters are more efficient and can capture particles smaller than 0.3 microns. These include unpleasant odors, cooking and fireplace smoke, and paint fumes.
Additionally, you should check the particle removal capacity of each filter denoted in its CADR range. For example, if the purifier falls between 10-100 CADR, it can only filter dust.
In contrast, if the CADR goes up to 300-500, then the filter is highly efficient and can filter out the minutest particles from the air around you.
Coverage Area
It is important to check the coverage area of the air purifier by comparing it to the size of your room. If the model you buy is too small, it won't clean the air properly and even damage itself in the long run.
Additional Features
It is common to find a huge price difference between air purifiers using the same type of air filters. That's because some have accessible additional features that make operation easy.
If you prefer ease of use along with productivity, you should look for features such as:
Automatic shut off
Mobile controls
Customizable timer
Cleaning indicator
Maneuverability
Dirt sensors
Noise-Free Operation
Let's face it; nobody wants an air purifier humming loudly in the corner while they're trying to sleep or work. To avoid this inconvenience, look for air purifiers that make less than 30 to 40 decibels of sound while working at the highest setting.
This way, you can enjoy clean air without any disturbance in your living or working area.
Long-Term Costs
While air purifiers with washable and permanent filters require low maintenance costs, you should consider energy costs while making your purchase as well. Some models are designed to be energy-efficient and have functional controls to avoid energy wastage.
For instance, if you choose an air purifier that requires around 50 to 200 watts of energy and is equipped with timers and auto-shut-off systems, it can lower your energy bills considerably.
List of the Top 6 Air Purifiers with Permanent or Washable Filters in 2023
Finally, you have all the information you need to purchase the ideal air purifier for your home. Here, I have listed the best models available from leading brands with complete details about their features, productivity, and accessibility.
Based on your budget and requirements, you can choose the right option from the list and start breathing in a fresh, clean environment.
1. Energy Star Certified Air Purifier With Permanent Washable Filters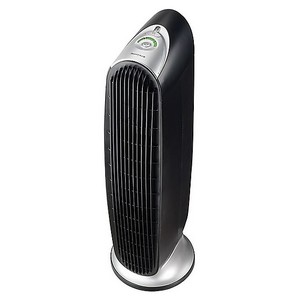 Honeywell is a leading brand when it comes to affordable and high-quality home appliances. The Honeywell HFD-120-Q sports oscillating technology. Meaning, it is integrated with a heavy-duty fan that circulates airborne impurities to displace them and finally captures them into the filter inside.
The model can remove particles as small as 2 microns, including dust, debris, pollen, pet dander, and smoke. It has an Energy Star certification which ensures energy efficiency, reducing maintenance costs in the long run.
The tower-shaped machine has three different cleaning levels, which you can customize according to your needs. Apart from removing impurities from the air, the device also works to neutralize odors, ensuring a fresh environment throughout the day.
Moreover, the Honeywell HFD-120-Q comes with a 5-year warranty so you can be concern-free while making your purchase. However, it does not have any attractive features like automatic timers and has a low CADR rating compared to other products.
2. Affordable and Quiet Air Purifier With A Permanent HEPA Filter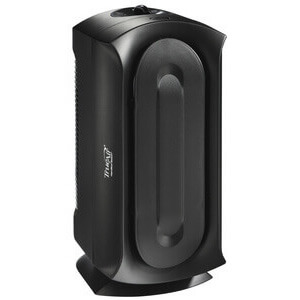 This affordable air purifier by Hamilton Beach is the ideal option if you're looking for a pocket-friendly purchase. Integrated with a HEPA filter, the product claims to capture all kinds of impurities, including larger dust particles and smaller particles such as pollen, mold, and bacteria.
Another appealing aspect of this model is its sleek and compact design. You can easily place it in your living area or office, and it will fit right into the decor without looking out of place. Besides that, you can put it in vertical or horizontal directions according to the space available on your tabletop or floor.
Furthermore, the Hamilton Beach TrueAir is a breeze to clean. All you have to do is check the filter for dust accumulation once or twice a month and use a vacuum cleaner to suck the impurities out.
The best part about this device is its quiet operation. It has three customizable speed settings, and it produces next to no noise even at the highest setting.
3. Best Air Purifier For Pets With A Washable Carbon Filter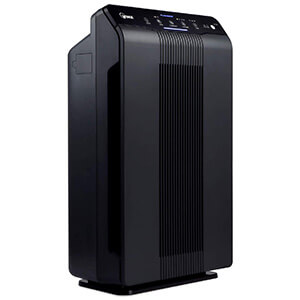 This model by Winix is a hybrid model between washable and permanent filters for those who can't decide which one to get. It has three different filters, including a permanent pre-filter, a PlasmaWave filter, and an activated carbon filter. Some of these will need to be washed with soap and water, while others can be cleaned using a vacuum cleaner.
The HEPA filter captures around 99% of all airborne particles, including pet dander, dust mites, pollen, and other allergens as small as 0.3 microns. Similarly, the filter also works to reduce chemical vapor and bad odor from the environment around you.
Most importantly, the Winix 5500-2 comes with impressive features such as auto mode and sleep mode. You can use these options to ensure silent operation during the night and let the machine increase efficiency according to the air quality. Besides that, the purifier sports efficient timers and indicators for air quality and filter cleaning to increase its accessibility.
You May Also Like: How To Reset The Filter Light On Winix Air Purifiers
4. Permanent HEPA Type Air Purifier With UV Light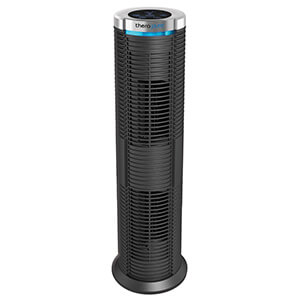 The ENVION Therapure TPP240 is a modern and sleek air purifier ideal for medium to large rooms. It has a patented technology that uses UV light to reduce impure particles such as germs, bacteria, smoke, and pet dander from the air around you.
The model has a 3-speed fan setting which you can customize according to your needs. Furthermore, it has commendable CADR ratings for small and large particles that make it an excellent option for everyday use in homes and workplaces.
Additionally, it uses an ionizer to trap minute particles from the air, including allergens and germs. This also helps rectify lousy odor and keep your environment fresh and pleasant. Another attractive feature is its modern digital front display. You can customize the machine's controls on this panel, set automatic timers, and check whether it needs cleaning.
Although the filter system in this model does not need to be replaced, it is not washable. But, you can still clean it occasionally using a vacuum cleaner and restore its original efficiency.
5. Low Maintenance Air Purifier With a Permanent Washable ifD Filter
According to us, the Honeywell HFD320 AirGenius 5 is one of the best air purifiers on our list. With its ifD filter technology, the device can remove up to 99% of all airborne particles, including microscopic bacteria and allergens.
The air purifier works quietly, and its multiple-speed fans don't make any noise even when working at the highest setting. The high-speed fans oscillate up to five times an hour which helps remove particles like pet dander, dust, pollen, and mold efficiently.
Besides that, the fan and the ifD filter work together to refresh the air around you by removing the unpleasant odor from outdoor pollutants of inside activities. It sports a hybrid filter with both washable and permanent filter attachments.
You can easily clean the washable pre-filter and ifD filter with soap and water when needed. On the other hand, its odor-diminishing filter can be cleaned using a vacuum cleaner or may need to be replaced after long-term use.
Although the Honeywell HFD320 AirGenius 5 does not have high-tech features like ionizers and UV light technology, it is an affordable option for those looking for a functional and accessible air purifier.
6. Best Large Room Air Purifier With a Washable Filter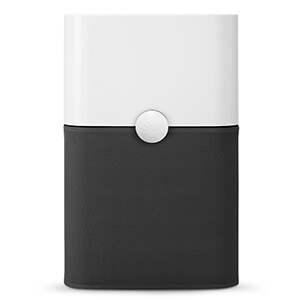 If you're looking for an air purifier to place in a large room at home or at your workplace, the Blue Pure 211+ is the ideal option. It sports two different filters with oscillating pre-filter fans to displace the impurities effectively and give you fresh air to breathe in.
Firstly, it has a Swedish filter technology that aims to reduce up to 99% of all impurities in the air. This includes dust, dander, mold, and pollen. Additionally, it has an effective activated carbon filter that removes odor produced by pets and cooking activities around the house.
The best part is that the pre-filters are made out of mesh and fabric to be easily machine-washed. This way, you can avoid the hassle of hand-washing the filters by soaking them in soap and water.
Moreover, the Blue Pure 211+ ensures a quiet operation even at the highest setting. It produces only 31 decibels at the lowest setting and 56 at the highest. Additionally, it consumes electricity efficiently to keep your monthly bills in check.
Conclusion
That concludes our list of the 6 best air purifiers with permanent and washable filters. We have included a selection of diverse models from leading brands in this list to help you make the right decision.
Remember, the ideal air purifier for you doesn't have to be the one with modern features and a high price tag. Instead, an affordable and essential air purifier might work just fine for you and help you breathe in fresh air indoors.
Make sure to identify your personal needs, such as the size of your room, the pollution level in your area, and your budget, before making a decision.