Many people prefer electrostatic air filters over traditional filters because of their reusability. Despite being on the pricier side, the electrostatic furnace air filters offer an excellent long-term investment, courtesy of their efficiency to filter dust, mold spores, bacteria, and textile fibers.
You can save the environment by switching to washable air filters instead of disposable filters with a limited lifespan. In this post, we reviewed the best washable furnace filters and included a bonus buying guide to help you buy a suitable filter for your home.
Best Washable & Electrostatic Furnace Filter Reviews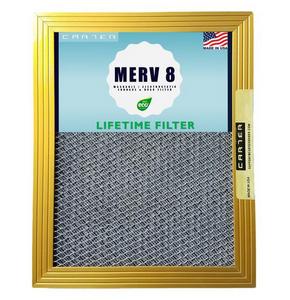 The Carter HVAC & Furnace Air Filter won't disappoint you if you want to buy an affordable lifetime air filter. Its filter offers dust holding capacity of more than 165 grams. This washable electrostatic filter features advanced stainless steel mesh to offer durability. Moreover, the gold anodized aluminum frame adds to the overall strength of the air filter.
It's essentially a reusable electrostatic filter that comes with a total of three layers. The outer two layers comprise anti-microbial woven polypropylene, electrostatic fiber that self-charge, while the middle layer offers additional polyester self-charging filter media.
The primary role of the middle layer is to enhance the overall dust capacity and contaminant retention. Besides, external metal mesh support holds all the layers in place. The good news is all the filters come with a lifetime warranty to ensure a long-term investment.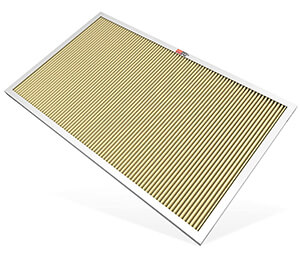 K&N has been offering air filtration solutions to protect your home and family since 1969. The K&N Pleated Furnace Air Filter is a premium-quality, well-constructed washable filter with a MERV rating of 11. You can save $30 annually by using it.
It features pleated synthetic filter media to filter air and improve overall HVAC efficiency. The pleated air filter can trap around 99.97% of airborne particles than a non-pleated air filter.
Furthermore, the K&N furnace filter enhances the overall protection of your home by trapping the floating particles that come inside via the ventilation system. It significantly improves the air quality by capturing dirt, dust, pollen, and other contaminants.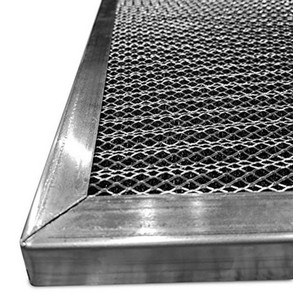 The Trophy Air Washable Electrostatic HVAC Furnace Air Filter is one of the best washable furnace filters that offers six air filtration stages to purify the air. These six layers comprise four premium aluminum mesh layers and two electrostatic media layers to enhance overall filtration performance. Lastly, a durable aluminum frame houses all six air filter layers.
Installing the Trophy air filter is a breeze as you can easily replace the old filter and install the new air filter into your HVAC system within no time. The Trophy air filter features a filter size of 16x25x1 inch to purify and clean air. The low-resistance design effectively improves airflow within your home and filters out pollen and dust.
Moreover, it features a decent MERV 5 rating to filter dust, pollen, and other airborne contaminants. One of the great benefits of using this furnace filter is it's easy to clean, wash and reuse.
If you are looking for a machine washable furnace air filter for your home, the AirThreds Air Filter for AC HVAC Furnace is a perfect choice. AirThreds takes pride in being one of the air filters that you can clean in a washing machine. Not only that, but this air filter is also dryer-friendly, which significantly reduces the overall drying time.
The package comes with one filter of total dimensions of 20x25x1 inch and one frame. The air filter effectively cleans the air thanks to its natural electrostatic material to capture 90% of the airborne contaminants. Moreover, the 8 MERV rating offers exceptional purifying performance and enhances airflow.
To sum up, instead of buying replaceable air filters, it's better to make a long-term investment of buying the AirThreds air filter. It features 100% polyester 3D mesh to enhance the overall durability and filtration performance.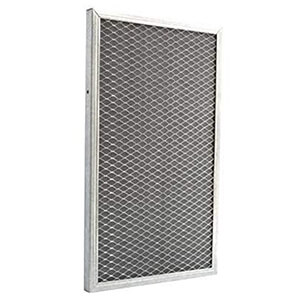 The Venti Tech Washable Permanent Electrostatic Air Filter is an affordable and reliable air filter that you can wash and reuse. It's a multi-functional air filter that removes dust, improves air quality and airflow.
This high-performing air filter captures dirt, dust particles, and other airborne contaminants thanks to its lifetime electrostatic properties. It's made of woven polypropylene media and can capture around 93% of the dust particles of up to 10 microns. Therefore, the existing air conditioner and heating system of your home ensure clean and fresh air inside.
This washable air filter is exclusively designed to lower the airflow resistance and extend the longevity of the home HVAC system. Furthermore, it comes with a robust galvanized steel frame which you can install in any direction into the HVAC slot.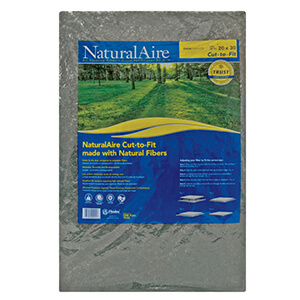 The NaturalAire Cut-to-Fit Synthetic Air Filter offers a 4 MERV rating to remove pollen, dust, and other contaminants to ensure clean and fresh air. The pack comes with a total of six reusable air filters. They are made of synthetic fiber, which is biodegradable, so you don't have to worry about any environmental damage.
You have the flexibility to cut these air filters in different sizes to install into your furnace, HVAC, or window/wall-mounted air conditioners. Furthermore, they can efficiently capture dust and dirt for up to one year. It means you can wash and reuse these air filters for one year and later dispose of them.
If you live in a rented apartment and can't find the exact dimensions of the air filter, the NautralAir synthetic air filter is an apt choice.
What Are Reusable Furnace Air Filters?
The air filter is an integral part of the HVAC system of your office and home. As the air enters the HVAC system, it passes through the filter that removes all the dust particles and ensures clean airflow inside the home.
A reusable electrostatic furnace filter, also known as a washable or permanent furnace air filter, cleans the air using static electricity. Not only that, but washable furnace filters are 10 times more effective in trapping dust particles than disposable air filters. This way, you can integrate it with the existing heating and air conditioning system.
Moreover, you can wash and reuse the air filter instead of disposing of it after a single-use. Lastly, you can save energy costs by buying a reusable air filter with a good MERV rating.
Features & Benefits of Washable Furnace Filters
A furnace air filter plays a multi-functional role to:
Capture dust particles, pollen, and dirt to ensure clean air circulation
Improve the efficiency of the existing HVAC system
Enhance airflow
Furthermore, washing and reusing the furnace filters regularly also extends the HVAC unit and furnace life.
Cost Saving
The one-time cost of the reusable air filter is indeed higher than a disposable filter. However, you can use washable air filters for more than 5 years if maintained properly. One washable filter can replace around 50 disposable filters; that's why you end up saving money in the longer run.
Lesser Waste
The disposable air filter made of fiberglass, metal, and cardboard adds more waste to the landfill. Opting for reusable furnace filters is an environmentally friendly option leading to lesser waste. Not only that, but you can also opt for reusable air filters made of biodegradable material to minimize waste.
Things to Consider Before Buying a Washable Furnace Filter
You may find yourself at crossroads while selecting a reusable furnace filter. That's why we have compiled a list of must-have features in the best washable furnace filter.
Filter Size
You should buy a washable air filter that can easily fit in your existing HVAC system. As discussed earlier in our review, many filters come with a metal frame which you can easily slide into the HVAC system. That's why you should measure the available filter space and select the furnace filter accordingly.
MERV Rating
You can measure the efficiency rating of a furnace filter with its MERV rating. The Minimum Efficiency Reporting Value (MERV) ranges from 1 to 16 depending upon the capturing levels of different particles, such as pollen, mold spores, dust, pet dander, smog, tobacco smoke, bacteria, and textile fibers, etc.
In simple words, an air filter with a higher MERV rating can capture small dust particles, thus offering improved air filtration. However, a higher MERV rating also offers more resistance to the airflow that can affect the air quality in your home.
For instance, an air filter with MERV 13 rating can capture tiny particles of 0.3 microns. However, it's unnecessary to install it in your home. Instead, these air filters are suitable for hospitals and other medical facilities. Generally, an air filter with a MERV rating of 7 to 12 is perfect for houses and apartments.
Pleated vs Non-Pleated Air Filters
A pleated air filter comprises pliable material, such as cotton, paper, or polyester. Moreover, it offers a wider surface area as compared to non-pleated air filters. Alternatively, a non-pleated filter is made of electrostatic material or fiberglass to create a barrier to trap the dust as the air passes through the filter.
You can find pleated filters of different sizes to capture pathogens and bacteria as small as 0.3 microns. That's why they are relatively more effective in trapping tiny particles than non-pleated air filters. Due to the enhanced air filtration performance, the pleated air filter is expensive compared to a non-pleated air filter.
Another benefit of using a pleated air filter is its MERV rating of more than 5. As discussed earlier, a higher MERV rating implies better filtration and, consequently, clean air. Besides, you should also know that a higher MERV filter needs more energy for air passage; that's why the air filter material is denser. As a result, it's better to use a non-pleated air filter in large spaces that require quick air passage.
Compatibility
In addition to the filter size and MERV rating, you should also check the compatibility of the electrostatic air filter with the existing HVAC system and furnace system. Unfortunately, many HVAC systems aren't compatible with all types of air filters available in the market.
Installation
Since you need to wash the reusable air filters regularly, installing and removing the air filter should be easy. Ideally, all you need to do is remove the old disposable air filter and slide the new washable air filter in place.
Related: The right way to put an air filter in your furnace
How to Care For Your Washable Furnace Filter
First, you need to remove the washable furnace filter from the HVAC system and place it on the floor.
Use a vacuum cleaner to remove the debris and dust before washing the filter with water.
Next, you can place the filter in a bathtub or a sink and turn on the faucet to thoroughly rinse it.
Attaching a sprayer to the faucet allows cleaning the inner layers of the filter with more water pressure.
You can use a soft brush to remove the debris from the filter. However, you shouldn't use any chemical detergent or soap to clean the filter.
Once the filter is clean, let it dry completely before installing it back into the HVAC system.
You should repeat the above steps to clean the reusable furnace filter once a month.
Conclusion
One of the most significant reasons for using a furnace air filter is to purify the air in your home to minimize sneezing, itchy eyes, and other allergies. Moreover, installing a washable furnace filter is a breeze as you can simply slide the air filter in place of the old air filter.