Did you know that indoor air is two to five times as polluted as the air outside? Knowing what we know about global air pollution today, that's some really unsettling information.
But you're not doomed to breathe low-quality air for the rest of your life. Instead, you can turn to some of the best air scrubbers to keep your indoor environment fresh, clean, and pleasant.
---
Featured in this article:
---
What Is an Air Scrubber and How Does It Work?
You might have already inferred from the name that air scrubbers have something to do with treating the air around you.
However, HVAC air scrubbers are a novel technology distinct from air purifiers, filters, and even negative air machines.
Basically, air scrubbers are a type of HVAC unit that effectively scrub away any air contaminants, mold, foul smells, pathogens, and mites from indoor environments. You can think of air scrubbers as air purifiers on steroids.
But what makes air scrubbers so unique? Well, it has to do with how they work.
There are millions of contaminants in any enclosed space, including pathogens, dust, and foul odors. These contaminants can be in the air or dwelling on the surfaces of furniture, countertops, and doors.
Now, a traditional air filter will just trap these contaminants, so they don't circulate inside your house. An air purifier goes the extra mile and neutralizes some of these contaminants – but only from the air.
But with the help of an air scrubber, you can effectively remove all contaminants from all surfaces inside your home.
Essentially, an air scrubber draws air from the environment and pushes it through a series of filters. These filters can:
Trap dust, pet dander and hair, and smoke particles
Remove foul smells and deodorize your room
Neutralize or kill pathogens through UV light
Release negatively charged ionized oxidizers into your home, which attract all charged contaminants from all surfaces, which can then pass through the scrubber
The last two functions are what sets apart an air scrubber from other HVAC systems.
What Is an Air Scrubber Used For
Air scrubbers have multiple functionalities thanks to their extensive technologies. But what exactly can they be used for? Do they have any limits?
Air scrubbers are typically used indoors by professionals and homeowners alike. Different types of air scrubbers can boast different functionalities. However, all air scrubbers can generally be used for:
Construction work: Here, you will use construction air scrubbers to maintain a contaminant-free working environment.
DIY projects and home remodeling: If you're renovating a room, you can use a portable air scrubber to get rid of paint fumes and sawdust.
Improving your HVAC system: You can use integrated air scrubbers to upgrade your HVAC system for clean air throughout the day.
For water damage restoration: You can use a commercial air scrubber for your water damage restoration project so that the air remains dry and fresh.
Any other construction or renovation projects that generate hazardous particles such as asbestos, toxic lead, dust, or mold.
Keep in mind, though, that while air scrubbers can neutralize pathogens, there isn't any evidence suggesting that they can neutralize the virus responsible for COVID.
Benefits of Air Scrubbers
Clearly, air scrubbers are convenient for an array of reasons. But by cleaning the air in your home, air scrubbers can directly benefit you in the following ways:
Reduce allergy and asthma attacks by removing triggers such as mites, pollen, mold spores, pet dander and fur, and dust particles. Additionally, air scrubbers remove these contaminants from various surfaces as well.
If you have a furry pet, air scrubbers can make cleaning up after them easier— especially around the shedding season.
For people with a crawling baby or toddler, air scrubbers keep all surfaces contaminant-free so your little one can safely use his hands to explore the house.
Remove nasty stenches such as burnt food and pet odor, so your home always smells fresh and clean.
Capture and filter any lingering cigarette smoke.
What to Look For in an Air Scrubber
Here is everything you need to know to make an informed purchase for the ultimate air scrubber for your home.
Portable vs Integrated
Before anything, you need to decide whether you're looking for an integrated air scrubber or its portable counterpart.
Portable air scrubbers are ideal for large-scale home renovation projects such as remodeling and restoration. Typically, you can find portable air scrubbers on a weekly rental basis.
On the other hand, integrated air scrubbers are permanent fixtures that you can install and connect directly to your home's HVAC system. Hence, integrated air scrubbers work round the clock to keep your home air clean, fresh, and safe.
Airflow
These days, you can choose air scrubbers with an airflow rating of as little as 100 Cubic Feet per Minute (CFM) all the way up to 20,000 CFM. Obviously, the higher the airflow rating, the larger the unit will be.
But beyond just the size, you need to consider your requirements. Generally speaking, professionals such as construction workers tend to go for industrial air scrubbers with an airflow upwards of 5,000.
In contrast, you can get away with a CFM rating of less than 1,000 for your integrated air scrubber.
Filtration
The type and quality of air filter you choose will determine the air scrubber's efficacy and maintenance cost.
So, what's the safest option? Well, the High-Efficiency Particulate Air (HEPA) filter is the most common type of air filter for various HVAC units. It is a mechanical air filter that can filter 70% of 0.3-μm particles and 95% of 1.0-μm particles. These include all potential mechanical contaminants such as dust particles, pet dander, and tobacco smoke, as well as some pathogens such as mites.
Speed
Air scrubbers come in two different speed modes: single-speed and multiple-speed. Obviously, multiple speed settings in an air scrubber can give you more control. More importantly, you can manage the unit's noise levels according to your working space.
However, you won't have as much control with a single-speed unit.
Picture this: you're working in a small room, so you don't really need a high-speed setting. If you're working with a single-speed unit, you'll be wasting a lot of power as well as generating a lot of unnecessary noise.
But a multiple-speed air scrubber will let you adjust the power and cut down the noise.
Air Blower Type
The type of air blower will influence the filters' lifespan. Since the filter(s) tend to gather a lot of contaminants over continued use, they can choke up and create a pressure drop.
Moreover, the pressure drop can be detrimental to the scrubber by creating a static resistance.
To avoid future maintenance costs, always opt for a more powerful blower.
List of the TOP 5 Air Scrubbers
If you're looking to buy an air scrubber but don't know where to begin, then our list of the best air scrubbers will give you a running start.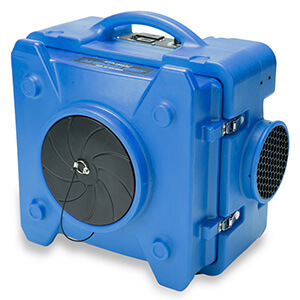 The BlueDri BD-AS-550-BL is an all-around unit ideal for construction work, remodeling, mold remediation, repairing water damage, or even daily use around the house. Compared to its competition, it is visibly more heavy-duty, albeit with a noticeably manageable size of 14 x 25 x 20 inches and a weight of 41.2 lbs.
The unit also features a maximum airflow rate of 500 CFM, which is a decent level of performance that can quickly filter and clean the air. By using a three-stage filtration system, the BlueDri air scrubber works for contaminants of all types and sizes. From pathogens and viruses as small as 0.3 micrometers to pollen grains as large as 100 micrometers, the Air Shield 550 can handle it all.
The only downside is that the carbon filter for eliminating odors from paint, smoke, cleaning products, and pets is not included, but replacement filters can be purchased separately. The cost of these filters is relatively high, but the overall price of the BlueDri BD-AS-550-BL is still considerably lower than most air scrubbers.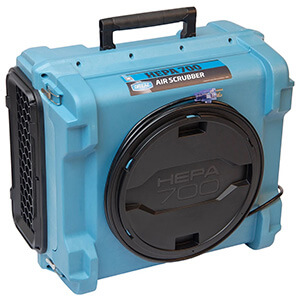 The Dri-Eaz HEPA 700 air scrubber is a versatile and reliable tool for those in need of portable air purification for a range of applications, from water and fire damage restoration to mold remediation and construction projects. Its dual-stage filtration system effectively removes airborne contaminants such as dust, mold spores, and fumes. Its rugged design and limited lifetime warranty make it a long-lasting investment for any job.
One of the standout features of the HEPA 700 is its 24/7 monitoring and control via a connected app, which allows users to adjust the operation from anywhere. The unit also boasts a variable airflow of up to 700 CFM and can deliver six air changes per hour to rooms up to 875 square feet, making it a powerful and efficient tool for air cleaning.
In addition to its impressive performance, the HEPA 700 also offers convenient features such as daisy-chain capability, onboard digital display, and easy transportation thanks to its lightweight design and stacking capability. Overall, the Dri-Eaz HEPA 700 air scrubber is a top-notch choice for professionals seeking reliable and effective air purification in a portable unit.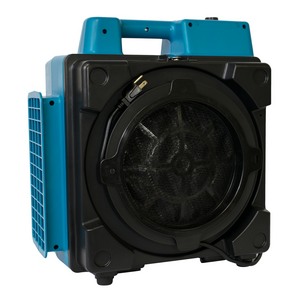 The XPOWER X-2580 mini air scrubber may not look particularly impressive or imposing, but don't be fooled by its size. With dimensions of 16.6 x 10.4 x 18.9 inches and a measly weight of 23.6 pounds, the X-2580 isn't much to look at. However, it packs an impressive 550 CFM airflow as well as a four-stage filtration system.
The best thing about the X-2580 is its portability; you can move it from room to room without much of a hassle. What's more, it only requires a 2.8A for maximum capacity, making it ideal for virtually any work environment.
Better still, the X-2580 offers five different speed settings. Along with controlling the speed, you can also manage the noise in noise-sensitive work environments. Additionally, the four-stage filtration process protects the prime HEPA filter by pre-filtering the air before it reaches the HEPA filter. This way, you're saving up on maintenance costs in the long run.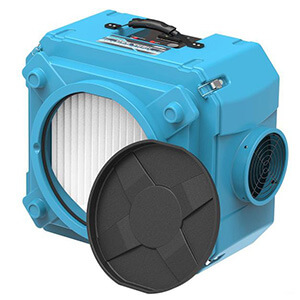 If you're looking for an industrial-grade air scrubber, the ALORAIR Clean Shield HEPA 550 offers the best value for money. Weighing only 39.7 lbs, one single unit can deliver an airflow of up to 550 CMP. Even at such a high setting, the noise levels don't go higher than that of a large ceiling fan.
The Clean Shield HEPA 550 works best with reinforced ducting on the inlet and outlet vent. You will have to purchase the ducts separately, but the resulting air quality justifies the extra splurge. However, the ducting is optional, and it gets the job done without the additional vents.
But the best thing about this affordable air scrubber is that it comes with a lot of replacement parts, including all filters, an on-off switch, and the blade motor.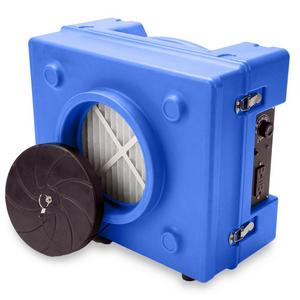 The B-Air RA-650 is an essential addition to the contractors' toolkit with the highest CFM rating on our list. Delivering up to 650 CFM, a single unit of this air scrubber can clean the most contaminated air in under 15 minutes. Moreover, it boasts a very user-friendly design with features such as the filter change indicator light and hour meter.
The RA-650 is a California Air Resources Board-certified HEPA unit. It can effectively remove asbestos in addition to mold, dust particles, drywall dust, wood dust, and other miscellaneous debris. If you want to ensure that the unit has a long life span, the best practice is to clean out the filters daily with an air compressor.
One thing to keep in mind about the RA-650 is that it qualifies as an industrial-grade air scrubber. Hence, it does function at higher decibels. However, it feels like white noise at best, so the sound isn't unbearable.
Frequently Asked Questions About Air Scrubbers
Before you can make your final decision, you probably have some final questions regarding HVAC air scrubbers.
Are Air Scrubbers Really That Effective?
Most manufacturers claim that their air scrubbers can eliminate up to 99.9% of airborne and surface contaminants. But how true is this claim?
The key thing here is to keep your expectations in check. Air scrubbers are among the top-tier HVAC units, but not even the best air scrubbers can be 100% effective.
One example that will ground your expectations is that using air scrubbers for mold is not 100% effective in that it doesn't necessarily kill all the mold. Instead, it helps make the air more breathable while professionals work on the actual mold removing process.
With that said, air scrubbers are decidedly more effective than air purifiers and negative air machines.
How Many Air Scrubbers Do I Need?
For any room, the general rule of thumb is that you use six air changes per hour (ACH) as the minimum benchmark.
In order to figure out how much CFM you need to achieve 6 ACH, you must:
Measure the area of the room.
Measure the height of the ceiling.
Calculate the volume of the room. For example, a 500 sq ft room with 8 ft high ceilings will be 4000 cubic feet.
To find the total cubic feet of filtration needed per hour, multiply the volume by 6. In this case, it will be 24,000 cubic feet per hour.
Divide the number in step 5 by 60 to figure out the CFM. In this case, it will be 400 CFM.
How Long Should You Run an Air Scrubber?
Once again, you can calculate how long you should run your air scrubber by doing some quick calculations using the "6 ACH" rule.
Generally, you'll find that your calculations will usually fall between 24 and 48 hours. The exact run time is mainly determined by the size and air condition of the room.
Why Do I Need HEPA Filtration in My Air Scrubber?
The HEPA filtration system is the most common filter type, typically present as a portable filter inside a commercial air scrubber.
The reason why the HEPA filter is so popular is that it effectively filters and neutralizes contaminants as small as 0.3 mm. Usually, the HEPA filter kicks in at the last stage of the filtration process, removing any remaining contaminants that evade the other filters.
In contrast, pre-filters and carbon filters trap larger particles such as sawdust, pet dander, and odors.
Are Air Scrubbers Safe?
Air scrubbers are 100 % safe for use. Some recent investigations might suggest that air scrubbers do more harm than good, but there is no substance to these claims. At the end of the day, the pros far outweigh the potential cons.
Still, if you want to be on the safe side, you can always go the extra mile and opt for a certified air scrubber.
What Is the Cost of an Air Scrubber?
Air scrubbers can cost anywhere between a few hundred dollars to tens of thousands of dollars. Of course, the latter include industrial air scrubbers, which are not of concern to the regular homeowner or contractor.
Instead, you can generally expect to spend an average of $500 for a high-quality indoor air scrubber.
So, if you want the full benefits of an air scrubber, you should always opt for a HEPA filter.
Conclusion
Investing in an air scrubber is equivalent to investing in your long-term health and overall quality of life. Once you give it a try, you might find some inexplicable health-related issues such as nausea and headaches mysteriously disappear.
But you'll know it's not a coincidence.
Instead, it is the direct action of air scrubbers that filter out highly contaminated indoor air and neutralize the smallest harmful pathogens. In this way, an air scrubber is the ultimate HVAC unit in 2023.