Let's be honest: bathrooms don't always smell great. It can be quite an unpleasant experience to use a smelly bathroom, and somewhat embarrassing if you've got guests at your place.
Using an air purifier in your bathroom can be beneficial in removing unwanted odors, allergens, and mold spores. However, it's important to choose an air purifier with the appropriate features, such as a high CADR rating and a HEPA filter, to effectively filter out pollutants in a moist and humid environment.
So in this post, we'll review five products to help you choose the best bathroom air purifier. We'll also discuss why it's important to use one and provide a quick buying guide.
---
In a hurry?
If you don't have much time, use the links below to quickly find the best air purifier for odor elimination in your bathroom:
---
List of the 5 Best Air Purifiers for Bathrooms
1. Levoit LV-H132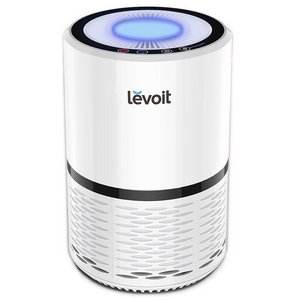 We chose the Levoit LV-H132 as our top pick because of its trusted and efficient performance. This small air purifier for the bathroom consists of three essential filtration stages – a prefilter, true HEPA, and carbon filter. The carbon filter helps remove any odors that creep inside the bathroom, while the true HEPA filter helps get rid of mold spores, dust, and other allergens.
The LV-H132 is a compact device – one you can fit in your bathroom easily. Place it on a shelf or the corner of the floor – you'll barely notice it. We've also tested its noise level, and it measures just 25 dB, ensuring a quiet operation. With a CADR rating of 40 CFM, this air purifier is suitable for bathrooms up to 129 ft². It also comes with several smart features such as a filter indicator, timer, and night mode, making it your best bet for clean and fresh air in your bathroom.
Pros:
Compact and stylish design
Utilizes high-quality filters
Super quiet operation
100% ozone free
Cons:
Filter replacement costs can be high
Suitable only for small bathrooms
2. Pure Enrichment PureZone 3-in-1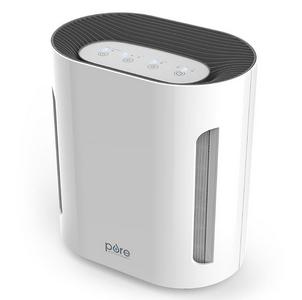 Need a convenient yet effective bathroom air purifier for less than a hundred bucks? The Pure Enrichment PureZone could be the perfect pick for you. This nifty little device includes the three essential filters – carbon, TRUE HEPA, and a prefilter. On top of that, there's also a UV-C light inside that acts as a sanitizer to kill different kinds of pathogens, such as mold spores, bacteria, and even viruses.
The PureZone is also one of the most convenient devices on this list. It includes a filter change indicator, three timer settings, and three fan speeds. Also, it's quiet enough during operation, so you can easily run it at night. Moreover, the handle at the back makes it easier to carry the unit, even though it weighs just six pounds and has a compact design.
Although Pure Enrichment PureZone has a lower-end CADR rating of 60 CFM compared to some other air purifiers, we found it to be still effective for a small bathroom. Its combination of three filters, UV-C light, and portable design makes it a good choice for improving the air quality in your bathroom.
3. GermGuardian AC4825E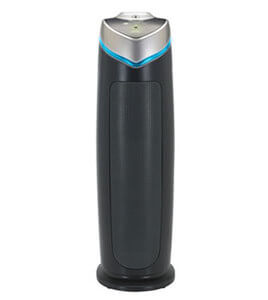 The GermGuardian AC4825E is one of the most efficient at its job – its energy star rating is proof of that. It has also got all the essential features that you could want from a bathroom air purifier. For instance, it has a four-stage filtration system.
There's a prefilter to trap dust, a carbon filter to remove musty smells, a true HEPA for the finer particles, and UV-C light for eliminating any remaining germs. Moreover, the AC4825E comes with three fan speeds, so you can set it on the lowest and quietest setting for a peaceful night's sleep. With an excellent CADR rating and an AHAM and Energy-star verification, you can rest assured this air purifier is going to get the job done effectively and efficiently.
4. Best Toilet Air Cleaner: NoMO Air Purifier & Deodorizer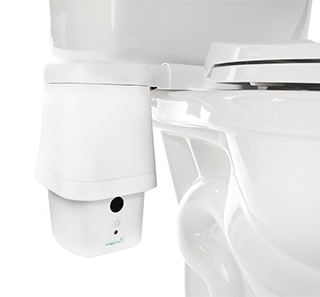 The NoMO is a pretty innovative and smart battery-operated air purifier for bathroom odors. This tiny device mounts onto the side of your toilet in a discreet manner (the seat and bowl mounting tools are included). Once it's installed, all you have to do is wave your hand in front of its sensor to turn it on.
Once the device is turned on, its powerful motor pulls in 10 cubic feet of air in a minute to run it through its heavy-duty carbon filter. The quick operating cycle makes this one of the most efficient odors removing air purifiers and deodorizers for your bathroom. Every two to three weeks, you might have to recharge the device's li-ion battery, but that's all there is to maintenance.
5. Best Plug-In Air Purifier For Bathroom: Hamilton Beach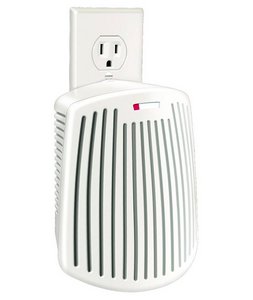 One of the most discreet and compact odor-removing devices we have tested is the Hamilton Beach 04531GM. The air purifier plugs into a wall socket and has a switch to turn it on and off every time you use the bathroom. With a small yet powerful enough fan, the 04531GM pulls in enough air to remove strong odors, including bathroom, litter box, trash, and cigarette smells.
You'll have to replace its filter every three months or so, and there's a convenient filter change indicator to remind you of that. You also get a scent cartridge with the package to help counter a stubborn bad smell from your bathroom toilet. Overall, this affordable and compact device packs a punch in terms of efficacy and is the best air purifier for a small bathroom or washroom.
Why Do You Need an Air Purifier for a Bathroom?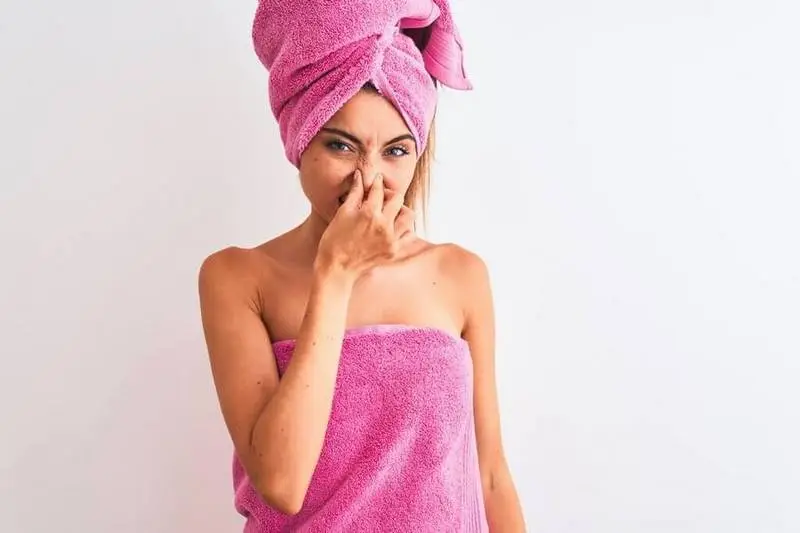 Most of us are content with exhaust fans and scented candles for our bathrooms. However, if your bathroom doesn't have ventilation or smells particularly nasty quite often, then air purifiers are your best bet to counter the problem.
They're the best permanent solution for smelly areas, however odor-absorbing stuff like DampRid can also be used to help with the issue in the meantime. DampRid is pretty popular for its affordable price and easy availability. We've covered everything you need to know about this product in our review.
But there's a far more important reason why you can put an air purifier in a bathroom: mold and mildew. Because bathrooms get wet almost every time we use them and remain that way for long periods, there's a good chance of mold developing and thriving in the area.
This doesn't only destroy the walls and cabinets but also poses a health risk by reducing the air quality in your bathroom. To save yourself from allergies and asthma triggers, installing an air purifier with a True HEPA filter is essential.
Read also: Tea Tree Oil for Cleaning Mold
The Best Bathroom Air Purifier Buying Guide
Every room has its own needs, so here's what you should look for in a bathroom air purifier.
Filters
Pay close attention to the filters used in the air purifier. Are they up to the standards? Will they be enough for your bathroom? At the very least, it should have a true HEPA and a prefilter.
The true HEPA filter will work against bacteria and other pathogens, while the prefilter will trap dust and other larger particles. A prefilter also protects and elongates your primary filter's lifespan.

Odor Removal
If odors are one of the reasons why you're investing in an air purifier, then look for a carbon filter in the device. It acts as the primary odor removing component of an air purifier, absorbing smells and keeping them trapped within itself.
If possible, try finding out how dense the carbon filter is. The heavier and denser the carbon layers, the more effective it'll be.
Cost
Air purifiers have come a long way since they were first invented, and advancements in technology have made them readily available for everyone. Hence, you should not be spending more than a hundred bucks on your air purifier, especially if it's for a bathroom.
This is because bathroom air purifiers are built to cover smaller areas and don't require smart features such as a remote control or a touch display. This reduces their cost to a great extent.
Size
Size is one of the most important aspects of a bathroom air purifier. You can't fit in a large device in most bathrooms, especially smaller ones where space is tight.
Hence, an air purifier should be compact and short in height, taking as little space as possible. This will allow you to keep it on top of cabinets or at the corner of the floor, well away from water and chemicals.
CADR Rating
The Clean Air Delivery Rate (CADR) is a measurement of an air purifier's effectiveness in removing pollutants such as smoke, dust, and pollen. For example, an air purifier with a CADR rating of 100 for smoke means that it is capable of removing smoke from the air at a rate of 100 cubic feet per minute.
Look for an air purifier with a high CADR rating to ensure effective air cleaning.
Noise
You'll likely have to run your bathroom air purifier overnight, and when that's the case, the unit needs to run quietly.
So always look for a quiet mode on your device, or a noise level between 25 to 50 dB, so you can sleep undisturbed.
Related: How to Ventilate a Bathroom Without Windows
Conclusion
Bathroom air purifiers are essential in most homes, especially if it gets wet quite often.
So be sure to get an air purifier with a True HEPA filter and some additional filters to get the best performance. And if odors are a frequent problem, then ensure that the device you're purchasing comes with an effective carbon filter.