Indoor air quality has a tremendous impact on human health and well-being. Unfortunately, indoor air is often full of pollutants invisible to the human eye but no less dangerous.
These pollutants can include pet dander, dust mites, mold spores, as well as chemicals and gases found in household cleaners and beauty products you use every day.
Any of those can cause everything from sneezing and an itchy throat to serious respiratory conditions such as asthma.
AirJoi charcoal bags offer a simple and effective way to neutralize these pollutants and purify your indoor air.
Are these air purifying bags worth buying? Are AirJoi products scam products or not? Read our review before you decide.
What is in AirJoi Bags & How Do They Work?
AirJoi bags contain bamboo charcoal. When activated, it naturally becomes more porous with microscopic holes. These holes act as powerful absorbers, able to soak up everything from foul odors to moisture, allergens, and other air pollutants.
Advantages also include:
No fragrances
Some odor neutralizers simply mask the smell through fragrances. Aside from being ineffective, this can also trigger allergies or asthma. AirJoi air purifying bags don't have any fragrances or hazardous chemical ingredients, making them completely safe to use.
No batteries, electricity, or filters required
Other air purifiers require you to buy expensive replacement filters once they've run out. They may also need electricity or batteries to work properly. In contrast, AirJoi charcoal bags are ready to use after you unwrap them from the shipping package. No need to switch them on or buy additional accessories.
100% safe for you and the environment
AirJoi charcoal bags are made from all-natural materials so you can be sure they're completely safe for you and your family, including infants and pets. They're also biodegradable, making them an eco-friendly choice you can feel good about.
Less expensive than other types of purifiers
A lot of air purifiers can cost you hundreds of dollars, making them out of reach for most people. In contrast, you can get a pack of AirJoi bags for less than the price you'd pay for a single replacement filter required by some brands.
Versatile
AirJoi charcoal bags can be used in a variety of places, from your home to your car, inside refrigerators and closets, and even your gym bags, laundry bags, and shoes.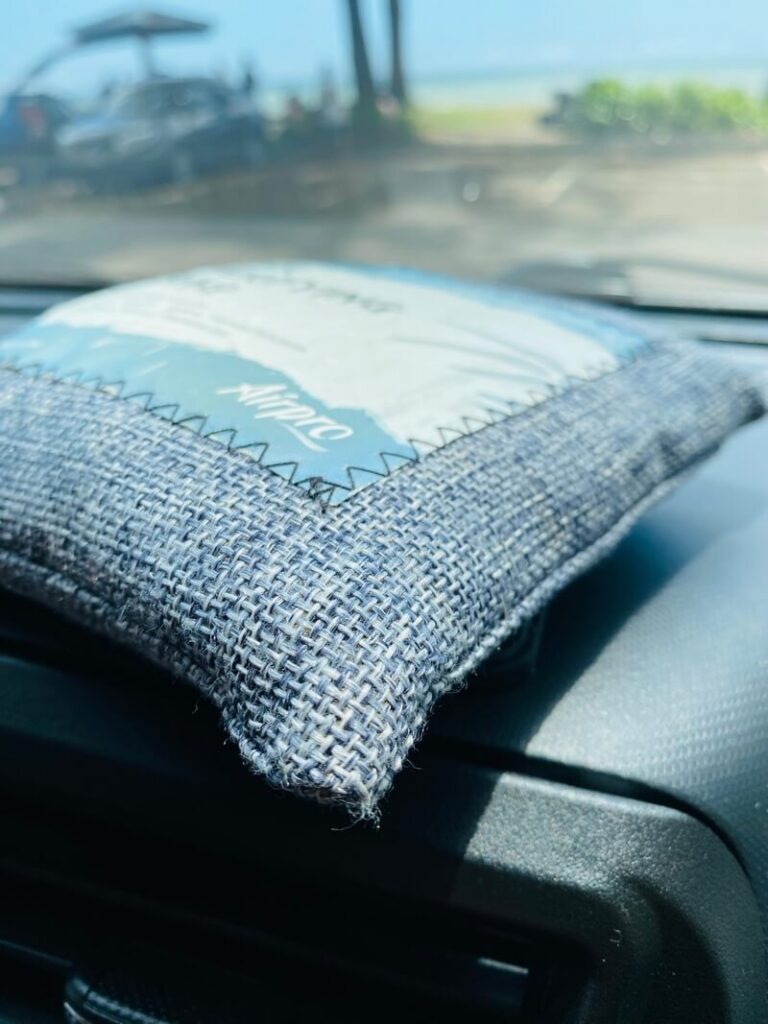 Pet-friendly
Got dogs or cats at home? You'll be happy to know that AirJoi charcoal bags are one of the safest options for your furry friends because they're non-toxic and fragrance-free.
Long-lasting
A single AirJoi charcoal bag can last up to two years, making them terrific value for money.
Reusable with very little upkeep
Finally, these charcoal bags require almost no maintenance. Every month, simply gather the bags, expose them to direct sunlight for one hour, and use it again.
Read Also: Does Poo-Pourri Really Traps Your Poop Smell
How to Use AirJoi Charcoal Bags?
1. Take the AirJoi charcoal bags from their shipping wrap.
2. Place them anywhere you want to improve the air quality, such as:
Bedrooms, living room, bathroom, and other parts of the house
Refrigerators, cupboards, and other areas near food storage
Inside vehicles
Wardrobes, laundry bags, and shoe closets
Gym bags, diaper bags, and other items you take to school or work
Near pet areas such as crates, hampers, and litter boxes
3. The bags will start absorbing contaminants and odor the moment they're unwrapped. However, it may take a few hours or days before you notice a difference in air quality.
4. Every month, make sure to recharge your AirJoi air purifying bags by exposing them to direct sunlight for one hour.
Tip: AirJoi charcoal bags work best in small, closed rooms. If you need help keeping the odor out of a large area, you may want to consider using two or more packs.
Is AirJoi Charcoal Legitimate or Scam?
AirJoi charcoal bags are not a scam. Activated charcoal is known as a highly effective air purifier, and you can find it in a lot of different products you may already be familiar with, such as:
Skin products like pore strips, scrubs, toners and face masks
Toothpaste
Soap, shampoos, and conditioners
Water filters
Air fresheners
Health supplements
Relief for upset stomachs
Food items like yogurt, baked goods, and smoothies
And many more
In short, you don't have to wonder if you're getting the real deal when you get your AirJoi charcoal bags.
Be Patient When Using Activated Charcoal Products
However, you should always keep your expectations realistic when you try out a new air purifying product — even one as effective as activated charcoal. While you may notice an improvement soon after you begin using the bags you purchased, you don't want to expect changes you can notice within hours.
What you'll typically experience with AirJoi charcoal bags is a gradual change in air quality you can easily miss if you aren't paying attention. As the charcoal absorbs contaminants, you'll likely feel more comfortable breathing and simply notice your home feels fresher.
Regardless of your reasons for wanting to improve the air you breathe at home, you can feel confident you're making a smart purchase by purchasing AirJoi bags.
AirJoi Charcoal Bags: Highly Recommended Air Purifier
There are all kinds of nasty things floating around in the air you probably don't want to expose yourself to. From air pollutants, dust, allergies, chemicals, you name it – you definitely don't want it inside your lungs. Investing in a good air purifier can make a world of difference, but it can be tough to determine which option is right for you.
AirJoi charcoal bags offer a terrific mix of safety, effectiveness, and value for money. If you're looking to breathe the cleanest air possible, you can feel confident you're making a smart choice with AirJoi bags.