When it comes to finding the high BTU air conditioners, we're often limited by our voltage options. In the United States and Canada, the standard voltages are 110V, 115V, and 120V.
But what's the largest air conditioner that will still run on those voltages?
Let's take a look at some of the most common types of AC units running on 110/120V and see which one has the highest BTU rating.
BTU Ranges for 110/120V Air Conditioners
When shopping for an air conditioner, it's important to consider the BTU range. The BTU (British Thermal Unit) is a unit of measurement that denotes the amount of heat a particular appliance can generate or remove from a space.
Portable air conditioners are the most popular type that can be plugged into a 110-volt outlet. Most of them have a BTU range between 8,000 and 14,000.
Running on 110/120V, window air conditioners can provide anywhere from 5,000 BTU to 15,000 BTU.
Mini-split air conditioners are less common, but they are growing in popularity. When connected to a 110-120V outlet, they can generate 9,000 – 12,000 BTU.
Highest BTU Portable Air Conditioners Running On 110V
The best portable air conditioners for running on 110 volts have a BTU rating of up to 14,000. This can help you cool down a room that is up to 500 square feet in size.
The units below are some of the most highly rated and reviewed models on the market. They offer great features and benefits, so you can be sure to find the perfect one for your needs.
#1 Black + Decker 14,000 BTU 110V Portable Air Conditioner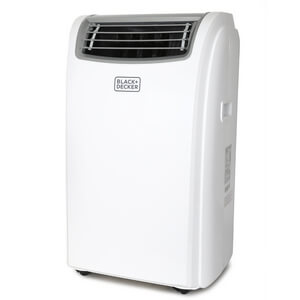 With its 14,000 BTUs of cooling power, the Black + Decker portable air conditioner can cool between 300 and 350 square feet of space while running on 110V. Plus, it comes with remote control, so you can adjust the settings from across the room.
This air conditioner has an adjustable fan speed, so you can customize the level of cooling you need. Thanks to its sleep mode, the unit won't make too much noise while you rest. Moreover, it is environmentally friendly, as it uses R410a refrigerant.
And when it comes to maintenance, the Black + Decker portable air conditioner is easy to clean – simply slide it out twice a month and rinse it thoroughly under running water. It's also worth noting that this unit will help dehumidify your space while it's cooling it down.
#2 Whynter ARC-14S 14,000 BTU Dual Hose Portable Air Conditioner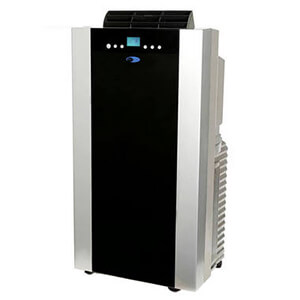 The Whynter ARC-14S is another biggest 110-volt portable air conditioner that can quickly cool spaces up to 500 square feet. The dual hose design also ensures efficient cooling, making it perfect for use in your home or office. It comes with remote control for easy operation. Additionally, the caster wheels make it easy to move from one room to another.
This unit features three operational modes: air conditioner, fan, and dehumidifier. It also has a washable pre-filter and activated carbon filter. This AC unit is eco-friendly, with CFC-free Green R-32 refrigerant and RoHS compliant components.
The air conditioner has an auto drain function that fully exhausts all condensation automatically. With a maximum power consumption of 1300 watts, the Whynter ARC-14S is a good choice for those looking to save on energy costs.
You can check all the best 14000 BTU portable air conditioners here.
Biggest 110V Window Air Conditioners
Window air conditioners are one of the most common types of air conditioners. They're easy to install, and they often work more efficiently than portable air conditioners.
Window AC units come in a variety of sizes, from as small as 5,000 BTUs all the way up to 15,000 BTUs. If you need a unit that can cool a large space, you'll want to choose one of the larger units.
Here are 2 great examples of the biggest 110/115V window air conditioners:
#1 LG 15,000 BTU 115V Window-Mounted Air Conditioner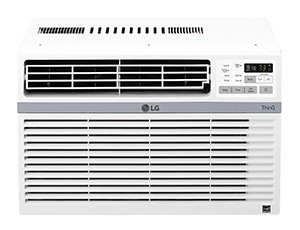 The LG window air conditioner is a great choice for those who want to cool a room up to 800 square feet. It does not require a special electrical receptacle, so it can be plugged into the standard 115V outlet. It also comes with an easy window installation kit.
This unit is Energy Star certified, meaning it will save you money on your energy bill. Additionally, the unit has multiple fan speeds, so you can adjust the airflow to your needs. It's quiet and uses a remote to control the temperature from anywhere in the room.
The air conditioner also has an auto-restart function, so it will turn back on after a power outage. Finally, the LG air conditioner has a washable filter and a check filter alert, so you can keep the unit running efficiently.
#2 Emerson Quiet Kool 15,000 BTU 115V Window Air Conditioner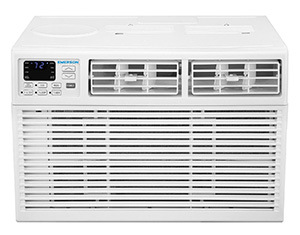 Running on 115V, the Emerson Quiet Kool window air conditioner can achieve the highest 15,000 BTU cooling output, which is enough for cooling down spaces up to 700 square feet. It also features energy-saving features like a low voltage startup and 24-hour timer.
The auto-restart feature ensures that your window AC unit will always be up and running – even after a power outage. Thanks to the rotary compressors, it runs quietly and smoothly. Furthermore, the 8-way airflow ensures an even distribution of cool air throughout the room.
The built-in remove moisture function helps to keep your space feeling fresh and comfortable by removing excess moisture from the air. Additionally, with a five-year compressor warranty, you can be confident that the Emerson Quiet Kool will keep you cool for years to come.
Highest BTU 110/120V Mini-Split AC Units
Mini-split AC units are available in different sizes, with the biggest ones reaching up to 12,000 BTUs while using a 110/120V outlet.
Mini-split air conditioners are typically more expensive than portable and window air conditioners, but they also tend to be much quieter and much more energy efficient.
Another advantage of mini-split systems is that they can cool individual rooms by using multiple indoor units connected to a single outdoor unit.
#1 Senville LETO Series Mini Split Air Conditioner Heat Pump
The Senville LETO Series 12,000 BTU unit is one of the highest BTU mini-split air conditioners running on 110/120V. It can cool up to 750 square feet and also has a built-in heat pump that can operate in temperatures as low as 5 degrees Fahrenheit (-15 degrees Celsius).
One of the biggest benefits of this unit is its variable inverter compressor. This compressor allows for greater energy efficiency and consistent cooling power. The mini-split AC can also operate at lower speeds, which makes it quieter and prolongs the life of the compressor.
The unit has a SEER rating as high as 19, which means it consumes less energy and will cut down your bills. Additionally, the Senville LETO Series mini-split air conditioner has a turbo setting that gives it an extra boost of power when needed, such as during hot summer days.
#2 Pioneer 12,000 BTU 110/120V Mini Split Heat Pump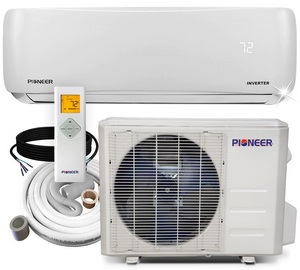 The Pioneer mini-split system is a unit that can do all in one: air conditioning, heating, ventilation, and dehumidification. With 12,000 BTUs, it can cool an area that measures between 300 to 450 square feet.
It comes with wireless remote control, so it is easy to change the temperature and settings without having to go near the unit. The remote also has a large LCD display, so you can always see the current settings without having to guess.
It also includes permanent washable air filters, so you never have to worry about buying replacement filters or forgetting to replace them on time. This mini-split AC unit comes with everything you need for installation in the box, so it's ready to go as soon as it arrives.
---
In conclusion, the biggest air conditioners for 110/120 volts are window units with a BTU rating of up to 15,000. Portable units come in a close second with a BTU rating of up to 14,000. Mini-split AC units can generate a maximum of 12,000 BTU cooling power.
So, if you're looking for the highest BTU a 110V air conditioner on the market, you have several options to choose from. But ultimately, the decision comes down to your specific needs and preferences. Whichever unit you choose from our review, you can be confident that it will keep you cool and comfortable all summer long.