A USB-powered heater is an excellent solution when you want to stay warm without covering yourself with several layers of clothing. Which can be annoying sometimes.
But since there are so many options out there, it can be challenging to find the right one that will suit your needs and budget.
Fortunately, we decided to make things easier for you by reviewing some of the best USB heaters on the market right now. Read on.
Why Should You Get USB Heaters?
A USB heater is a device that can be plugged into a USB port and then generates heat to warm the air around it.
Here are some of the reasons why you should get a USB heater:
Efficient
USB-powered heaters and other USB portable heating options offer many perks and privileges. They are extremely useful especially when you are working or going somewhere important without covering yourself with annoying multiple layers of clothing.
Safe
When used properly, USB-powered heaters are safer than other portable heating devices on the market. They run on electricity either from a low-power rechargeable battery or when plugged into a USB port. And since they run on electricity, they don't emit harmful fumes or radiation.
Convenient
USB electric heaters are convenient to use since they are compact and lightweight, making them extremely portable. They are easy-to-use plug-and-play devices that don't require any technical knowledge of the user.
Can a USB Powered Heater Be Dangerous?
Generally, a USB-powered heater is completely safe to use. USB heaters use low-power batteries that typically require 5-volt chargers.
That said, these are electric heating devices that may overheat and start a fire. And so, you shouldn't leave them turned on for a long time. Also, make sure to turn off the power when you're not using them.
While these devices draw power through a USB port, we don't recommend plugging them into your computer, except for the heated computer mouse pad. These devices can get too hot and may damage your PC when used for longer periods. Instead, use a proper power supply such as a dedicated charging brick.
It's also a good practice to allow the heating element to cool down properly before using the device again. This is crucial especially if you're using a USB space heater or an electric golf cart heater. Such devices draw more electric power and generate more heat.
What Are The Best Portable USB Heater/Heating Options?
Best USB Heater for Camping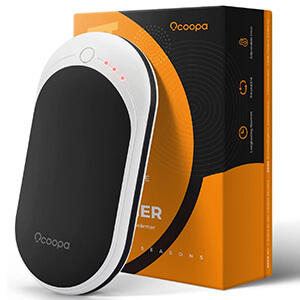 OCOOPA Rechargeable Hand Warmer
OCOOPA hand warmers are incredibly light for something so powerful. With their suede-like surface, you won't believe just how soft and comfy they are on your hands. The curved edge allows even the smallest of hands to wrap their fingers around the device while taking advantage of the double-sided heating feature.
But what makes this USB portable heater stand out from competitors is the lack of metal parts. Metal components can make the unit cold to the touch before heating up.
This USB mini space heater comes with 3 heat settings. The highest setting can be uncomfortably hot, though. So, you're going to need some sort of barrier between your hands and the device, such as a glove or something.
At the highest setting, expect the OCOOPA rechargeable hand warmer to run for about 4 hours non-stop. Running time could be longer if it weren't for the 5200mAh battery. There are several color options for a more personal touch, and its size and shape make it perfect for taking camping or anywhere.
Perfect for Office Desk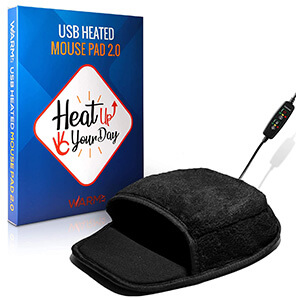 ValleyX Heated Computer Mouse Pad
The ValleyX heated mouse pad can be an excellent addition to your arsenal of office desktop peripherals. It does a great job of keeping your hand toasty warm while gaming or working.
This USB-powered heater for the hand can heat up quickly once plugged in a USB port of your computer. It comes with a switch that allows you to adjust to your desired temperature. Plus, you don't have to worry about not turning it off when you're not using it since it is equipped with a programmable shut-off timer.
While the ValleyX USB-heated mouse pad comes with a fan, it does not evenly distribute warm air throughout your hand. The wrist rest is comfortable but it needs to be a bit higher. Further, it would have been a lot cozier if the breathable fuzzy warm material was on the inside.
Best for Your Feet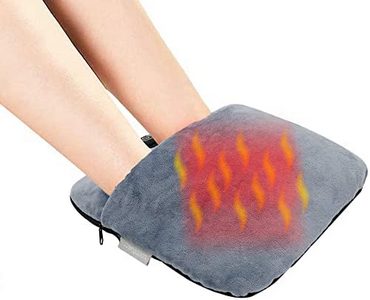 Lomitech Electric Heated Warmer
With this USB-powered heater from Lomitech, you get the best of both worlds — a warmer and massager for your tired and freezing feet. There are 3 modes of operation or intensity — heat therapy, vibration, and a combination of both. Each mode comes with a distinct colored flashing light, indicating which mode is currently operating.
The outside and inside materials of this electric heated foot warmer are made from an ultra-plush micro mink fabric. The thick plush cover helps prevent heat loss while the inside material provides comfort for your feet.
The Lomitech heated warmer is ideal for traveling as it is lightweight and surprisingly portable. It also has a storage pocket for the USB power cord.
Good for On the Go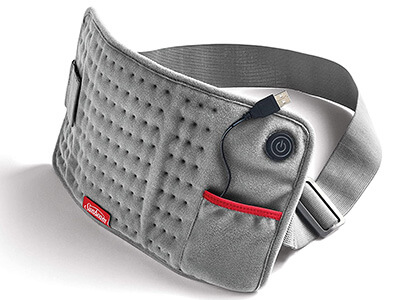 Sunbeam USB Heating Pad
The Sunbeam heating pad is an affordable device when you need on-the-go heat therapy for a specific body part. The fully flexible adjustable strap allows you to wrap the heating pad around any body part with ease.
This USB-powered personal heater works great for those heat therapy sessions on long car trips. You'll appreciate the device's versatility, from your car to walking around in stores, and being able to plug in as you arrive at any destination.
This heating pad does not come with a battery so it needs to be plugged into a USB power source to make it work. The pad is made from a lightweight and ultra-soft micro mink fabric material.
However, the strap of this Sunbeam USB heating pad is designed so it can be easily removed, not to securely hold the pad over time.
Best for Car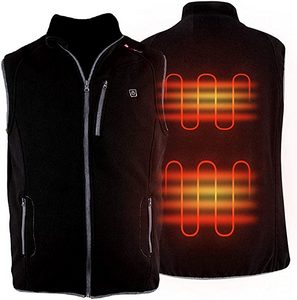 Prosmart Heated Vest with USB Battery
The Prosmart heated vest may look like a traditional vest for winter but it does an excellent job of keeping you snugly warm all day.
Made from high-quality fleece material, the vest can keep you warm all by itself even without turning the power on. You will love the sewing, style, and overall construction of this USB-powered heater/wearable option from Prosmart.
A dedicated 10000mah battery powers the carbon fiber heating element for 7 hours or so. You can use any aftermarket battery as a secondary power source as long as it is 5V, 3 Amps, and input at 5V, 2 Amps.
The Prosmart heated vest with a USB battery is a combination of high-quality material, excellent construction, and good customer service. Still, the performance of the 2 heating elements inside the vest can be a bit of a disappointment.
Things to Consider When Selecting a USB Heater
Read on to find out what to look for in a perfect USB heater:
Battery – Generally, USB heaters use lithium-ion batteries. The larger the capacity in mAH, the longer the heating operation of the device.
Additional features – Many USB-powered heaters have extra features like reverse charging technology, built-in massager, flashlight, double-sided heating, etc. Reverse charging allows the USB-powered heater to charge other devices such as smartphones, tablets, smart wearables, etc.
Warranty – This is extremely important, especially for smaller devices like hand warmers. Always look for at least a 1-year warranty, and don't go below that.
Conclusion
From hand warmers to heated vests, we covered the best USB heaters in this review and buyer's guide. Using a USB portable heater is a great way to stay warm in cold environments. You can purchase all the products on our list so you can be completely ready to take on the winter months.