Attics are vulnerable to moisture build-up that later escalates into serious problems. If you are worried about the state of your attic, consider getting a dehumidifier.
There are several types of dehumidifiers that you can put in an attic. We have covered some of the best brands to help you make the best choice.
Signs of Excess Moisture in Your Attic
Do you suspect that your attic might have some moisture? The following are some signs you can look out for.
Musty odor
Have you recently noticed a strange damp odor in your attic? If so, you might be dealing with moisture problems. The foul odor is caused by growth of mildew and mold in your attic.
Noticeable mold
Mold growing on walls and wooden surfaces might indicate a moisture problem. If you spot any mold stains in your attic, you should consider putting a dehumidifier in your attic.
Moisture on windows and flat surfaces
Wondering why your attic windows are foggy? Moisture buildup might be the issue. You might even notice water droplets on your skylight windows or metal pipes.
Damp insulation and roof sheathing
Another sign of moisture accumulation that you can look out for is wet insulation and roof sheathing. In some cases, your roof sheathing might rot and destroy the roof's structure.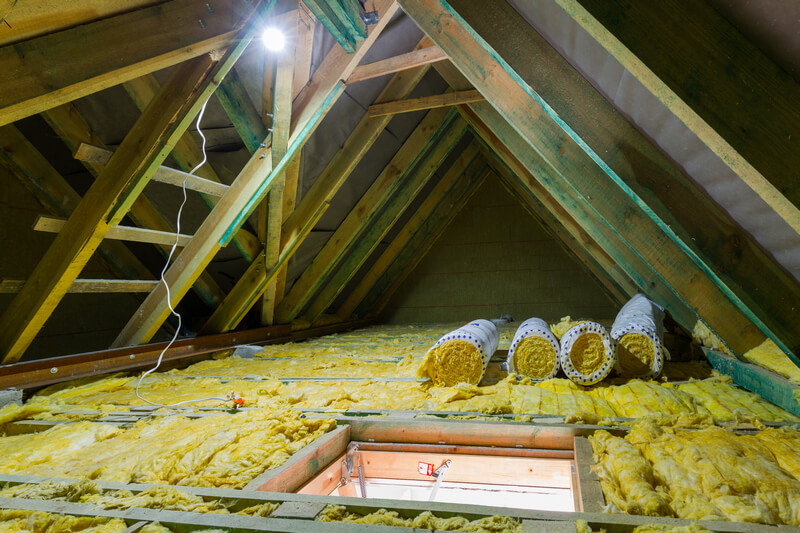 Common Causes of Attic Moisture
Several factors can cause moisture in your attic. Discovering the exact cause of moisture early is the key to preventing more damage.
Attic moisture is caused by warm damp air coming from your house. The following are some common factors that cause moisture in your attic.
Improper insulation and ventilation of your attic
Improper ventilation and insulation cause moisture problems in your attic. Humid air becomes trapped inside your attic and condenses.
Leaking roofs
A leaking roof causes moisture build-up in the attic. A small opening in your roof can cause significant damage to your attic.
Damaged pipes
A faulty pipe leads to moisture accumulation in the attic. If your plumbing system runs through the attic, consider inspecting the pipes regularly for damage.
Poor bathroom and dryer ventilation
Bathroom and dryer vents can cause moisture accumulation when warm moist air gets to your attic. Consider calling an expert to inspect your dryer and bathroom ventilation.
Appliances
Indoor appliances like cookers, iron boxes, and dryers can lead to attic moisture build-up. For instance, steam coming from cookers can accumulate in the attic and lead to moisture issues.
Benefits of Installing a Dehumidifier in the Attic
Here are some reasons you should put a dehumidifier in your attic.
Reduces moisture build-up in the attic
A dehumidifier readily gets rid of moisture in the attic and protects your home from damage. The dehumidifier collects unwanted moisture and stores it in a tank. You should regularly empty your dehumidifier's tank to keep it working efficiently.
Improves air quality
Once the air in your attic becomes too damp, mold develops and compromises the quality of indoor air. Allergens also thrive in humid conditions. A dehumidifier improves the quality of air in your home by eliminating moisture from your attic.
Eliminates odors
Does your attic constantly smell strange? Consider getting a dehumidifier. Mold and mildew grow in moist conditions. A dehumidifier removes moisture from the air and prevents mildew and mold growth.
What Is The Best Dehumidifier for Attic Space?
#1 hOmelabs 4,500 Sq. Ft Dehumidifier
The hOmelabs 4,500 Sq Ft dehumidifier is an energy-efficient model that effectively gets rid of moisture in your house. It is suitable for large spaces and removes up to 50 pints of moisture from indoor air daily.
This dehumidifier has a low noise output compared to other models and comes with a 2-year warranty. It has handles and wheels that make it easily portable.
The hOmeLabs Dehumidifier provides value for your money with its unique design and amazing features. Not only is this unit easy to use but also comes with a user manual.
#2 ALORAIR Basement/Crawl Space Dehumidifier
The ALORAIR Basement/Crawl Space dehumidifier would be ideal for your attic. This energy-efficient dehumidifier removes 55 pints of moisture from indoor air without spiking your utility bills.
The unit has an automatic defrost feature that allows it to function even in low-temperature conditions. It has a 5-year warranty and customer support is always available if you experience any issues.
The ALORAIR Dehumidifier has an internal corrosion protection feature that prevents the coils from corroding. The corrosion feature makes this dehumidifier a sustainable solution to your attic moisture problems.
This device has remote control monitoring and you don't have to go all the way to your attic to adjust its settings.
#3 Pro Breeze 250 Sq. Ft Dehumidifier
The Pro Breeze 250 Sq. Ft Dehumidifier is very effective when it comes to eliminating moisture and allergens from indoor air. It is easily portable and fits in rooms with limited space. This compact dehumidifier would be suitable for your attic.
This unit eliminates up to 18 ounces of water from indoor air daily. It also runs quietly and is very energy-efficient. The dehumidifier uses Peltier technology making it run quietly and efficiently. However, when the temperatures fall below 41, the device might not function effectively.
Once its tank is full, the Pro Breeze Dehumidifier automatically turns off and turns on an LED indicator signal. It also has a detachable tank that makes it relatively easy to clean.
Takeaway
Some common causes of moisture in your attic include poor insulation and ventilation, faulty pipes, and leaking roofs. A dehumidifier preserves your attic by getting rid of moisture problems.