The United States Environmental Protection Agency highlights that using air purifiers minimizes airborne contaminants, including those spreading viruses. Besides, they also help tackle seasonal allergies and pet odors.
However, finding the most reliable air purifier that helps upgrade your lifestyle while adding to your convenience is tricky. Standard air purifiers placed on shelves and floors reduce space and compromise functionality due to objects blocking their path.
Contrarily, wall-mounted air purifiers seamlessly fit into your house, offering a practical way to improve indoor air quality and enjoy enhanced functionality.
Advantages of a wall-mounted air purifier
Did you know your indoor air can be 5 times as contaminated as the air outdoors? Because indoor air is deprived of optimal circulation – unlike outdoor air – the impurities and pollutants grow consistently.
Installing an air purifier allows you to refresh the stale air, minimizing the chance of health problems triggered due to indoor impurities.
So long as you purchase a quality purifier, it'll do its job optimally. However, air purifiers mounted on the wall take functionality to the next level. Here's how:
Boost air ventilation: Air purifier placement on the wall allows you to boost air ventilation, unlike those set on the floor. Purifiers mounted on the wall directly target the pollutants lurking in your home air. You do not need to switch its place to clean your indoor air. Instead, it works its way to sanitize your surroundings.
Maximize space: As the name suggests, wall-mounted air purifiers are installed on the wall. So, they filter your air without compromising your home space. Consequently, you have enough space to set other home essentials as your purifier hangs on the wall unnoticed.
Uninterrupted airflow: Purifiers suck the contaminated air and give off clean air. Therefore, any debris, furniture, or stuff cluttering its way will reduce its performance. Fortunately, a wall-mounted air cleaner eliminates the trouble by hanging high above the home furniture.
Added safety: Bumping into the air purifier placed on the floor isn't uncommon. Essentially, if you have children, you need to be cautious about improving your home's functionality. Wall-mounted air purifier comes in handy in that case. It is out of your toddler's reach, and there's no chance of toppling the device, risking children's safety and purifier performance.
Best wall-mounted air purifiers with HEPA filter
Wall-mounted air purifiers featuring HEPA filtration step up your hygiene game with excellent performance. HEPA stands for a high-efficiency particulate air filter that blocks the tiniest dirt pieces and keeps them from entering your home.
Best maximum coverage: Medify MA-35
Medify MA-35 is for you if you want a HEPA air purifier that offers maximum coverage. The robust technology of Medify filters a 1.280 square-foot space in less than an hour. But quick purification doesn't sacrifice the quality.
The air purifier features an H13 filter with 3 filtration layers, including pre-filter, H13 HEPA, and carbon composite. These filters remove pet dander, smoke, debris, and pollen hiding in the nooks and crannies of your home. They eliminate 99.9% of dust particles, improving your air quality.
You can also pick from 3 fan speeds, and the lowest setting allows a virtually silent operation. Those wanting to maximize their sleep quality can enable the sleep mode, dimming the unit's lights. The company backs its product with a USA-registered lifetime warranty. You can expect its filter to last up to 3-4 months or 2,500 hours.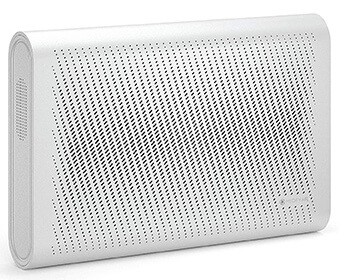 Read more about this wall-mounted air purifier on Amazon.
Best efficient and stylish pick: Rabbit Air MinusA2
If you seek efficiency packed with style, look no further. Rabbit Air MinusA2 has fought its way to make it to the list of best wall-mounted air purifiers. The sleek, high-tech design stands well against modern homes with contemporary built-in features. But is that reason enough to consider it for your home? Well, there's more!
Fortunately, the Rabbit Air MinusA2 HEPA filter doesn't disappoint in terms of functionality either. It boosts your air quality through a 6-stage filtration process. Besides, you can customize the filters per your preferences, just choose an air purifier with a filter that targets odors, toxins, or germs.
The cutting-edge motor of the air purifier operates at different noise levels, from 20.8 to 45.6 dBA. The brand claims the product lasts up to 2 years with a 12-hour daily operation with its Energy Certified motor and highly efficient filters.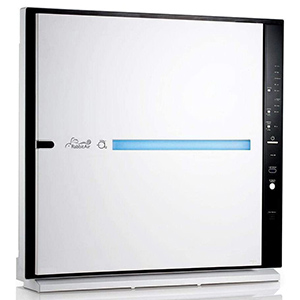 Click here to see this air purifier on Amazon.
Best wall-mounted air purifiers with UV light
UV light purifiers differ from others in that they feature ultraviolet light to inactivate the microorganisms and pathogens in your indoor air. Often termed UV light germ killers, they can be your best bet if you want to reduce potential health risks.
Smallest wall-mounted air purifier: Germ Guardian GG1100W
Germ Guardian pluggable air purifier blends portability with improved hygiene. This device is only 7-inches, and you can easily hang it in your kitchen, bathroom, or children's rooms.
The Germ Guardian's ultra-robust UV-light technology minimizes airborne germs spread through bacteria or pets, enhancing your indoor air. The UVC- light destroys the DNA of common viruses, including rhinovirus, influenza, and staph. Plus, it also lowers household odors making up for a refreshing atmosphere.
This wall air purifier is filter-free, but its heavy-duty UV bulb requires extra maintenance. You'll need to replace the UV-C light bulb on average every nine months to keep it up and running.
Besides, although the compact and pluggable design makes it a popular choice among consumers, the model might not be ideal for noise-sensitive people, given its high noise levels.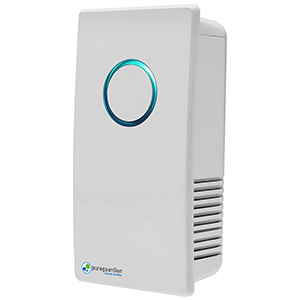 Check out this wall pluggable air purifier on Amazon.
Related post: Best wall plug-in air purifiers
Good for sleeping: MISSUE air purifier
MISSUE air purifier allows a seamless placement on your wall or desktop and cleans a 300-square-foot room in only 18 minutes. The efficiency speaks volumes about its powerful filtration system and superior technology. The device features a 3-stage filtration system that eliminates 99.7% of dust, smoke, odors, and UVC light kills germs in your home air.
The Auto Mode of this wall mountable air purifier takes functionality to the next level. Choosing this option adjusts the fan speed automatically by monitoring the air quality. This reduces unnecessary unit operation, boosting its lifespan. You can also tweak its settings to sleep mode, lowering its noise levels and dimming the purifier's lights.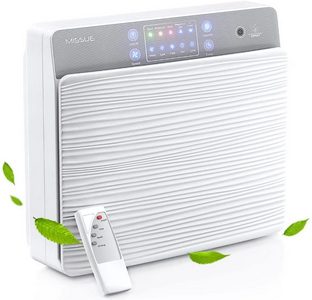 Click here to find this air purifier on eBay.
Conclusion
Air purifiers are a good choice whether you have an underlying health condition like asthma or follow good hygiene practices. They reduce airborne diseases, mold spores, and dangerous chemicals from your indoor air, improving your general well-being.
Wall-mounted air purifiers further add to your convenience by offering portability and practicality. You can install one on the wall and enjoy clean air on the go. You can pick from HEPA or UV wall-mounted filters considering your needs and budget.