Whether a dog or a cat person, you love your pets like your own kids. However, your beloved furry friends constantly shed hair all around your home, which can be a slight problem for you to clean. Especially if one of your family members has allergies, you have to deal with the furry mess on the floors, furniture, clothing, carpets, and almost every corner of your home.
Lucky for you, the following guide discusses the eight proven methods for removing pet hair from the air using a vacuum, air purifier, hair roller, etc.
How to get rid of pet hair in the air
You should know that pet hair doesn't just float in the air but also clings to different surfaces, making it more difficult for you to clean. Hence, you need to remove the pet hair from the air, floors, carpets, and even your clothes.
Read along to learn about the hassle-free ways to remove pet hair and fur from the air:
1. Air purifier with a HEPA filter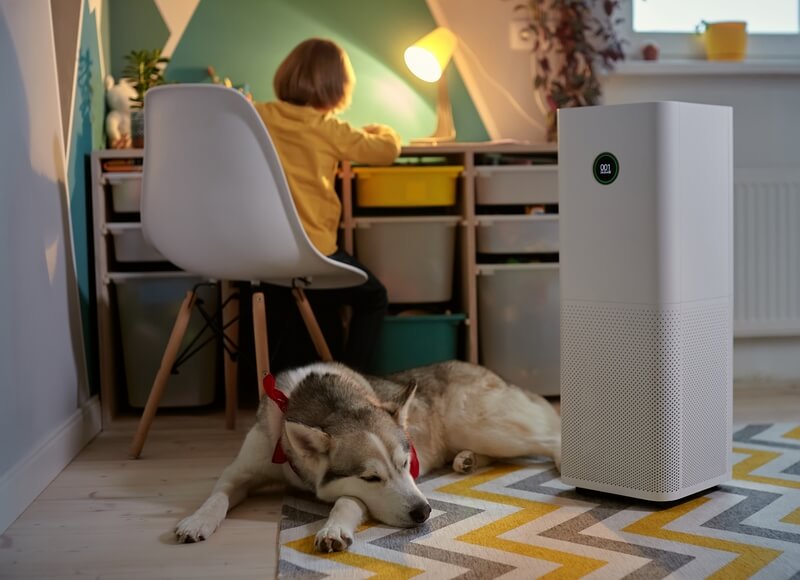 If your pets spend time outdoors, you not only have to clean the pet dander and hair but also the pollen, germs, and dirt that come from the streets. First, you need to clean their paws using a wet cloth; however, buying an air purifier with a high-efficiency particulate air (HEPA) filter is essential.
You might be wondering why using an air purifier with a HEPA filter is necessary to remove pet hair from the air. A HEPA filter is essentially a pleated device to remove dirt, pollutants, mold, pollen, bacteria, and particles from the surrounding air. Find out if an air purifier helps with eczema.
The LEVOIT air purifier performs an exceptional job in removing dust and allergens from indoor air. This air purifier works on the basic principle of sucking the surrounding air from the sides and ultimately venting out clean air from the top.
The good news is that the H13 True HEPA filter coupled with a pre-filter and high-efficiency activated carbon filter captures 99.97 percent of airborne particles of 0.3 microns, including smoke, pollen, odor, and dust.
Get the LEVOIT Air Purifier for Pet Hair
2. Robot vacuum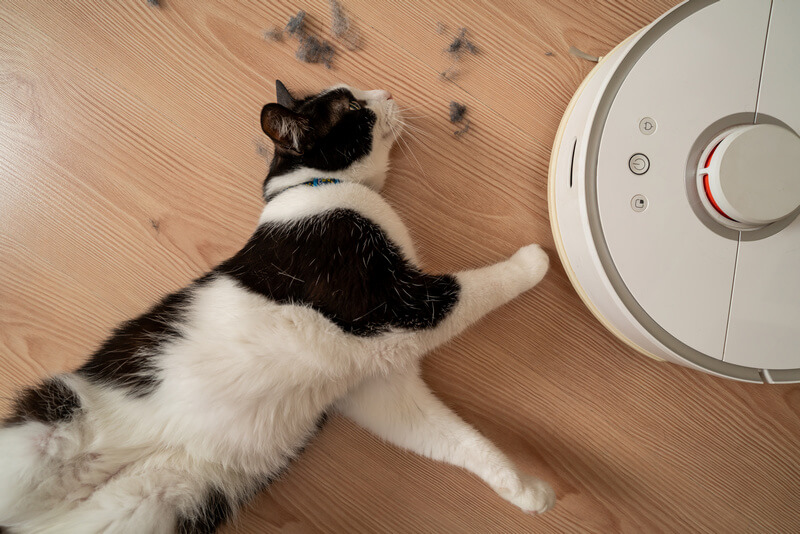 The robot vacuum cleaner is highly effective in removing pet hair from wooden and tiled floors. The advanced robot vacuum combines mopping with the standard vacuum operations to pick up pet hair. Furthermore, it's a smart device that works on different floor types by sensing the surroundings.
If you have chronic back pain and you can't vacuum and mop afterward, a robot vacuum is undoubtedly a blessing for you.
For instance, you can schedule cleaning in your home using the iRobot Roomba robot vacuum to remove daily dirt, pet hair, dust, and other debris. Not only that but use the voice command to activate the robot vacuum to grab dirt from different floor types, such as hard floors and carpets.
Courtesy of the dirt detect sensors, the robot vacuum senses the dirtiest areas and high-traffic spots of your home to collect maximum pet hair.
3. Pet hair roller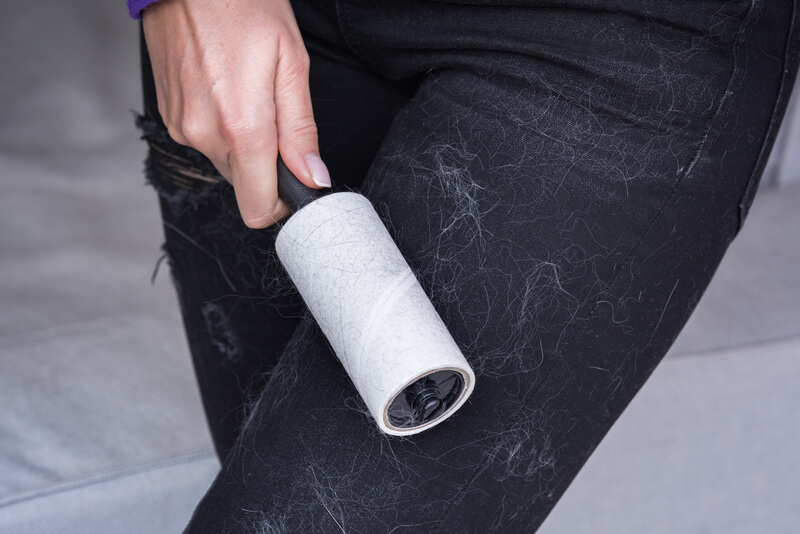 The above two methods will help in removing pet hair from air and surface. Now, it's time to use a pet hair roller to collect pet hair from clothes, sofas, and throws.
You'll find all kinds of pet hair rollers available in the market. For example, some rollers come with disposable adhesive sheets, which you can remove after collecting all the hair. Alternatively, opt for reusable or washable pet hair rollers to make a long-term investment.
If you don't want to make a heavy investment in removing pet hair, buy a hair roller to keep your couches, blankets, and clothes free from pet hair.
You can use the ChromChrom roller to remove dog and cat hair courtesy of the patented premium-quality brush system. Furthermore, you don't need an electrical connection to operate the roller. All you need to do is make back-and-forth strokes to capture pet hair and lint from clothing.
Get the ChomChom Roller Pet Hair Remover
4. Mini pet hair remover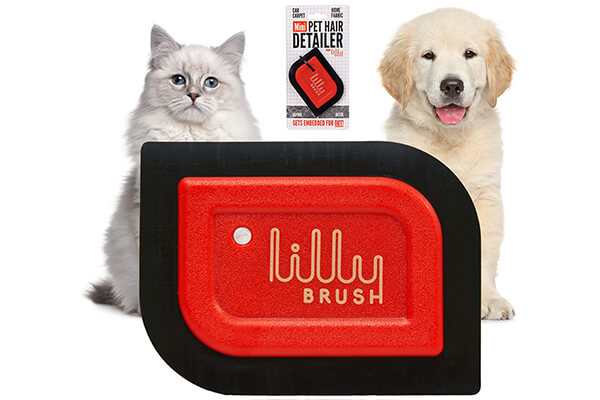 If you want to remove stubborn pet hair from seats, couches, and carpets, the Lilly Pet Hair Detailer is an apt choice for you. This high-performing pet hair remover offers ten times faster cleaning operations than a vacuum, which is excellent.
The Lilly Brush features soft yet durable blades that don't scratch plastic, glass wood, or other surface types. You can make short and quick strokes in different directions to collect maximum pet hair into piles. Next, use a vacuum cleaner to collect the hair pile.
Once you collect the pet hair, use soapy water to rinse the hair remover and store it till further use. It's a compact and easy-to-use brush perfect for removing pet hair from hard-to-reach places, such as sofa corners.
Get the Lilly Brush Mini Pet Hair Detailer
5. Dry sweeper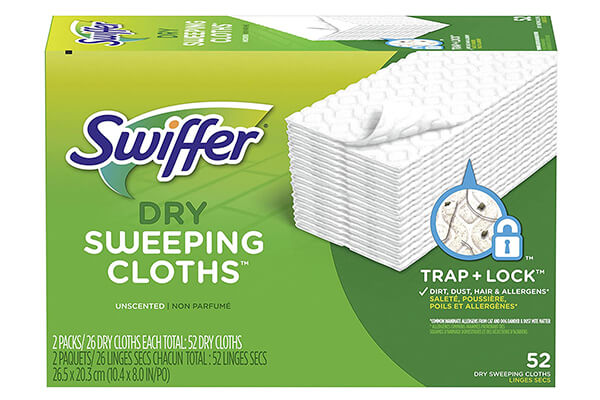 Since 1997, Swiffer has revolutionized household cleaning by offering heavy-duty products, such as the Swiffer Sweeper, to trap and lock pet hair from floors and grout lines. The deep texture ridges trap the dirt, allergens from pet dander, and pet hair from hardwood, tiles, and vinyl floors.
The Swiffer Sweeper Dry Cloths offer additional thickness, courtesy of the fluffy 3D fiber to trap pet hair and dander from different types of surfaces. In addition, these electrostatic disposable dry cloths offer exceptional absorption power to lock animal fur and dust mite matter.
If your guests are coming over and don't have time to mop the floors, you can use the dry sweeper to remove maximum pet hair and other dirt.
Get the Swiffer Sweeper Dry Mop Refills
6. Damp cloth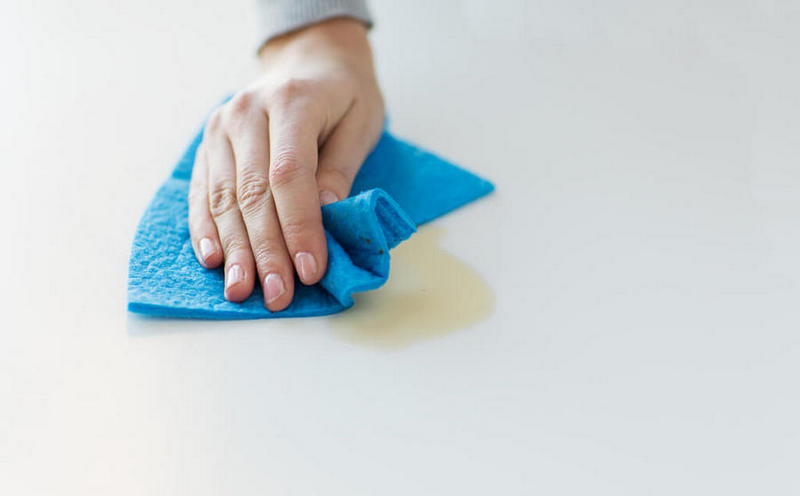 You can use damp cotton or a microfiber cloth to collect pet hair from fabric and upholstery. First, rinse the fabric and remove the excess water to ensure there isn't any dripping water.
Next, run the damp cloth over your comforter, sofa seats, and other clothes to collect hair. Once you have trapped enough hair, you need to remove the hair, rinse the cloth and repeat the cleaning hack.
If you want to use the damp cloth on wooden furniture, you should first use an anti-static dusting spray to eliminate the electric charge to ensure convenient cleaning. This way, the pet hair doesn't stick back to the furniture while you run the damp cloth across the handles.
7. Balloon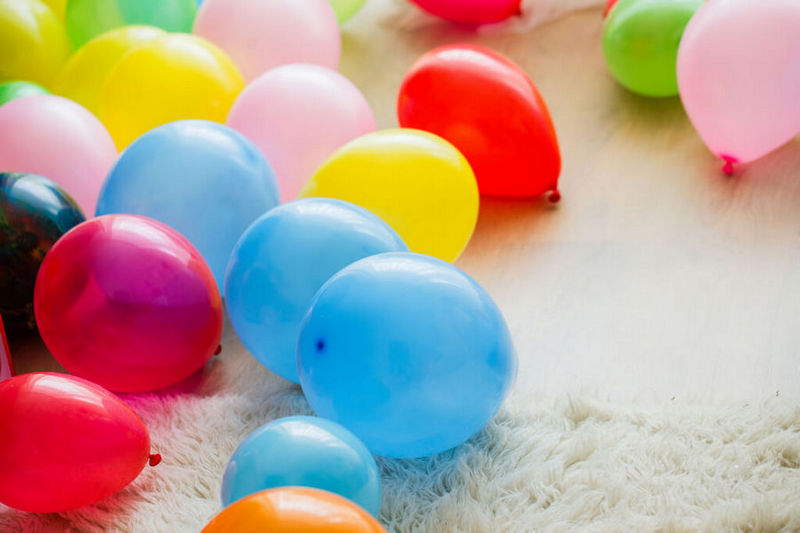 Did you celebrate your kid's birthday party last night? Use the balloons to remove pet hair. It's because the inflated balloon uses static electricity to attract loose pet hair from the air.
All you need to do is rub the inflated balloon on your head and run it on the floor, sofas, blankets, and around the corners to collect the pet hair. Next, wipe the balloon clean, deflate it and reuse it whenever required. Using balloons is undoubtedly one of the cheapest ways of removing pet hair from the air.
8. HVAC & furnace air filter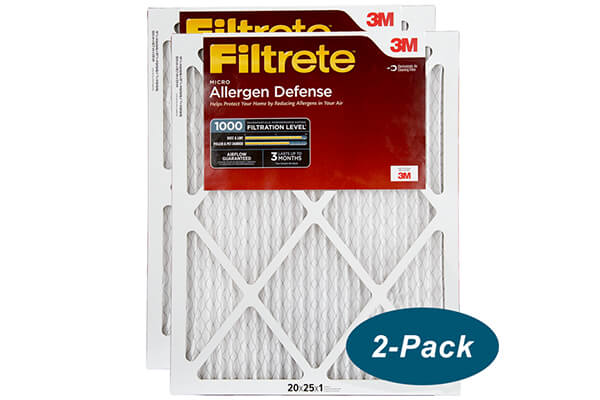 As a pet owner, you should know that pet dander and hair accumulation are harmful to your HVAC system. It's because the central cooling and heating system spreads the pet dander throughout the home while the pet hair clogs the filter.
The filters present in an HVAC system prevent the dander, debris, and dust from entering the HVAC system. However, the HVAC system may not work properly if the filters are clogged or dirty.
Regularly grooming your pets certainly helps minimize pet dander and hair; however, you should also replace the air filter.
For example, the Filtrete AC Furnace Air Filter is a washable and non-electrostatic pleated air filter for your HVAC system. With a MERV rating of 11, this air filter collects more microparticles, including pollen, smoke, bacteria, viruses, and pet dander.
It's recommended to change a one-inch air filter every 90 days and a four or five-inch air filter every 12 months for optimal HVAC system performance.
Get the Filtrete AC Furnace Air Filter
5 cool products to prevent pet hair in your home
Wondering how to get rid of dog hair and cat hair in the air? Read along to learn about the five must-have products for pet owners:
1. Brush to manage your pet's undercoat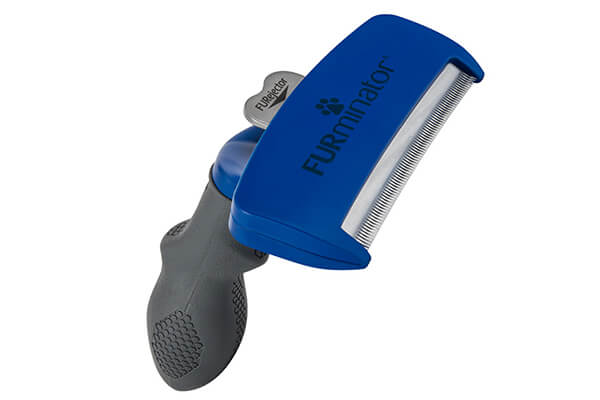 Designed by the professional groomer, the Furminator Undercoat Deshedding Tool features a stainless steel edge to remove the loose hair and undercoat. This deshedding tool doesn't damage the coat or cut the skin, thanks to the ultra-fine metal bristles.
The Furminator deshedding tool is exclusively designed for dog breeds with undercoats, such as huskies, golden retrievers, and German shepherds.
The undercoat certainly keeps the dirt away from the dog's skin and repels water. However, sometimes, the undercoat tangles with loose hair leading to matting which is undoubtedly an unpleasant experience for your dog.
That's why you can use this de-shedding tool a couple of times a week to remove loose hair.
Get the FURminator Undercoat Deshedding Tool
2. Shampoo to help control shedding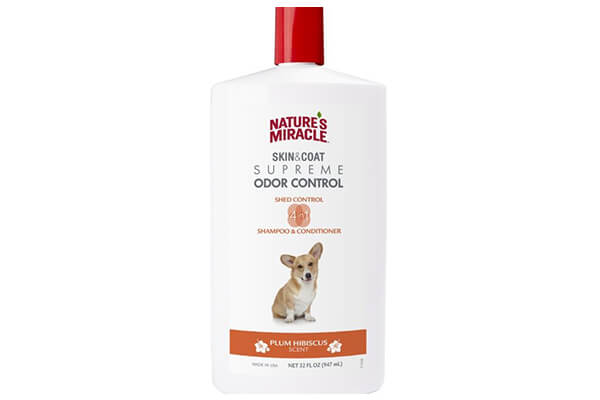 The Nature's Miracle Shed Control Shampoo comes with a unique hair shed control formula free from parabens and dyes. Not only that, but it guarantees a safe way to remove odor courtesy of the surfactants derived from plants.
Another great news is that soap-free shampoo comes with a tearless formula that doesn't irritate your dog's eyes.
The Nature's Miracle shampoo is a multi-purpose shampoo that offers a deodorizing and neutralizing effect to control odor. Courtesy of the ingredients containing Omega fatty acids, the shampoo cleans your dog's skin and coat while making it soft and smooth.
Get the Nature's Miracle Shed Control Shampoo
3. Rake for undercoat removal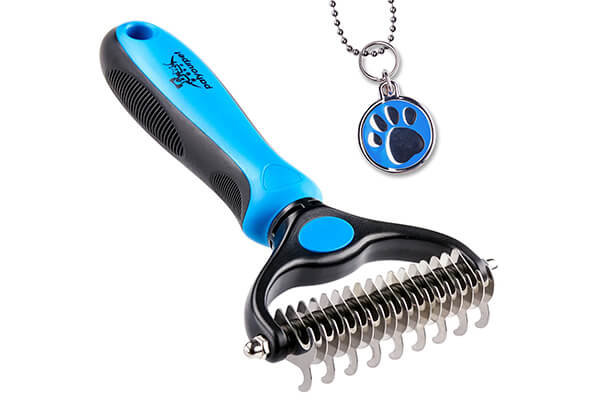 The Pat Your Pet Undercoat Rake for Dogs & Cats features a dual-head design with two sides for different purposes. For example, you can use the nine teeth side to smooth dematting in your dogs or cats. Alternatively, the 17-teeth side is effective for pain-free de-shedding and coat thinning.
The comfortable anti-slip handle offers you the desired grip to move the deshedding brush along your pet's body without causing any skin cuts.
The brush features stainless steel rounded edge teeth resistant to rust. Furthermore, the brush is wide enough to catch enough hair to groom your pet in no time.
Get the Pat Your Pet Undercoat Rake for Dogs & Cats
4. Supplements for a gorgeous coat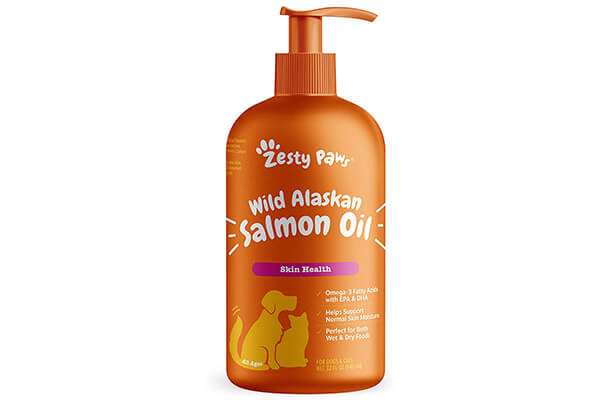 The Zesty Paws Wild Alaskan Salmon Oil is essentially a liquid supplement available in a hassle-free pump bottle. You can mix the oil with dry or wet pet food to ensure a healthy skin coat, hips, and joints.
Salmon oil supports a healthy immune system and cardiovascular health, courtesy of the Omega-3 fatty acids, docosahexaenoic acid (DHA), and eicosapentaenoic acid (EPA).
Use this fish oil supplement to prevent itching, irritation, and hot spots on your pet's dry skin.
Get the Zesty Paws Wild Alaskan Salmon Oil
5. Grooming glove to minimize pet shedding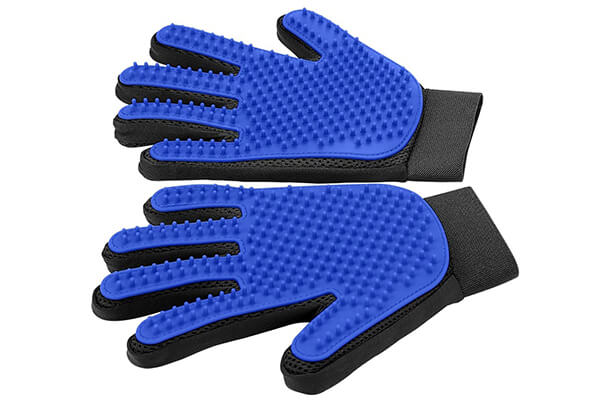 The Delomo Pet Grooming Glove comes with enhanced 255 silicone grooming tips. This way, you offer a relaxing massage while removing dirt and loose hair from dogs and cats. These slip-on grooming gloves are perfect for removing short, long, and curly hair from cats, dogs, and horses.
Unlike regular pet brushes, the grooming gloves feature a five-finger design to reach hard-to-reach places like the face and tail. Furthermore, the gloves are made from a skin-friendly soft rubber material that doesn't scratch the skin. Finally, courtesy of the adjustable straps, ensure a comfortable fitting.
Get the Delomo Pet Grooming Glove
The bottom line
Use the above effective ways for removing pet hair from the air to minimize your cleaning time. Therefore, you can spend more time with your family and pets instead of worrying about the constant hair shedding.
From taking care of the diet using salmon oil to grooming gloves, you can control the hair shedding in every possible way. Furthermore, you should invest in buying an air purifier, pet hair remover, robot vacuum, and a deshedding brush to remove pet hair.