HVAC smart probes are a new form of test instrument that HVAC service technicians use to evaluate temperature measurements, calculations, and reports about HVAC systems.
Today we will be looking at 2 new types of smart probes; Testo vs Fieldpiece. Which smart probe is more efficient than the other? Is it Testo or Fieldpiece? Keep reading to find out.
Benefits of Using HVAC Smart Probes
These are the benefits associated with using HVAC smart probes:
HVAC smart probes are small in size — the best HVAC smart probes are easily connected to AC systems, including those in hard-to-reach areas because they are small compared to traditional HVAC instruments.
Wireless probes use multiple probes — smart HVAC probes are a game-changer because they use more than one probe at the same time, which makes it easier to analyze the complexities of an HVAC system.
Wireless communication — the best HVAC smart probes have a wireless communication feature that allows you to monitor the HVAC system even when you are not around. Once you connect the AC system to the wireless probes, you can track your AC from anywhere.
Wireless probes come with mobile apps to provide additional analysis — the mobile apps of some of the best HVAC smart probes can identify hidden issues in your HVAC system after monitoring the results.
Best HVAC Smart Probes
There are two HVAC smart probes considered the best wireless probes. They include the Testo smart probe and the Fieldpiece smart probe. Here is a review of the wireless probes, including their features, pros, and cons.
Best Testo Smart Probes Review
The Testo smart probe kit includes the HVAC/R test and the load set for refrigeration, heating system, and air conditioning. It also contains the Testo 115i, Testo 549i, and the Testo 605i, which use Bluetooth.
Features
Testo 115i — the grip of this wireless thermometer is about 1.5 inches. It provides flow and return temperature readings of pipes.
Testo 5491 — this is a pressure meter that provides readings for both low and high pressure. It has a 45-degree connector, allowing troubleshooting and servicing without using hoses.
Testo 605i — this is a thermohygrometer with a probe head that is bendable, allowing it to achieve temperature measurements in remote parts of crawl spaces, rooms, registers, and ducts.
Testo probes smart app — the app allows you to log and read measurements remotely as well as create shareable and savable custom reports.
Pros
Efficient — Testo smart probe offers accurate calculations and measurements for heating and cooling systems.
Fast — The Testo 115i wireless thermometer provides quick temperature readings.
Reliable — the smart app makes it possible to access reading, measurements, and generate reports of the HVAC system remotely.
Cons
In case the temperature probes lose contact, the system may not give you a warning signal.
The temperature clamps may be slow.
Best Fieldpiece Wireless Smart Probes Review
Fieldpiece HVACR Charge and Air Kit is yellow and contains new rapid rail tech that uses pipes to complete a circuit so that external conditions don't influence the temperatures. It can be placed at any location including ducts, grilles, returns, and plenums.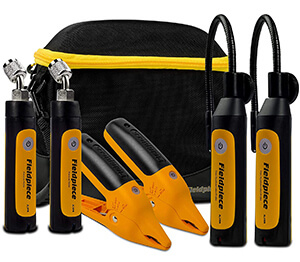 Features
The kit consists of 2 pipe clamps, 2 psychrometers, and 2 pressure probes.
Weight — the item weighs 0.01 ounces.
The psychrometers are configurable thanks to a sliding magnet and flexible probe.
The sensor design allows the pipe clamps to deliver speed, accuracy, and agility.
Battery — the battery cell type of the Fieldpiece wireless smart probe is alkaline.
Power source — Fieldpiece HVACR uses corded electricity.
The rapid rail sensor has been uniquely designed to work on thermally and electrically conductive piping.
The Fieldpiece and HVACR charge and air kit have an ergonomic design and rubberized grips.
Pros
The probes are waterproof, allowing for condenser washing.
Fieldpiece wireless smart probes work for both AC and refrigerator systems.
The rubberized grips provide comfort and control.
Cons
The gauges do not have a monitor. You have to download the app to access them.
The wireless probes cannot use batteries when there is no electricity.
Testo vs Fieldpiece Smart Probes: Comparison
Between Testo or Fieldpiece, which are the best HVAC smart probes? From the reviews above, Testo and Fieldpiece have some similarities as well as differences in how they operate.
Mobile Apps
Both Testo and Fieldpiece use mobile apps to connect the HVACR system to mobile devices. One can monitor the temperature readings and calculations remotely. Testo smart probe uses the Testo Smart Probes App that is free and can be connected to Apple IOS and Android smartphones or tablets. Fieldpiece uses the Job Link System App to connect the probes charge directly to a mobile device.
Battery Use
The Testo Smart Probe Kit I HVAC/R Test & Load Set contains batteries and calibrations, which means they can run even when there is no electricity. On the other hand, the Fieldpiece HVACR Charge and Air Kit do not use any batteries. Therefore, if there is no electricity, it may not function.
Kit Contents
Testo smart probe kit is made of various items such as clamp thermometers, pressure gauges, and thermohygrometer, while the Fieldpiece kit is made of pipe clamps, psychrometers, and pressure probes.
According to several reviews online about Testo or Fieldpiece, people seem to be more inclined towards Fieldpiece compared to Testo. This is because some users claim the temperature clamps from Testo are too slow compared to those of Fieldpiece. Additionally, the features of Fieldpiece seem to be more efficient compared to Testo because Fieldpiece has better software and gives timely warnings, such as when the temperature probes loosen.